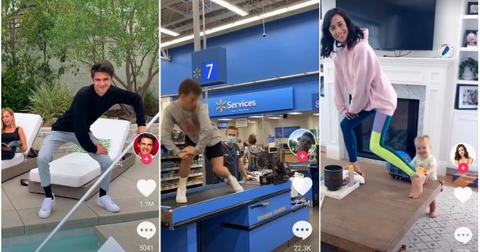 The Origins of TikTok's "Who's Next" Trend Has Nothing to Do With Tiktok
By Chrissy Bobic

Updated
TikTok trends have a way of burrowing deep into your psyche and popping up in your mind at any given time, especially when there's music involved. So when people started doing the "Who's Next" dance on TikTok, it became another trend to cling to and be a part of. This is the world we live in, so you might as well give in to the Gen Z kids making TikToks at all hours, right?
But to really appreciate "Who's Next" on TikTok, it's important to familiarize yourself with the original, if only to also understand its origins a little better. Like a lot of things on TikTok, the original video is pretty different from the millions of TikTok users making uploads full of cut scenes with multiple people doing the infectious dance.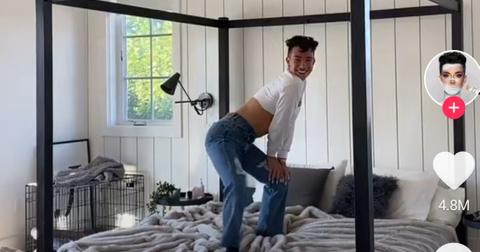 The original "Who's Next" on TikTok is pure early 2000s nostalgia.
How does a TikTok trend become viral? Usually, it needs a few key ingredients to make it popular across the board and catapult into something totally amazing. Some of these ingredients are nostalgia that speaks to either the Gen Z or millennial crowd, an easy dance to copy at the drop of a hat, and a sound bite to go along with it.
The original "Who's Next" dance from TikTok contains all of these, since it is from an episode of the children's show Hip Hop Harry. Yes, it's a real thing and no, the kid who dances in the original video was not supposed to do such an off-the-wall freestyle. But now, TikTok users everywhere are silently thanking him for giving them TikTok gold in the form of a hilarious dance being copied a million times over.
The kid from the original "Who's Next" dance is still a dancer today.
And if you look deep into TikTok enough, you're bound to find out everything else there is to know about specific trends, including the "Who's Next" dance. Apparently, San Francisco Bay-area dancer Jake Deanda is the kid who was featured in the Hip Hop Harry episode years ago. Today, he's still a dancer, though in a more professional capacity, and like everyone else, he is cashing in on being a bona fide meme.
Since the "Who's Next" dance became a *thing* on TikTok, Jake has taken to his own TikTok profile and even his Instagram to let his followers know where he got his start as a dancer. Since Hip Hop Henry, Jake has kept plenty busy as a dancer, from appearing on The X Factor to going on tour with singers like Austin Mahone and appearing in a Jessica Sanchez / Ne-Yo music video.
How do you make a "Who's Next" video on TikTok?
If you'd like to make your own version of the "Who's Next" video on TikTok, it's easy. All you have to do is open TikTok on your device and choose one of the many videos uploaded with the "Who's Next" song attached to them. Then, you click on the bottom left corner of the screen for the original sound.
You can then add it to your favorites or press the "use this sound" button in the bottom middle of your screen. Then, you press record on your device and make your own video of yourself, your kids, or your friends doing Jake's now-iconic dance. But get it in while you can, because chances are, the next TikTok dance trend will be here before you know it.