Essential employees: We see you and we appreciate you. You're out there on the front lines, and the work you do has been deemed too important to be halted for any reason. You keep us safe and you keep things moving like only you can.
We're talking about medical and pharmacy workers. Security guards, mass transit, and airport personnel. Telecommunications and energy workers. Grocery store workers, delivery people everywhere, sanitation workers, bank employees, and many, many more.
It's not just us that you're being honored by — but also meme creators everywhere. Whether you're making them or just enjoying them, the fire essential employee memes just keep coming, and we're here for it.
That's why we've rounded up the best essential employee memes out there. Consider it a tribute to your perseverance and badassery. We've included the funny, the heartfelt, and everything in between, just for your enjoyment.
1. You're just average, everyday, essential heroes.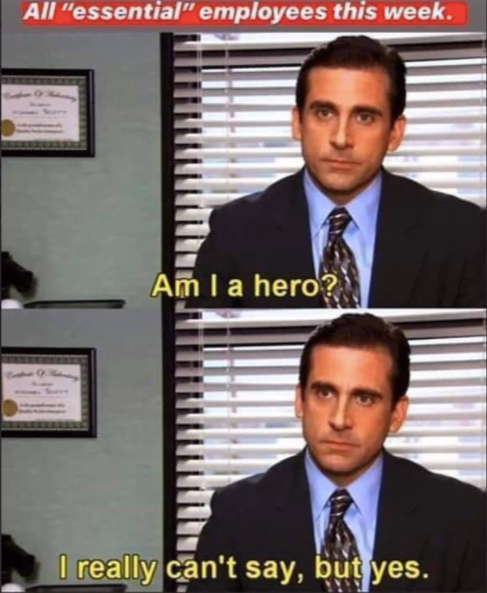 Michael Scott says it best. You really are our heroes for being out there every day, and you deserve to own it. You know that, right?
2. Have status, will travel.
It's like you almost want to be stopped and ID yourself as essential, isn't it? Okay. Maybe we shouldn't take it that far. But you've got every right to be on the roads when other people don't, and that's a pretty powerful feeling.
3. Enough already!
The germophobia is real (and it's downright warranted). Between leaving your shoes at the door, washing your clothes or uniforms right away, and possibly even distancing yourself from your loved ones, we admire and are in awe of you.
4. The audacity!
It's a status thing. Non-essentials just wouldn't understand. *Flips hair*
5. Thumbs up!
This is fine. Everything's fine.
6. Silver linings, y'all.
No traffic? No problem (on the roads anyway). We love the memes that show it's not all bad!
7. Attention, please!
Hi. Hi. Hello? Hi. Hi. Who can relate to unprecedented amounts of togetherness through all of this?
9. But I'm tired!
The exhaustion is unimaginably, excruciatingly real, day after day and shift after shift.
10. Nothing to see here!
Just doin' my job, ma'am — showing up no matter what, like a boss.
11. Consider this time a severe resume builder.
Now that's not a skill that you find on every resume!
12. Not a game, though.
Also, we don't remember volunteering for this...
13. The complaints...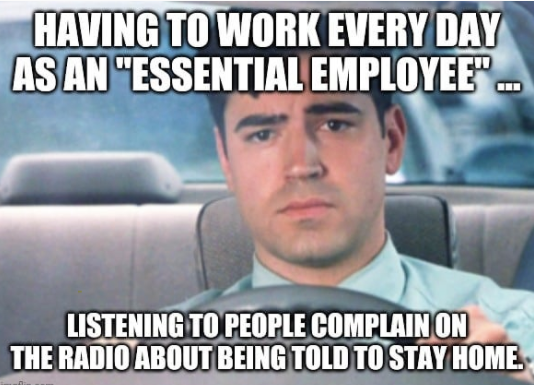 Can we turn the volume down on all of this complaining from non-essentials, or...?
14. One for the homies.
"Don't you, forget about me...don't, don't, don't, don't." Missing the heck out of loved ones is one of the hardest parts.
15. But really though.
It's funny because it's true. Maybe it's not funny...
17. Wait, really?
This is not a drill, people.
19. Turn those tables, friends.
20. It's okay to be both.