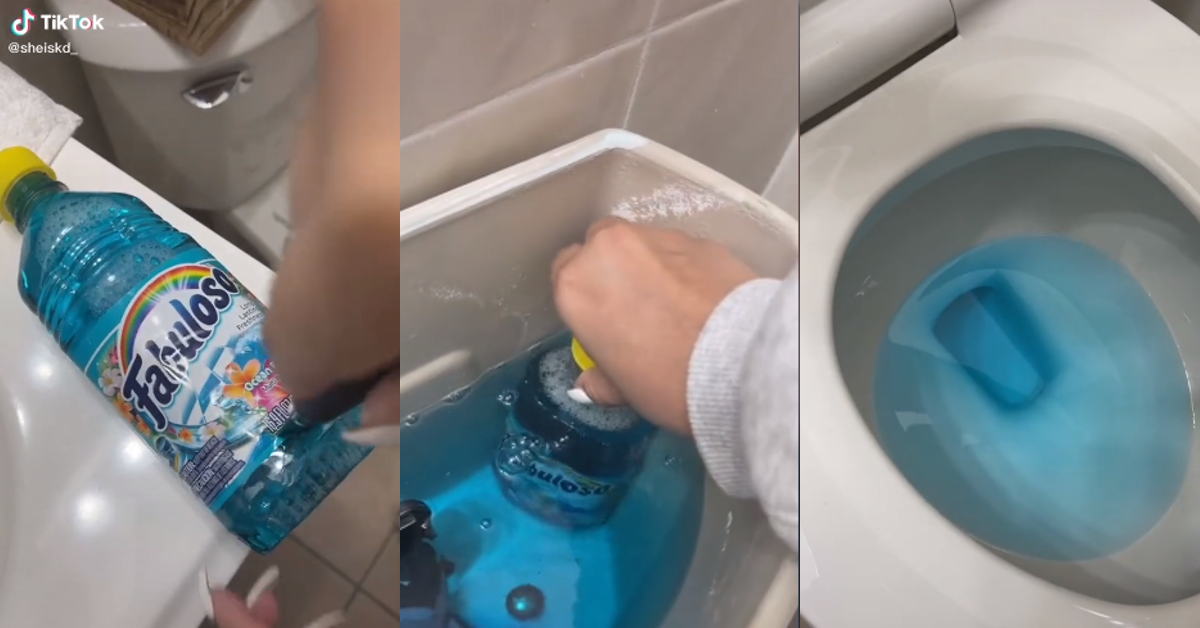 This TikTok Toilet Cleaner Hack Is so Genius You'll Wish You Thought of It
Stinky bathrooms are the worst. It's an understandable offense, given the nature of what goes down in a bathroom several times a day, but it's still hard not to be offended whenever you walk into a lavatory and it just reeks. And we're not just talking random gas station bathrooms where people look like they're practicing a gymnastics routine mid-poop.
If your own bathroom needs a little cleaning up, this Fabuloso-in-the-toilet TikTok hack is an easy way to keep your commode smelling fresh.
Article continues below advertisement
What is the Fabuloso-in-the-toilet-tank TikTok hack?
Cleaning bathrooms aren't fun. It's arguably the most disgusting part in your house (unless you have a fridge like that nasty one filled with spoiled milk and rotten sandwiches in Minority Report) and it requires constant cleaning which you may or may not have time for.
This is especially true of cleaning your toilet and making sure it smells fresh and clean in between bodily evacuations.
So to help minimize the number of times you need to spray down your bowl or Febreze your bathroom, some ingenious TikTok toilet tank engineers found a quick and easy way to ensure that your porcelain throne will smell fantastic with each flush. Here's how to do it.
First, grab a small bottle of scented cleaner. The one in question that's used in this video is Fabuloso.
Then, turn the bottle on its back and make two small punctures on the bottom-front portion.
Article continues below advertisement
Then, remove the top of the toilet tank, and place the bottle in its upright corner. Put the lid on the tank and voila! You're done! The way it works is that the Fabuloso slowly seeps into the toilet's water. Every time you flush, you'll get an intense whiff of the stuff, helping to mask the after effects of that late-night Taco Bell run or your YOLO decision to destroy an entire pint of Ben and Jerry's even though you're lactose intolerant.
Article continues below advertisement
So, does the Fabuloso TikTok toilet hack actually work? People are loving it. But some plumbers cautioned against it.
TikTok might get a lot of hate, but when it comes to specific hacks, it turns out that people are learning a lot of handy dandy tricks that are pretty useful. For instance, TikTok's "homemade" Diet Dr. Pepper doesn't taste like the greatest beverage of all time, but it's fairly amazing in its own right. And TikTok also taught us that Costco basically sells the same Chic-fil-A nuggets and patties for a fraction of the price.
Article continues below advertisement
It's pretty safe to say that this hack will join the annals of TikTok legend as being something actually worthwhile on the platform.
However, there are some plumbers who have varying opinions as to whether or not you should do it. Some say it's a great way to save water and is completely safe.
Article continues below advertisement
Not familiar with Fabuloso and want to know what it's used for? Here's an explainer.
The all-purpose cleaner is just that — all purpose. It comes in a variety of different colors and scents, and you may notice it bears a striking resemblance to the antifreeze-consistency-beverage Tampico. In fact, some people refer to the cleaner as "forbidden juice" because it's kind of appetizing in a weird way. (Please don't actually drink it.)
Are you going to try that Fabuloso TikTok toilet tank hack? Or have you done it already and are enjoying the wonders of your fresh-smelling bathroom like so many others?