Restaurant Regulars Pull "Fake Tipping" Scam Every Meal, Server Has No Idea How to Address It
A server shared the strange and twisted way a pair of ladies fake tip every time they eat at the restaurant she works at.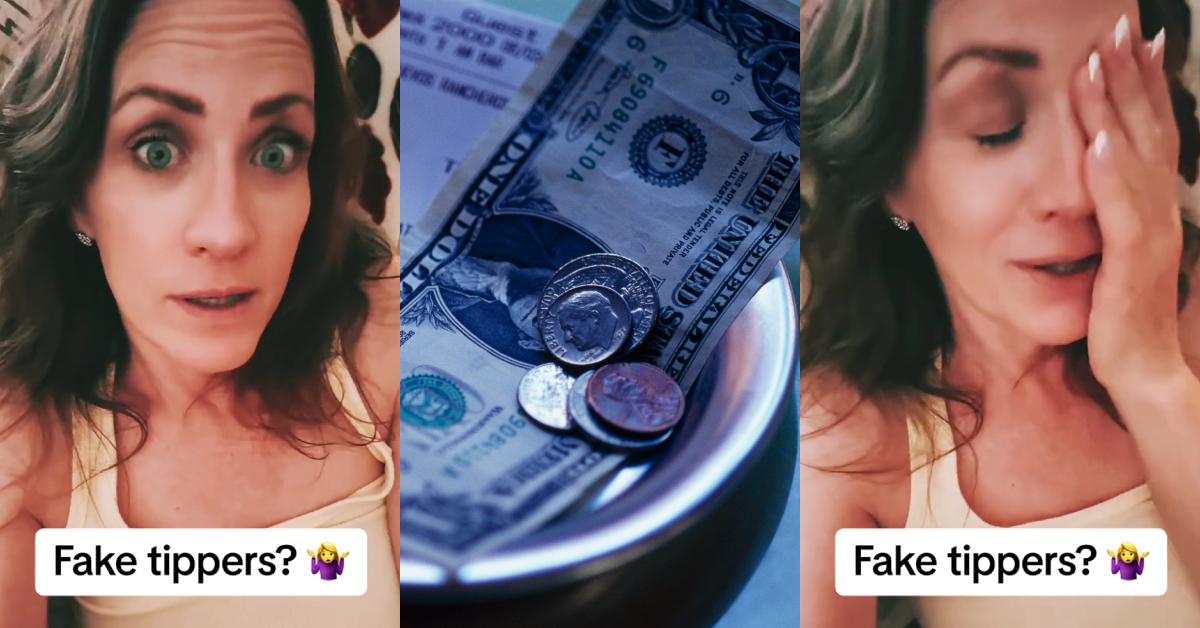 Restaurant server and TikToker Angie Christie (@angiegirl71) posted about the unbelievable way a pair of women come into the establishment she works at. pretending like they're going to tip every single time.
Article continues below advertisement
Angie says in the video: "Okay TikTok here's a server story. So I work at a restaurant and one of my friends that is a server she works and she has waited on the same ladies several times and she's like I don't understand it, they don't tip me, I know them..."
The TikToker goes on to state that one of the ladies in this recurring group of diners has a son on the same football team as her son, and she just couldn't fathom why these women wouldn't leave her a gratuity. "So she's so irritated and, but, can't say anything and it's like whatever..."
Article continues below advertisement
The most bizarre part of the story is the fact that this one diner employs a recurring "fake out" when it comes to tipping, and she does it every single time. Angie broke down the woman's strange faux-tipping method.
Article continues below advertisement
"And she does the same routine where she like pulls out money acts like, puts no Tip on the tab, puts money on the table, but always takes it away at the end, like when they leave."
Angie was well-versed in this table's ways because her friend divulged the nuances of their skulduggery, so she was prepared for it when she had to wait on them one day. "The other day I got this table, okay, Angie...if these people tip you I know it's personal. If they don't tip you it's not personal."
Article continues below advertisement

She also mentions in her story time that these non-tippers not only skimp out on gratuities, but they occupy a table at the restaurant for several hours. "It's like they come in and they're there for like 3 to 4 hours and they don't tip accordingly, it's just whatever, well they don't tip at all actually, so anyway, my turn."
Article continues below advertisement
Angie went on, "So I get this table and I'm waiting on them everything's smooth, they're happy, they're talking, I check back on them, like, there's nothing wrong. okay? I go to check them out, she hits no tip and then verbally says I'm gonna leave the cash tip, I'm like, okay, in my mind."
The TikToker then gives a play-by-play as to what happened next, "She's taking out cash, she puts it on the table, and then the other friend pays, cause they're separate checks, and she says the same thing out loud, I'm gonna leave cash. Okay."
Article continues below advertisement

Well, Angie discovered that the fake tipping facade these women were pulling off on servers wasn't personally geared towards her friend: it seems like they just get off on leading food service workers on: "So I walk away they proceed to sit there for like, almost another hour, and then, just as I'm walking up as they're leaving, the cash is collected off the table that she portrayed to leave, the other lady never laid anything down and she left."
Article continues below advertisement
The TikToker then headed over to her co-worker to let her know that the cash-and-swipe wasn't "personal" because they did the same thing to her.
What's mind boggling to Angie, however, is that the customers keep returning to the restaurant "day in and day out" and don't seem to have any remorse for what they're doing whatsoever.
Article continues below advertisement

She said that while she understands folks not leaving a tip for poor service, she couldn't wrap her head around the fact that these women are regulars who are welcomed and treated very well every time they enter the restaurant.
Article continues below advertisement
Some commenters who saw her post responded with some helpful pointers on how to handle the fake tippers the next time they enter the restaurant: "Next time: 'Oh the last couple times you ladies came someone stole the tip from your table, do you mind handing it to me to prevent that?'" they wrote, and Angie responded that she thought this was a great idea.
Another decided to take a little more of a chaotic approach: "I would walk up and say omg I think someone stole the tip! Im gonna have management check the cameras to see what happened!"
Article continues below advertisement

Someone else said that she should've simply lied and said that her shift ended and that she'd need to take the tip right then and there.
Article continues below advertisement
One person thought that it was best to get the manager involved: "I would have manager confront them. I see you have removed tip several times. Can I ask what the dissatisfaction was?"
Have you ever worked as a server and experienced something like that while you were on shift? Or were customers more blatant about stiffing you out of a gratuity?