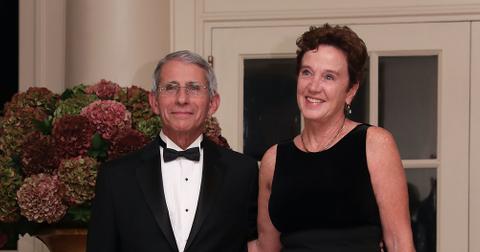 No, Dr. Fauci's Wife Is Not Related to Ghislaine Maxwell
By Katie Garrity

Updated
Conspiracy theorists have really taken the cake with the newest rumor to be spread. After a tweet went viral, many are now under the false impression that Dr. Anthony Fauci's wife, Christine Grady, is the sister of Ghislaine Maxwell. For those unfamiliar, Ghislaine Maxwell is a British socialite recently arrested on charges related to Jeffrey Epstein's sex trafficking ring.
Once this tweet went viral, the internet and QAnon supporters ran with the idea that Dr. Fauci and his wife were involved in some sort of "deep state" conspiracy or worse, Jeffrey Epstein's trafficking ring. Snopes, as well as many other sources, have debunked this claim.
The rumor was spread by a proponent of the "QAnon" movement.
DeAnna Lorraine, a proponent of the "QAnon" movement, posted a message on Twitter claiming that Dr. Anthony Fauci, one of the lead members of the Trump Administration's White House Coronavirus Task Force, was married to the sister of Ghislaine Maxwell. In a now-deleted tweet, she wrote that Dr. Fauci's wife was Ghislaine's sister and encouraged others to spread the lie.
She tweeted, "BREAKING: Dr. Fauci's WIFE is Ghislaine Maxwell's sister! And the plot thickens. I knew my instincts were right about Fauci. RETWEET! #FollowTheWives"
Soon enough, her tweet went viral and received over 1,200 retweets. It wasn't long before she then questioned her own tweet and wrote, "Can someone pls confirm this?? I'm hearing from multiple sources?"
Instead of admitting she was completely wrong in her claim, she decided to just delete the tweet and say that she needed to investigate it more because she was "getting different facts. She wrote, "Sorry guys. True news is extremely important to me and I want to make sure something is 150% true and fact checked before posting it. I'm getting different facts on the story about Fauci."
A simple Google search could have debunked DeAnna's false claim.