People Are Sharing Screenshots of Flirty Interactions with Customer Service Reps
One woman shared that the Amazon customer service rep flirted with her through the chat, and soon, many others shared screenshots of similar conversations.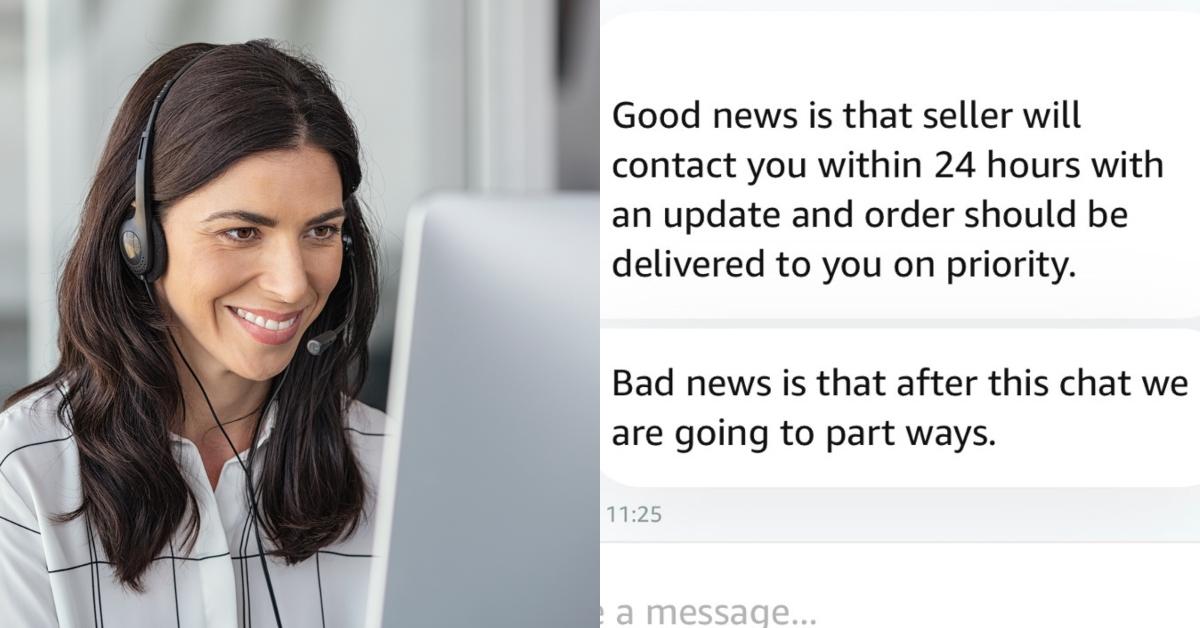 Often, when you reach out to a company's customer service chat, it's because you're experiencing a problem with your order or the product. You're probably feeling frustrated and annoyed that you have to take this time out of your day to deal with this. But sometimes, the customer service reps get a little flirty! After all, they are real people dealing with real complaints all day.
Article continues below advertisement
One Twitter user who goes by Roxana shared that that Amazon customer service rep she was talking to started straight-up flirting with her! Her tweet went totally viral and inspired others to share screenshots of similar conversations. Apparently, this is a phenomenon.
This smooth-talking Amazon customer service rep caught Roxana off-guard so much that she had to share with Twitter. And it went crazy viral, garnering over 23,000 retweets and 306,000 likes. And so many people responded with similar experiences. Like, a shocking number of people. These are some of our favorites.
Article continues below advertisement
Oh my god, I think these people need to be best friends. They clearly have a connection. Either that or the customer service rep is just terribly lonely and had been dealing with lots of rude people lately. I suppose that's also a possibility.
Breathtaking! They called them breathtaking! I don't know about you, but I would take this compliment any day. But I would also be a little concerned that there was a camera somewhere and they were actually looking at me without me knowing.
Article continues below advertisement
Free games an some sweet talking from the customer service lady? Sounds like a fantastic day. I wish that customer service agent could send me a drink... If I was that person, I'd totally take her up on it.
Aw man. This is pretty much verbatim the conversation that Roxana had with customer service rep. Maybe it's a canned conversation they're given in case they want to liven up the conversation. The only other explanation is that Roxana and Elise somehow both got the exact same customer service rep. I like to believe that's the case, even if it is highly unlikely.
Article continues below advertisement
"Awesomeness overload!" I don't think I've ever seen so many smiley faces come from a customer service representative. I guess it's probably a nice job when you can help solve people's problems and then they are grateful for what you've done for them.
How nice is this one? It's a little bit sad though. The compliment is nice but I feel like it indicates that the customer service rep has dealt with a lot of people who haven't acted like "nice and kind" people. This is your reminder to be kind to customer service reps and not take your anger out on them because they are people and it's not their fault!
Article continues below advertisement
Ooooo. A name compliment. That's very interesting because when you chat with someone over a messaging app, especially in a customer service context, you don't know a lot about each other, except for the other person's name. So when someone compliments your name over chat, they're basically saying that they love everything they know about you. That's kind of wonderful.
This one is teetering on inappropriate, but I like that the person offered their number and didn't ask or pressure the customer to give them theirs. It leaves the ball entirely in Sarra's court. She can reach out if she wants or not. No pressure either way. But there is something that's nice about customer service flirtation when it's theoretical and kind of silly and unrealistic. It's a little different when the customer service person tries to move the interaction into "real life."
This is just a cheery and nice message. Turns out if you are warm and nice to others, they'll probably return the favor! In conclusion, whether your customer service reps are overtly flirting with you or not, be nice to them. You might just make their day.