Disney Plus Is Experiencing Technical Issues on Launch Day, and People Are Freaking Out
Calls and complaints to Disney Plus customer service are skyrocketing as people experience glitches and other technical issues on launch day.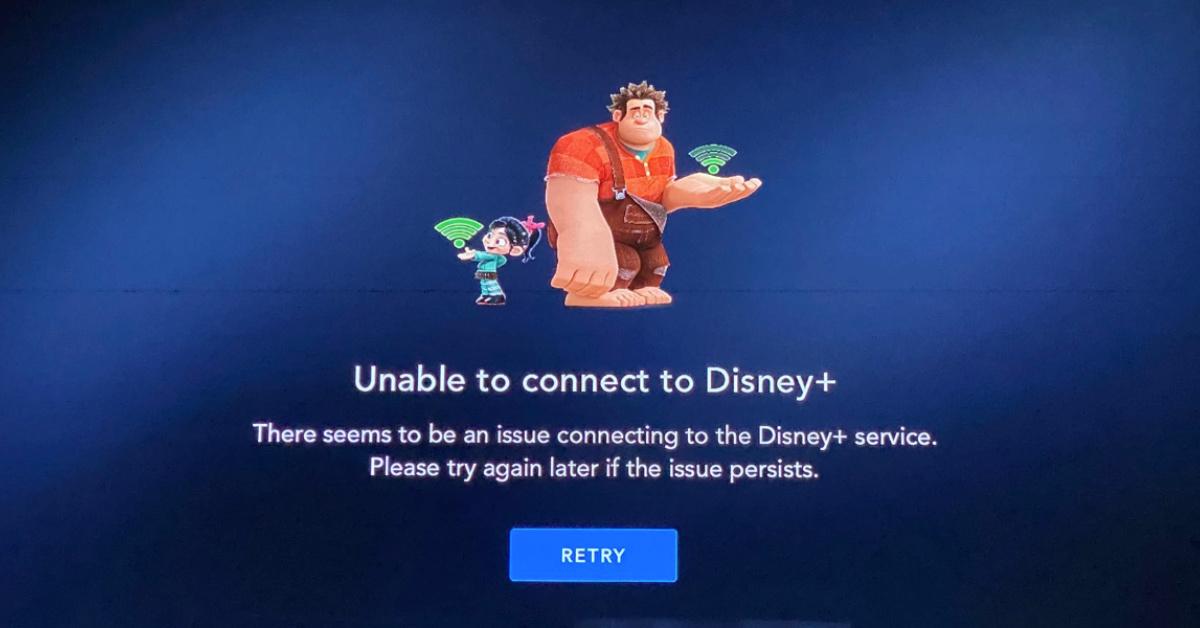 It's here! It's here! It's finally here! After all that waiting around and dreaming about everything Disney Plus has to offer, the streaming service has finally launched. Obviously, it's a very exciting day for every Disney (and Pixar! And Marvel! And Star Wars!) fan.
Article continues below advertisement
Except for one major problem: Disney Plus isn't working. Many users have experienced technical errors and glitches that are making for a pretty disappointing launch day. Disney Plus customer service hasn't been particularly helpful, either.
Disney Plus customer service admits Disney wasn't quite prepared for launch day.
"The demand for #DisneyPlus has exceeded our highest expectations," the official Disney Plus Twitter account tweeted on launch day. "We are so pleased you're excited to watch all your favorites and are working quickly to resolve any current issues. We appreciate your patience."
Article continues below advertisement
We totally understand that the Disney Plus customer service folks are probably working their tails off to fix the issues some users are experiencing, but... seriously? They didn't anticipate how popular the demand for the service would be?! Have they been on the internet over the past few days as people were becoming more and more excited to watch The Mandalorian?
Article continues below advertisement
There are several different issues plaguing the Disney Plus launch day.
According to Variety, some users reported having trouble signing onto the service when it first launched. Others reported having issues watching specific content or accessing certain features of the service, like building a watch list. The Disney Plus customer service website offers both a phone number and a live chat option, but it seems like they're pretty backed up at the moment.
Article continues below advertisement
The Disney Plus page at downdetector.com is abuzz with all manner of complaints. According to the graph available there, the issues spiked at around 6 a.m. ET, when there were more than 8,000 reported issues. Yikes. Most of the problems people are having seem to be around streaming videos — you know, just the main purpose of having a Disney Plus account. No big deal.
The Disney Plus technical issues don't seem to be centered around one specific device, either. Would-be Disney Plus users are reporting problems with the service working on Apple TVs, Xbox devices, and Roku devices. If you are experiencing issues with Disney Plus, the advice for the moment seems to be to try streaming from another device if you have one — don't forget Disney Plus is also available on mobile!
Article continues below advertisement
The conspiracy theories are also already flying around. One commenter on the Downdetector site believes that the launch day issues were planned ahead of time. "This problem this morning was on purpose, so they could prove how fast they could fix it," they wrote. Something tells us that Disney probably isn't a huge fan of their highly anticipated streaming service going kaput, but who knows?
Still, the Disney Plus customer service team has assured users that they're working hard to get everything up and running. It can't be easy being on the technical side of things on launch day. With some luck, the Disney Plus technical errors will be resolved soon, and we can all finally watch that sweet, sweet Disney Plus content.