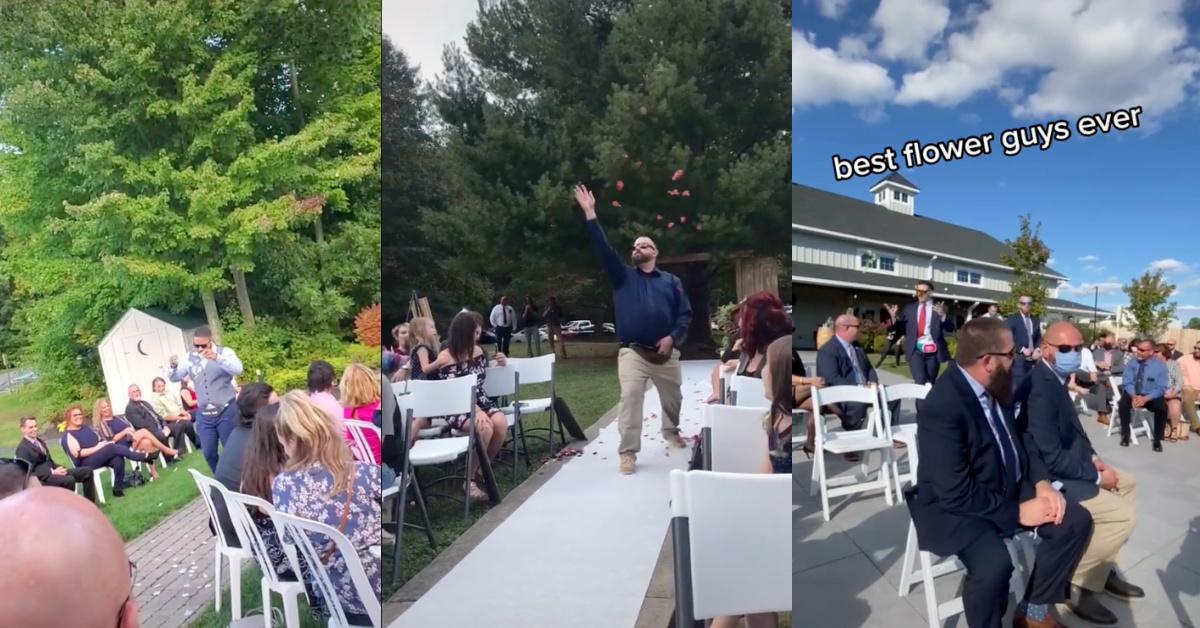 Weddings Are Now Featuring "Flower Men," and the Trend Is Hilarious
There is no doubt that when you find yourself mindlessly scrolling TikTok at all hours, you're bound to come across something new to see, try, or make. TikTok is a treasure trove for new ideas, creations, and trends.
Article continues below advertisement
The "flower man" trend is going viral all over the wedding side of TikTok, and it may be one of our favorite things ever. So, what exactly are flower men, and why are they taking the social media video sharing app by storm? We have all the details below!
A "flower man" or "flower dude" takes the place of a flower girl in a friend's wedding.
Videos of flower dudes (aka flower men) are currently getting a ton of views and likes on TikTok. Viewers can't stop expressing their admiration and joy over this creative wedding trend that takes a new spin on an old tradition.
Article continues below advertisement
A flower man is essentially the male version of a flower girl, the person who must carry and scatter flowers down the aisle in front of the bride and groom at a wedding ceremony. The popular TikTok hashtag #flowerdude currently has more than 25 million views and is filled with tons of video footage from several weddings that used a flower man.
Article continues below advertisement
The flower man concept has been adopted in many weddings.
Having a grown man throw flower petals while walking down the aisle definitely isn't a new trend. In fact, there are thousands of videos circling the internet showcasing flower men in weddings.
Article continues below advertisement
TikTok user @realflowerdude takes credit for being the first flower man to have his walk down the aisle go viral and consistently shares videos of his appearance on his social media channels. His TikTok bio reads, "sprinkling petals and shakin dat ass since 1985."
Article continues below advertisement
In his most popular TikTok video, you can see @realflowerdude walking down the aisle to the song "The Stroke" by Billy Squire. The same song also happens to play in Annie's TikTok video.
One user commented, "I've been married 23 years, this vibe makes me want to do it all over again."
Article continues below advertisement
You have to admit that it's a pretty great idea, right? Who says that the people throwing flowers ahead of the bride's arrival have to be little girls in fancy dresses? Throwing flower petals is fun — everyone should get the chance to do it if they want to!
Goodness knows that weddings can sometimes be kind of boring, anyway (sorry, not sorry — you know it's true). If you're in the midst of planning your own wedding ceremony, you might want to consider adding a flower man to the celebration. They'll definitely be sure to bring a smile to your guests' faces! You might even want to upload the video to TikTok and claim some internet fame for yourself!