These Pics Spanning 4 and 5 Generations Prove the Apple Doesn't Fall Far From the Tree
People who've captured four generations of their family in one photo show how strong their genes are. The resemblance is often truly remarkable!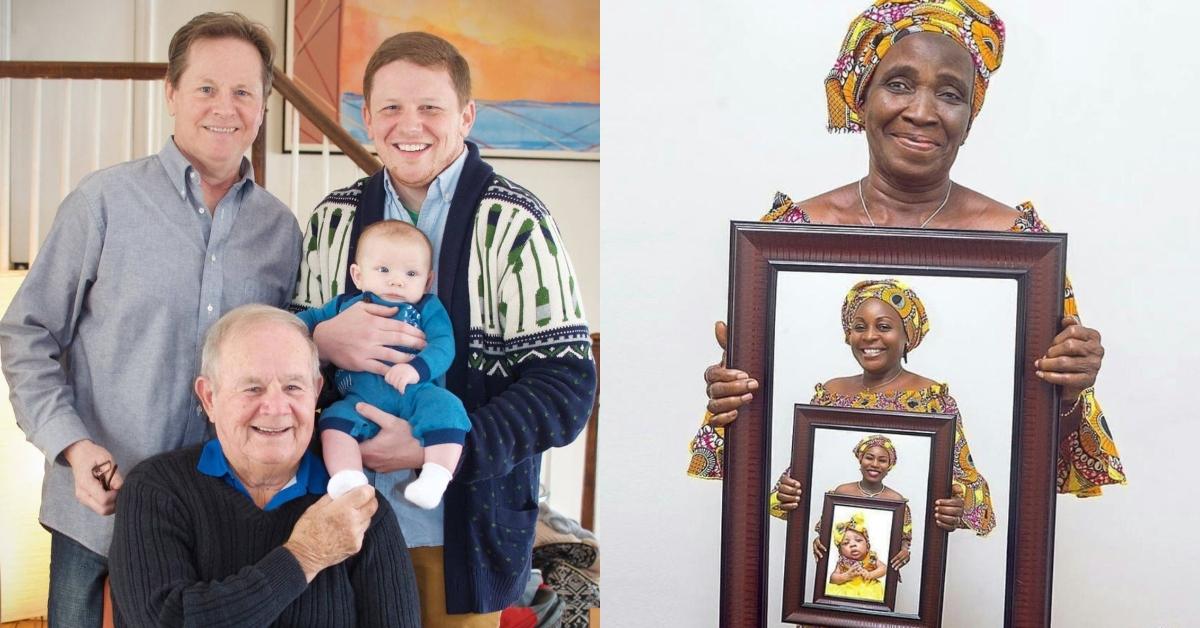 As the old saying goes, the apple doesn't fall far from the tree, but what happens when you go through several branches of the family tree? While 100 years ago it would be rare to be able to capture four generations of one family in a single photo, it's not too uncommon these days. We're living much longer on average, and since nearly everyone carries around a smartphone in their pocket, it's also easier than ever to capture family pics — like these incredible instances of four generations in one photo.
Article continues below advertisement
1. Beauty at every age
Kind smiles and cute noses are clearly strong genes in this family tree. While the resemblance isn't so strong as to seem like it's four generations of the same person, you can definitely see they're all related. This family also proves that beauty truly knows no age.
2. Four generations of Max
Every person in this pic is named Max, and you can tell they're a family. However, is it just me, or does resemblance seem to skip a generation? the youngest Max seems to most closely resemble his grandpa, and his dad seems to have inherited his chin and nose from his grandpa.
Article continues below advertisement
3. From 20 to 103
The family pictured here spans more than 80 years! The woman on the left is 20 years old, alongside her mother, age 48, followed by her 85-year-old grandmother, and her great-grandmother, who is 103. Wow! Talk about some excellent genes.
Article continues below advertisement
4. Nobody does the Four Generation challenge better than China
This video honestly gets better with every watch, as you see people call out to their mom or dad until four generations have paraded onto the screen.
Article continues below advertisement
5. Nesting dolls
Unlike some of the more candid snapshots and videos so far, this one took some work! They clearly had to get custom dresses and headwraps to match, then made several trips to the photography studio and photo framers to capture this nesting doll style portrait of four generations. The result was worth it, though!
Article continues below advertisement
6. Black and white beauty
The woman on the far left, age 36, poses with her mom (57) and grandmother (81), as well as her 31-year-old sister (front, left) and her 3 year-old daughter. A lot of redditors were confused and thought this might be five generations, but hey, give them a couple decades and maybe they will achieve it!
Article continues below advertisement
7. Very good genes indeed!
If you're looking at this pic and thinking the two women in matching dresses are clearly sisters, you're not alone. However, they're mother and daughter, aged 21 and 40, alongside 65-year-old grandma and 95-year-old great-grandma. Each one of them looks way younger than her years.
Article continues below advertisement
8. Four generations of gingers
Here's hoping long life runs in the family as well s being ginger clearly does! Even though this great granddad has gone gray, you can still see a whisper of the red hair that he's passed down through four generations.
Article continues below advertisement
9. Oh to have your youth and a full head of hair again
Judging from the reflection in the mirror behind the couch, male pattern baldness seems to run in this family. Get that little man started on the Rogaine early, dad!
Article continues below advertisement
10. Giving thanks for longevity
Here a daughter and son flank their great grandma, grandma, and mom at a Thanksgiving celebration. Is it just me or do they all have the exact same smile and eyes?
Article continues below advertisement
11. I'll see your 4 and raise you 5!
This new dad got to capture five generations of his family in this photo. Standing in the back with his mom, his grandmother is seated in the front alongside his great-grandma, who lived to see and hold her great-great-grandson.
Article continues below advertisement
12. 98 years of family
What a special present for this great-great grandma! She got a pic with five generations of her family, starting with her, followed by her son, grandson, great-granddaughter and her great-great granddaughter. Few people get to live long enough to see that.
Article continues below advertisement
13. 98 years between them
First off, can I just say that this is the youngest I've ever seen 98 years old look, and I'm beyond envious of this family that apparently found the Fountain of Youth and has just been keeping it to themselves. So selfish — but I can't blame them, if I'm being honest.
Article continues below advertisement
14. Italian genes are molto forte
This circa-1987 photo shared on reddit shows the poster as a baby on the lap of her great-great grandma, along with the other three living generations of Italian women in their line.
Article continues below advertisement
15. Dad challenge
Seriously, how cute is this? I can't get enough of TikToks of cute Asian families trotting out their parents ad infinitum. This is the wholesome content we can all get behind regardless of race, religion, or political affiliation. Encore, encore!
Article continues below advertisement
16. 6 men spanning 5 generations
This stoic group has genes so good, it's hard to tell there are three, not two generations parked on the floor in front of the sofa. The poster who shared this to reddit is seated with his baby son on his lap, and his uncle and father are seated to his left and right. His great grandpa and grandpa get the couch because seniority.
Article continues below advertisement
17. Old-school 5G
This "old school cool" pic is from August 1983 and definitely bodes well for the youngest in that pic. Maybe they too will leave to see their great-great-grandchildren!
Article continues below advertisement
18. Ages 1 to 85
Technically, this is only four generations, but they represent five different generations. The poster (on the right, holding her 1-year-old daughter) is 24. The two women on the left are her 43-year-old mom (far right) and her aunt, who is 61 years old in the pic. Their mom, OP's grandma, is 85 and looking mighty youthful if you ask me! Altogether, they represent the Silent Generation, Boomers, Gen X, Millennials, and the newest, Gen Alpha.
Article continues below advertisement
19. A proud grandma shows off five generations of her husband's family
The woman who shared this photo is a new grandma, but just as excited about the occasion is her great grandfather-in-law, who got to hold the baby. Her daughter, a new mom, is seated in front of her dad, whose own father sits next to his dad.
Article continues below advertisement
20. 6 generations, in 2 pics
This photo features two iterations of five-generations in one pic. The person who shared it is the baby in the bottom photo with his mom holding him and his grandmother behind him. His great-great grandma and great grandma are seated to his mom's left and right, respectively. In the top photo, his mom is the baby held by her mom alongside her mom, great-great grandfather and his daughter, her great grandma, the first of them to be born in America.
Article continues below advertisement
21. One last time together
The gentleman who shared this pic from his wedding showed off five generations who got to be together one final time before his great grandma (seated) passed away. If you can believe it, that woman on his left is his mom, not his sister, and that's his grandma holding his daughter.
Article continues below advertisement
22. 5 generations in pastels
A little stagey, but this sweet portrait studio photo shows a new mom cradling her daughter as her mother, grandma, and great grandma look on. All the adult women are sporting pastel blazers and, honestly, I gotta give them props for this level of coordination.