This Adorable Lifelong Romance Was Predicted Years Ago...on Twitter
For better or worse, social media documents everything. That can be a curse for many. But believe it or not, it can also be a blessing. An adorable, hilarious blessing. This is the case for one couple whose romantic journey is documented in tweets and Instagram DMs going back three years.
Article continues below advertisement
You might remember the viral tweet that Twitter user Elle posted in March of 2016. A random dude on Instagram had DMed her saying that he was going to send her "a picture of his gundam." Of course, Elle was rightly suspicious. That sounds like a euphemism for something terribly inappropriate. And women get creepy DMs like that all the time.
Article continues below advertisement
So obviously, the message disturbed Elle. But the guy wasn't lying, and he wasn't speaking euphemistically. He really wanted to show this woman his Gundam robot, which is a character from an anime series called Mobile Suit Gundam.
Just to reiterate, he literally sent her a picture of a robot that he spent his weekend building because he was so proud of it and wanted to show it off. Now, you have to realize that at this point, this is a "random Instagram dude." They don't know each other. He was just really excited to show off his robot.
Article continues below advertisement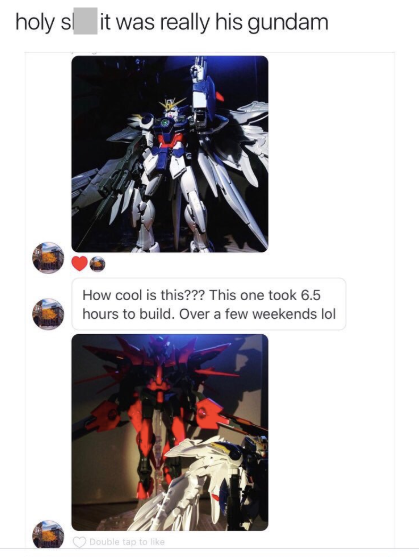 I'm sure Elle had a few initial thoughts when this dude sent her pictures of his big Gundam. First among them was probably, "Oh thank god it wasn't what I thought it was going to be." Second was probably, "Wow, this guy is a super nerd." And third? Well, she was kind of charmed by him.
Article continues below advertisement
And I don't blame her! He was so excited about his robot. It's kind of cute! But alas, he was just a random guy on Instagram that she didn't know, so he would probably remain just that.
But of course, it didn't remain just that. Exactly one month later, in April of 2016 Elle tweeted, "Today i met the gundam guy in person by chance and idk man i might marry him." We don't have all the details, but somehow, by chance, the Gundam guy and Elle met in real life.
Article continues below advertisement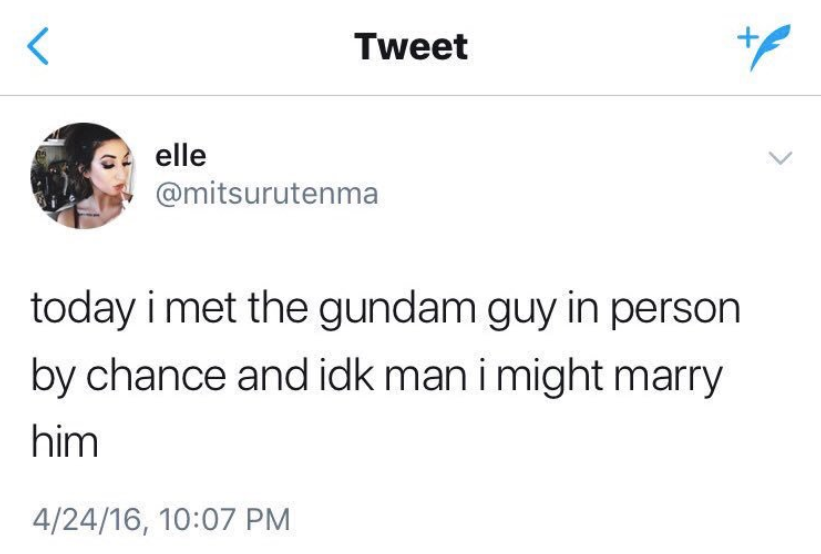 She had no idea how right she was. In 2017, Gundam guy proposed to Elle after about a year and a half of dating. It was a match made in Instagram DMs. On November 21, 2017, Elle tweeted, "I cannot believe gundam guy asked me to marry him.... I am going to be... mrs. gundam."
Article continues below advertisement
Of course, this development went totally viral, and Elle took to Twitter to explain a little more about their situation. They went to high school together, began talking to each other in March of 2016 (following the now-legendary sending of the gundam), went on their first date that April, "and he's been the most supportive and loving person in the whole world for me."
It's OK. Take a moment and wipe that tear from your eye. I understand. It's just too cute and good and wholesome for words. Now, it's been another year and a half since Elle and Gundam Guy were engaged. And reader, she married him.
Article continues below advertisement
"I've never been so happy to have been right about something in my whole life," Elle tweeted, along with screenshots of those early tweets and this darling picture of the two of them right after they eloped. This tweet of Elle's went completely viral...again.
People shared messages of love and support and honest surprise that this relationship worked out. You don't often get to see a whole romance blossom on Twitter, especially ones that begin with a random dude DMing a woman about how he's going to show her his gundam.
In her thread, Elle explains that she and Gundam Guy eloped because she's sick with endometriosis and needed to get on his health insurance. There's a GoFundMe where you can donate to help cover her extensive medical costs.
Never fear, though. They are planning to have a big wedding celebration next year. "And yes," Elle wrote, "there will be gundam Essence sprinkled throughout."