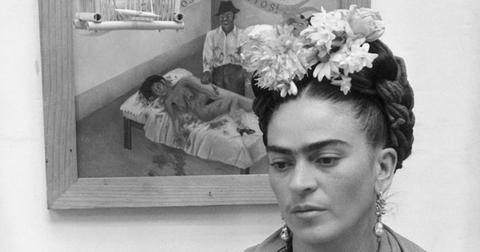 20 Frida Kahlo Quotes on Strength, Love and Art
By Pippa Raga

Updated
Mexican painter, poet, and all-around boss Frida Kahlo is an absolute icon — and rightfully so.
As a child, she became disabled with Polio, and at 18, she was in a near-fatal traffic accident that caused her prolonged pain and health complications.
Frida married successful Mexican painter Diego Rivera, who was a serial womanizer, though Frida had her own share of dalliances during their marriage.
Throughout her life, Frida was profoundly inspired by the pain she endured, and wrote in her diary, as well as penned correspondences to her husband and other contemporary artists.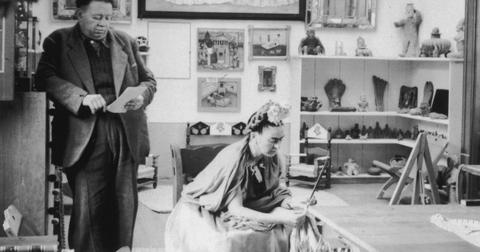 Frida Kahlo quotes on strength.
1. "Pain, pleasure, and death are no more than a process for existence. The revolutionary struggle in this process is a doorway open to intelligence."
2. "Nothing is absolute. Everything changes, everything moves, everything revolves, everything flies and goes away."
3. "I tried to drown my sorrows, but the bastards learned how to swim, and now I am overwhelmed by this decent and good feeling."
4. "Don't build a wall around your suffering. It may devour you from the inside."
5. "You deserve the best, the very best, because you are one of the few people in this lousy world who are honest to themselves, and that is the only thing that really counts."
6. "At the end of the day, we can endure much more than we think we can."
7. "I must fight with all my strength so that the little positive things that my health allows me to do might be pointed toward helping the revolution. The only real reason for living."
8. "Nothing is worth more than laughter. It is strength to laugh and to abandon oneself, to be light."
9. "I think that little by little I'll be able to solve my problems and survive."
Frida Kahlo quotes on art, beauty, and love.
10. "I paint flowers so they will not die."
11. "The only thing I know is that I paint because I need to, and I paint whatever passes through my head without any other consideration."
12. "Can verbs be made up? I'll tell you one. I heaven you, so my wings will open wide to love you boundlessly. I am not sick. I am broken. But I am happy to be alive as long as I can paint."
13. "I don't paint dreams or nightmares, I paint my own reality."
14. "I love you more than my own skin."
15. "Painting completed my life."
16. "Take a lover who looks at you like maybe you are magic."
17. "I am that clumsy human, always loving, loving, loving. And loving. And never leaving."
18. "I leave you my portrait so that you will have my presence all the days and nights that I am away from you."
19. "I paint self-portraits because I am so often alone, because I am the person I know best."
20. "Nothing is worth more than laughter. It is strength to laugh and to abandon oneself, to be light. Tragedy is the most ridiculous thing."