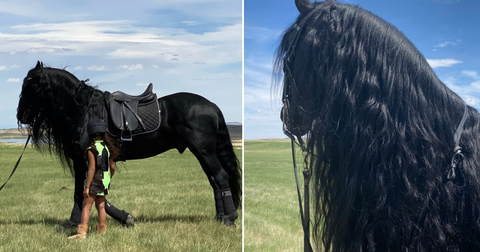 Kim Kardashian's 14 Friesian Horses Tweet Did Not Go Over Well
By Gina Vaynshteyn

Feb. 8 2021, Updated 3:23 p.m. ET
Considering we're in the middle of a global pandemic that's cost hundreds of thousands of lives and decimated the economy, celebs have, for the most part, been pivoting away from posting photos of their immense wealth. Not only is bragging about your riches considered gauche these days, but it's pretty insensitive, too.
Article continues below advertisement
Kimberly Kardashian-West did not get that memo, and went ahead and tweeted about her 14 "Friesian" horses (she also misspelled "Friesian," but that's another story) that she has on her ranch in Wyoming. "Meet North's Friesian horse. We have 14 gorgeous Friesians on the ranch," she tweeted on Monday, June 29.
Article continues below advertisement
The Friesian horse shoutout came shortly after announcing North's 7th birthday, which was spent on the ranch. Kim posted other birthday photos (in which her 14 Friesian horses were notably absent) that showed what North's cowgirl-themed birthday bash looked like.
Article continues below advertisement
Backlash to Kim's Friesian horse tweet was swift. Many felt like it was tone deaf, considering the current economic climate. COVID-19 federal aid is coming to an end, and many are facing (if not have already faced) evictions and bankruptcy — on top of potentially losing loved ones to the virus.
Tell your sister to pay her Bangladeshi workers Kimberly

— Tayoncé Defense Attorney (@BlueIvysDoormat) June 30, 2020
Article continues below advertisement
very cool Kim, my last apartment had 14 gorgeous mice

— ditch pony (@molly7anne) June 30, 2020
Article continues below advertisement
Yeah slightly tone deaf Kim.. come on love.. people are struggling, don't begrudge ur fortune but maybe u don't flaunt it when ppl can't feed their kids.? 🤷‍♀️

— E (@elan_hunter) June 30, 2020
Another tweet by writer Jessica DeFino pointed out that while Kim and Kanye are out there buying 14 Friesian horses, the Kardashians paid her so little when she was an editor for the Kardashian-Jenner Official Apps that she had to do her grocery shopping at the 99 Cents Only Store — and that she was "reprimanded" for seeking freelance work to supplement her income.
Article continues below advertisement
I had to buy groceries at the 99 Cents Only Store when I worked as an editor on the Kardashian-Jenner Official Apps ❤️ and got reprimanded for freelancing on the side ❤️❤️ https://t.co/E4crddQo7i

— Jessica DeFino (@jessicadefino_) June 30, 2020
But in case you're wondering: How much is a Fresian horse exactly?
Fine, we're curious too. "Friesian" horse sounds fancy (this particular breed originates from Friesland in The Netherlands, FYI), so it's probably an expensive horse, right? According to Horse Is Love, Fresian horses can cost anywhere from $3,000 to $50,000. Pedigreed horses (which is what the Kardashian-Wests probably own) range anywhere from $19,900 to $47,900 (or more, depending on the horse). "Cheaper" Friesian horses are usually older and untrained.
Article continues below advertisement
Looking at EquineNow, a site that shows horses for sale, you can see horses going from $29,900 to $54,900.

Kim and Kanye could have paid over $700,000 for their 14 Friesian horses alone (mind you that they own "mainstream" horses as well). Needless to say, the ridicule Kim is receiving is honestly deserved.