The Frozen Honey TikTok Trend Is a Big Hit Among People With a Sweet Tooth
The Frozen Honey Trend quickly took over TikTok — and it's easy to see why. It only requires a few ingredients, but yields staggering results.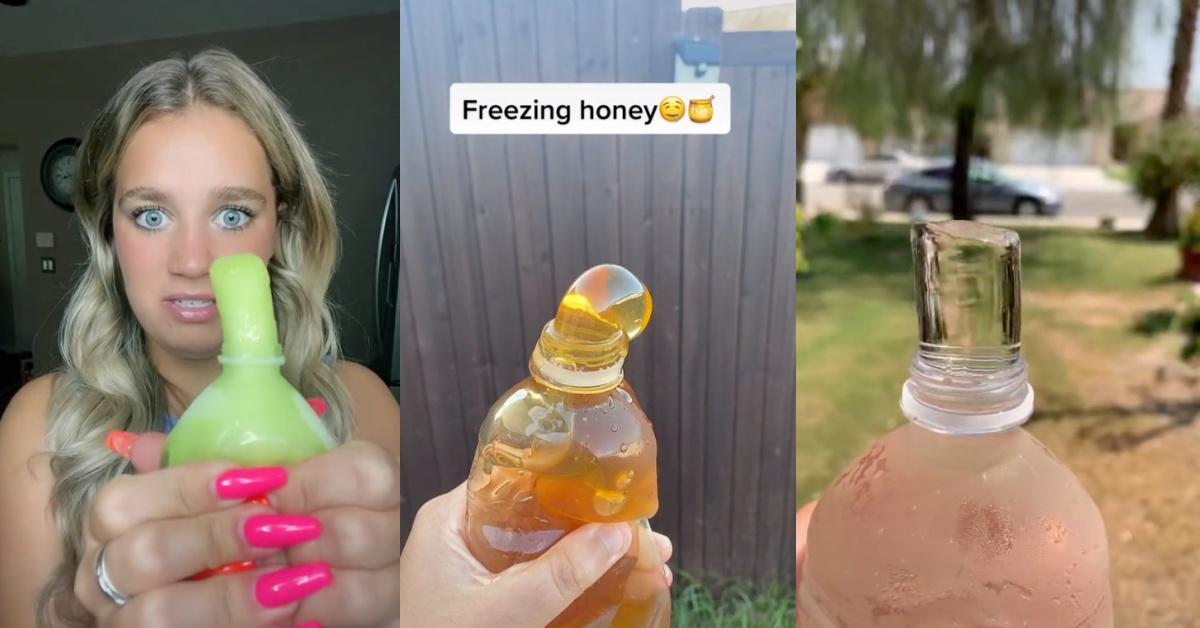 A new culinary craze made the rounds on TikTok in 2021. Unlike the labor-intensive Dalgona Coffee Trend or its non-caffeinated derivative, the Whipped Lemonade Trend, the frozen honey trend only requires one ingredient and some patience on your part. Here's what you should know about the frozen honey trend.
Article continues below advertisement
TikTok's frozen honey trend calls for just a few ingredients — but the results are incredibly satisfying.
Unlike some of the more sophisticated gastro trends on TikTok — 15-Hour Potatoes, anyone? — the frozen honey trend only involves some honey and a working freezer. That's it.
Honey doesn't freeze in low temperatures. Instead, it acquires a more viscous, jelly-like texture, which makes it perfect for TikTok videos. What's more, it doubles as a cooling dessert for people who don't mind a mild sugar high.
Article continues below advertisement
TikTokers are filling an empty bottle with honey, then popping it in the freezer. A few hours later, your treat is ready to eat! Simply squeeze the bottle and enjoy! Don't like the flavor of honey? Don't worry! TikTokers like Grace Mary Williams have your back. Here's a version she made using corn syrup, edible glitter, and pickle-flavored cotton candy:
Article continues below advertisement
You can use corn syrup instead of honey for the trend to add your own flavors.
As Grace (and others) have discovered, you don't have to stick with honey to try TikTok's new favorite frozen dessert. Anything with a high enough sugar content will work. Tons of people are using corn syrup instead of honey as it's easier to add your own flavor without it being overwhelmed by the taste of honey. TikToker Leiah Christina mixed together strawberry Jell-O powder, Tajin, and fruit juice concentrate to some pretty amazing results:
Article continues below advertisement
Some TikTokers have also begun to experiment with the vessel needed to create the frozen honey concoction. Smaller-sized plastic bottles remain the most popular option. All the same, many have decided to take a look at the contents of their kitchen cupboard with a fresh pair of eyes. Here's a batch of the OG frozen honey in a silicone mold (which, honestly, looks a lot easier to eat out of):
Article continues below advertisement
An influencer named Noemi Nikita (@noeminikita) chose a lemon-shaped, bright yellow lemon juice bottle with an undeniable retro feel. Meanwhile, another TikToker named Anna (@anna.antonje) stumbled upon a genius shortcut. Instead of pouring the honey into a water bottle, she used the original plastic bottle the honey came in to make the honey jelly.
Article continues below advertisement
This probably goes without saying, but the frozen honey Tiktok snack isn't exactly the most nutritious snack out there. Then again, given how much corn syrup is used in processed foods these days, it's also not the least nutritious snack available. We're guessing most people probably aren't consuming the entire bottle of sweet jelly, anyway. Regardless, we're definitely making a trip to the grocery store for some sweetness in the near future! Now to determine what we'll be mixing in ...