People Are Freezing Their Pants and It Might Be the Coolest Science Experiment
You might've seen pictures of frozen pants floating around the internet and wondered what was going on. Well, we've got the answers for you.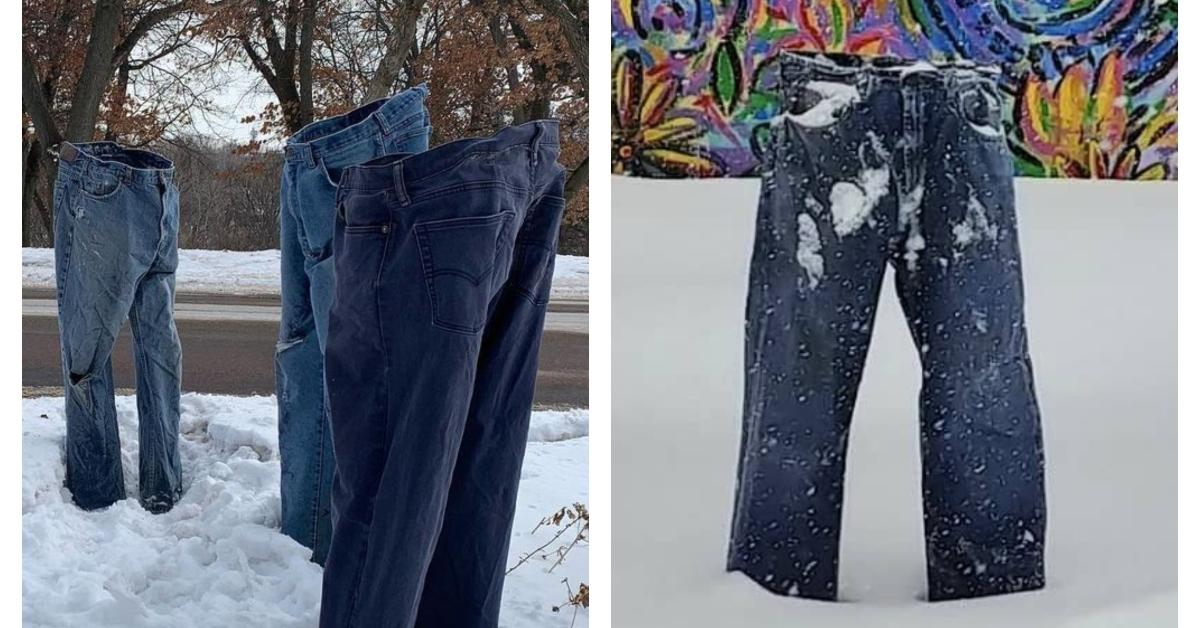 Is it even a normal day if some weird trend isn't going viral on the internet? We've seen the fascinating creation of whipped coffee, people biting into jars of apple juice to see if it makes a crunching noise, people doing silly one-minute dances in front of a camera, and more.
It's honestly all wild! So, on that note, you probably wouldn't be surprised that there are some people out there freezing their pants and displaying them outside as a funny joke. We wish we were kidding.
Article continues below advertisement
Yes, you read that right. People are literally chilling their pants just to do it... and it's called the Frozen Pants Challenge. There's really not much to it besides making your bottoms frozen to the point where the fabric can't move in any sort of direction and having it stand somewhere to look unbelievable. How exactly did this cool, yet absurd web phenomenon come to be? Well, we can bring some knowledge to your confused mind right this way...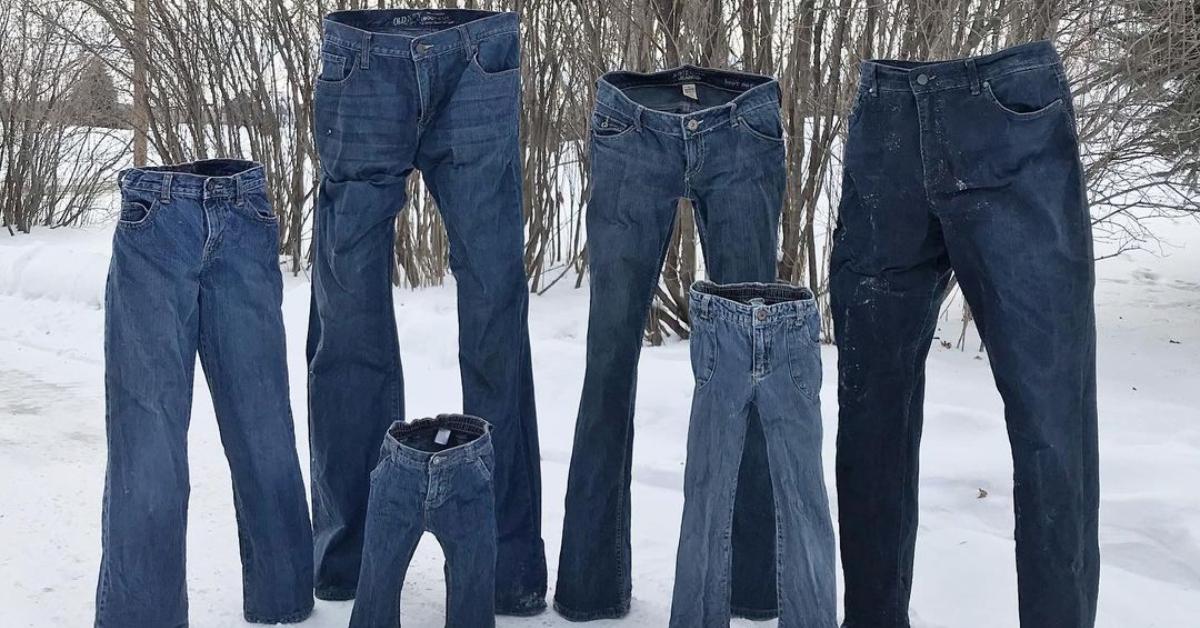 Article continues below advertisement
What is the "Frozen Pants" Challenge?
FYI: The "Frozen Pants" Challenge isn't new to the world. It became a popular thing to do back in 2019 thanks to a man from Minneapolis named Tom Grotting who says he thought of the idea in 2013. Living in Minnesota comes with frigid temperatures and because of that, it's hard to really do anything but stay cooped up in your home. "Life doesn't exactly stop but it sort of slows down. When it lasts a couple days you can go stir crazy, so your mind thinks of things to do," Tom told Time.
And for Tom, those moments inside led him to freeze his pants and prop them upright in the snow. He says he also got the inspiration to do this experiment from his childhood. Tom said that he always found it fascinating whenever his parents would dry their clothes outside during the winter time and they'd end up freezing into odd shapes. He also noted that the frozen pants will only stay propped up if it gets as cold as 0 degrees Fahrenheit.
Article continues below advertisement
Article continues below advertisement
To this day, Tom still keeps the trend alive when Minneapolis hits some bleak and bitter temperatures. He has surrounded the walkway of his home with frozen jeans! You've got to see it for yourself...
Article continues below advertisement
Other people have been freezing their pants too whenever winter comes.
Who would've thought that a man in the Midwest would be the creator of a hilarious and famous trend?! Because of Tom, people who also live in parts of the country that have intense cold weather have followed in his footsteps and have frozen their pants. Once it started gaining traction, people started to get really creative with the idea! People have chilled clothing items other than jeans, too, and it's quite a sight. Apparently sweatpants, pajama pants, and even shirts can hold up in the snow!
Article continues below advertisement
Article continues below advertisement
But probably the most mind boggling discovery that came out of this was the fact that whole ice-hardened outfits were able to stay erect without any extra help. You'll believe it when you see it.
Article continues below advertisement
And if you're interested in trying for yourself (this is to the people who reside in places that actually get cold to the point of glacial temperatures), author Adam Selzer on Twitter instructs that all you have to do is soak a pair of pants, put them outside for about 40 minutes to let them morph into their shape and solidify, then go and display it for everyone to see! Good luck to your pants and your pants only!