Dalgona Coffee Is the Internet's Newest Food Trend — Here's How to Make it
While everyone is busy self-isolating, now is the time to try out new recipes, including this one for dalgona coffee, or "400 stirs." Recipe inside.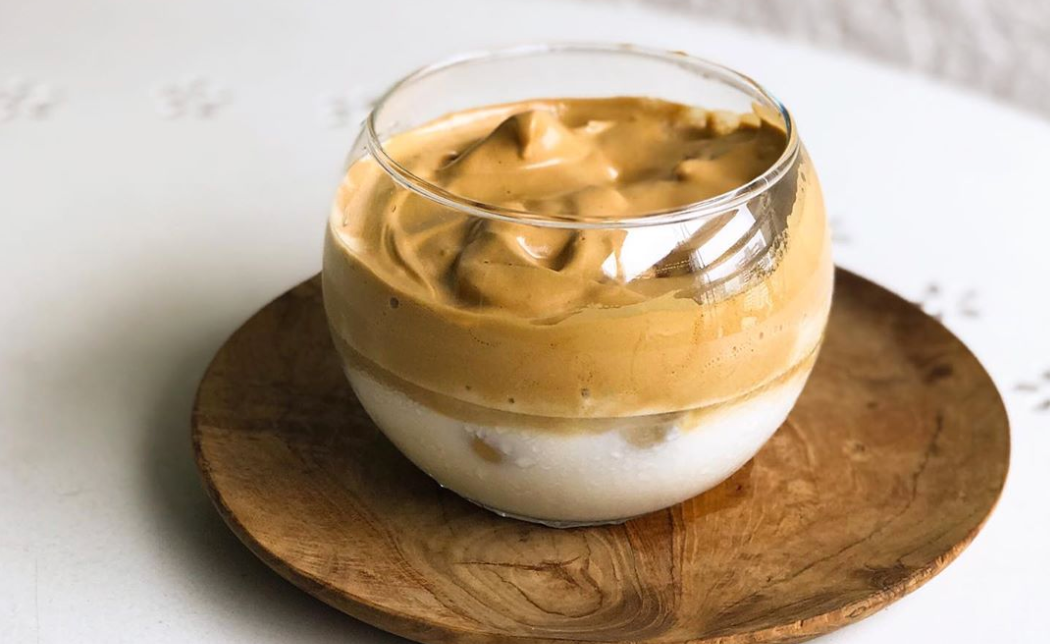 The COVID-19 outbreak may have closed all of your favorite coffee shops, forcing you to get crafty and make your favorite caffeinated beverages at home, but self-isolation also means you have plenty of time to try new and exciting recipes to keep you occupied (or keep yourself sane).
But between loaves of bread and every chocolate chip cookie recipe clogging your timeline, people have also been trying to make their own dalgona coffee.
Article continues below advertisement
"Dalgona," or ppopgi in South Korea, is actually a candy made of sugar, oil, and baking soda that's mixed until fluffy and then hardened.
But since people have started quarantining, dalgona has somehow found its way into a new coffee trend. You've definitely seen people make this on Instagram or TikTok, proving it's not as hard as making your own starter.
Here's how to make dalgona coffee from the comfort of your home kitchen.
Article continues below advertisement
Dalgona coffee is easy to make.
According to a video posted by 뚤기ddulgi on YouTube (that has now been viewed almost 3 million times since its upload on Feb. 22), making your own dalgona coffee is actually a really simple process that only requires three ingredients.
To start, mix together two tablespoons of sugar, water, and instant coffee (you know, the packets that have been sitting in the back of your parents' cupboard for years). Then, whip it with a hand mixer until the mixture becomes light, fluffy, and caramel-colored.
If you don't have a hand mixer, you can just beat it with a whisk instead until it reaches a similar texture. Dalgona coffee is also known as "400 stirs," so expect your arms to get tired while doing this.
Once it's light and fluffy, pile it on top of a cup of your milk of choice, and then mix it in.
But don't just follow our instructions. We highly encourage you to watch 뚤기ddulgi's video for the full tutorial and all of its ASMR-worthy glory if you plan to DIY this.
Article continues below advertisement
What if you don't have instant coffee powder?
If you're a coffee snob and wouldn't dare disgrace your coffee cupboard with instant grounds, don't worry, there's a way to make your own at home.
Take your coffee beans (or even ground coffee) and dump one scoop back into your coffee grinder. Grind until your grounds turn into a fine powder. You might have to stop and stir everything around to break up the clumps and get it to grind evenly — remember, you want it to be basically a powder by the time it's done.
Article continues below advertisement
If you're starting with the beans, you'll need to grind them for longer than the grounds, but it's the same idea: just grind them until they turn into a fine powder. You should be able to use this in place of the instant coffee packets in your recipe.
The best way to prevent contracting or spreading coronavirus is with thorough hand washing and social distancing. If you feel you may be experiencing symptoms of coronavirus, which include persistent cough (usually dry), fever, shortness of breath, and fatigue, please call your doctor before going to get tested. For comprehensive resources and updates, visit the CDC website. If you are experiencing anxiety about the virus, seek out mental health support from your provider or visit NAMI.org.