'Game of Thrones' Fans Are Convinced Jamie Survived After A Castle Fell On His Head
Fellow cast members aren't really posting about Jaime's death of the show, like they are with Cersei's.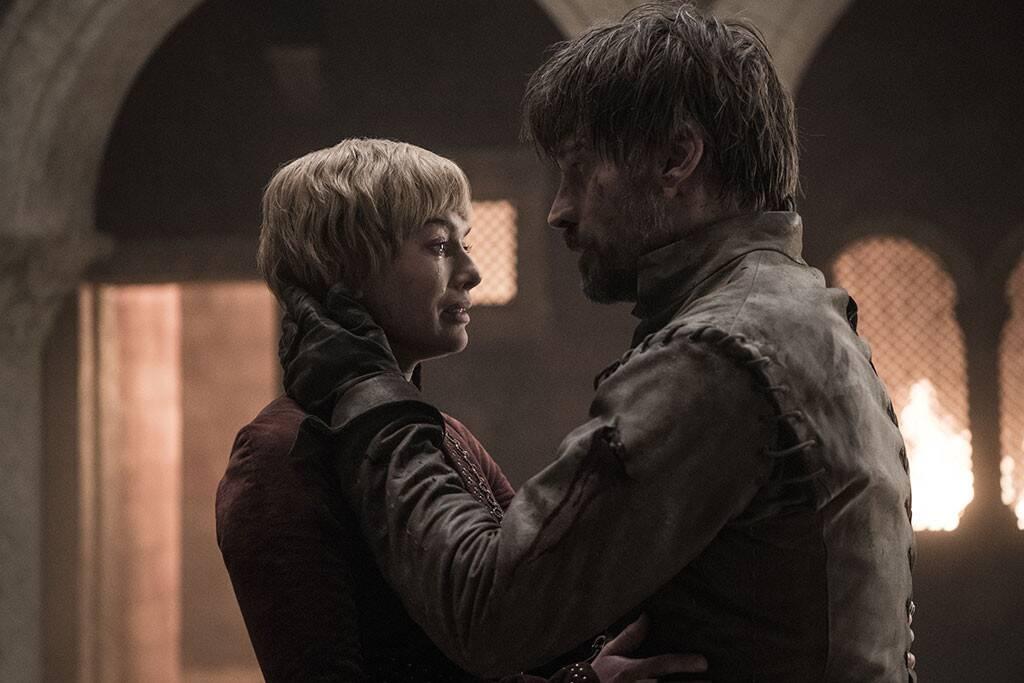 Season 8, Episode 5 of Game of Thrones saw the 'death' of Jaime and Cersei Lannister. And some fans weren't particularly happy about either of their deaths. Jaime, who'd been on a redemption arc for a few seasons, faltered and returned to King's Landing to convince Cersei to leave with him to Essos.
Article continues below advertisement
While Cersei, who was prepared to let the city burn to protect herself and her child, got a relatively easy death of being crushed as the Red Keep fell around the brother and sister.
But some fans seem convinced that Jaime's story isn't over yet. Why? He could still be alive. The fan theory seems to have started with Tumblr user WeedsAreFlowersToo, who noticed that fellow cast members aren't really posting about Jaime's death of the show, like they are with Cersei's.
WeedsAreFlowersToo writes:
"Why isn't ANYONE acknowledging that Jaime Lannister just died??? Why is nobody in the cast thanking [Nikolaj Coster-Walda] for his performance? Why did Pilou (Euron Greyjoy) and Lena's (Cersei Lannister) insta post not say anything about Jaime dying? Why isn't Nik saying anything about what he thinks of the scene? Why did he make a post saying goodbye to Lena, and not to the character he played for 8 years? Why is there no talk of Jaime's death in the game revealed?"
Article continues below advertisement
Nikolaj has posted to his own Instagram, but it seems like more of a tribute to Cersei. He wrote: "The best, sweetest most wonderful sister from another mother @iamlenaheadey. That was a fun decade."
Article continues below advertisement
Other than that, none of the major characters in the show have toasted the characters as they have with other major characters who died this season. The next bit of "evidence" is based on a tweet by around James Hibberd, who was been doing exit interviews with characters who have died in Season 8 for Entertainment Weekly.
He released interviews with Lena Headey, who plays Cersei, and Rory McCann, aka The Hound, but so far, there's nothing from Nikolaj. And when he was asked about it, here's how he responded...
Article continues below advertisement
So, is Jaime Lannister alive?
Jaime had the Red Keep fall on his head, which seems difficult to survive. But death isn't exactly final in Game of Thrones. Of course, Jon Snow was resurrected by Melisandre after he was betrayed by members of the Night's Watch. And Beric Dondarrion has been resurrected multiple times by Thoros. But as far as we all know, there's no Red Priests or Priestesses hanging around King's Landing.
Though Jaime isn't the only character who could be dead.
Is Arya dead? 
Some fans are speculating that Arya might have died in King's Landing because of the particular horse that meets her at the end of Episode 5. The horse seems to be that of Harry Strickland, leader of the Golden Company, and we definitely saw the horse die at the start of the episode. So there appear to be three explanations.
1) They reused the horse because it was well trained and hoped no one would notice it's the same horse if they splashed some fake blood and ashes onto its haunches.
2) That's a ghost horse — ergo, Arya's a ghost, too!
Article continues below advertisement
Is Arya Azor Ahai? 
Fans are convinced that Arya is Azor Ahai, or The Prince That Was Promised, by the Lord of Light. Thousands of years ago, the legendary figure forged the sword Lightbringer to defeat the White Walkers. A prophecy foretells that he will be reborn as The Prince That Was Promised.
And considering that we've seen some serious powers from the Lord of the Light in the show, it's possible that Azor Ahai will make an appearance in the show. And it's possible that the Lord of the Light resurrected Arya and the horse to kill Daenerys. But could they have brought Jaime back too?
Fans will have to wait till Sunday at 9 p.m. EST to find out.