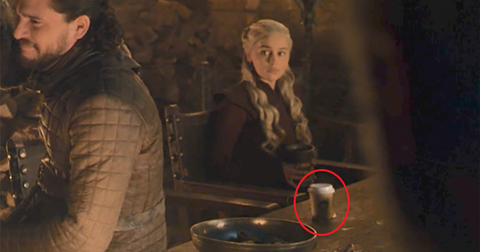 'Game of Thrones' Fans Spotted a Starbucks Coffee Cup in Episode 4
By Mark Pygas
The forces of Daenerys and Jon Snow may have defeated the Night King, but they still have a long and cold winter ahead of them. Thankfully, those still in Winterfell have a place to warm themselves up. And it's not by Brienne's fire. Some eagle-eyes viewers spotted a small gaff in Episode 4, with someone seemingly leaving a Starbucks coffee cup on the table as the forces of Winterfell celebrated their victory.
"My favorite show in the entire world forgot a Starbucks coffee cup on the table while filming," YouTuber Zane pointed out. He also posted footage from last night's episode that clearly shows something that appears to be a coffee cup.
Considering that the length of Season 8 is that of several movies, some mistakes are going to happen. And it's likely that the cup will be removed in future versions of the episode, so go and spot it while you can.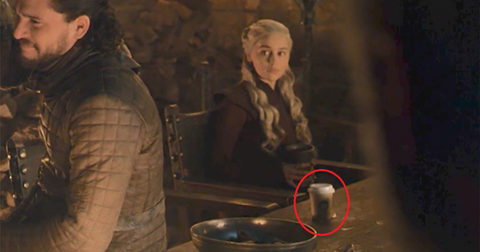 This isn't the first coffee cup to make it into Game of Thrones, Jaime Lannister was spotted with a coffee in hand during the royal wedding in Season 3.
Plenty of fans spotted the mistake, and as you can expect, there were plenty of jokes. "You're telling me they had TWO YEARS to put together a decent show and they couldn't even spot the goddamn Starbucks cup in Winterfell," one user asked.
While another figured out why all their names are so weird.
"That Winterfell starbucks cashier ain't ready to write Dany's name on her coffee cup," one user joked.
This user added a new title to Dany's roster: "!Daenerys Stormborn of House Targaryen, the First of Her Name, Queen of the Andals and the First Men, Protector of the Seven Kingdoms, the Mother of Dragons, the Khaleesi of the Great Grass Sea, the Unburnt, the Breaker of Chains, and Drinker of Pumpkin Spice."
Others don't believe that it's a Starbucks cup at all, with one user writing: "I drink a lot of Starbucks, and while that cup definitely didn't belong in Westeros, that's definitely not a Starbucks cup."
"Imagine HBO spending millions on every single episode and being done over by a single coffee cup. Guess Dany didn't get the memo about reusable chalices," another added.
At least Starbucks is happy about all the free publicity.
There's no way the barista spelt Daenerys correctly.