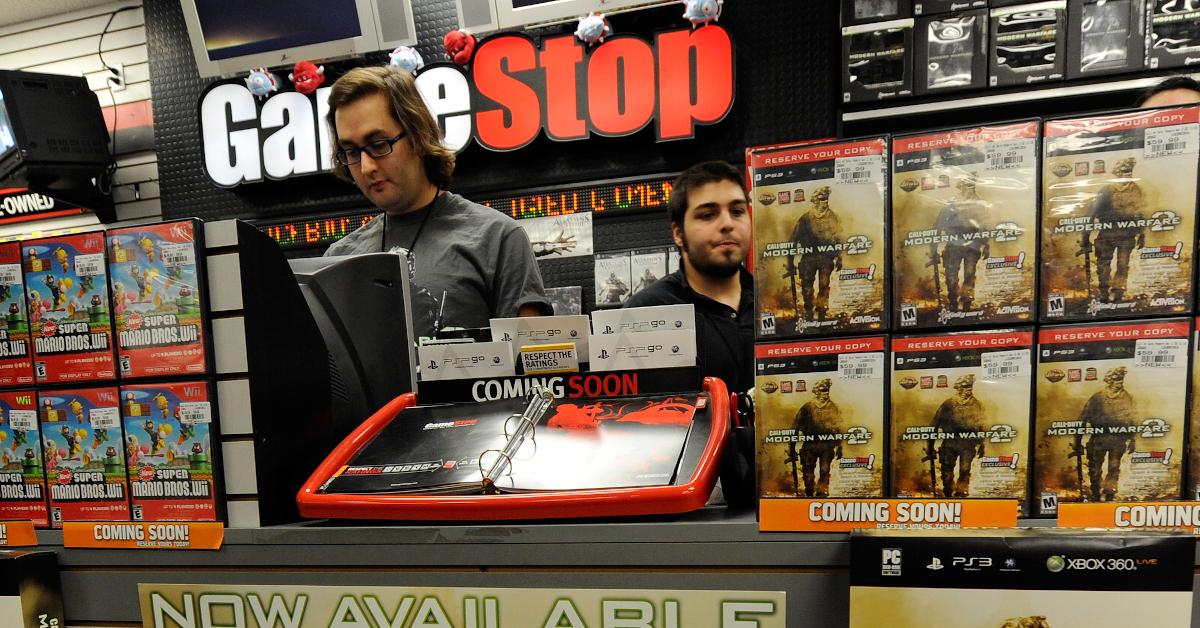 Gamestop Is Closing Its Doors and Honestly It's About Time
I met some of the coolest people ever at my local Gamestop, which is super ironic because, and you'll know this if you worked there too: it's one of the most god-awful retailers I've ever had the displeasure of being employed by. They didn't issue physical paychecks to employees (either direct deposit or one of their weird, cash cards) and their stores were always a huge mess. It made me wonder why all of their stores weren't actively closing.
Article continues below advertisement
They had this weird company policy where the number of game boxes on the floor of the store had to reflect their inventory. So while all of the actual, new games were held in cases in the back, or used ones in sleeves behind the counter, it meant that tons of game boxes just cluttered the entire store. This usually meant that once a year, there'd be entire bins of last year's Madden or NBA 2k-whatever that would flood the middle of the location.
Speaking of used games, I couldn't believe how little Gamestop would offer you for your trade-ins, and the company constantly pushed employees to sell used versions of titles over brand-new ones, even if they weren't that much cheaper.
That's because the profit margins on trade-ins were way higher than whatever they'd get on a new title they sold. Then, if you wanted to become a Gamestop member, you'd have to sign up to order Game Informer magazine, which was part of your "subscription" to GameStop's membership.
Article continues below advertisement
But there was a little "hack" that came with this membership — and that was you had 30 days to return any used game you want, for store credit or cash, no questions asked. Which is something that a lot of "Power Up" members must've caught on to, because we had a bunch of customers at my store who did exactly that: they treated our store as a 30-day game rental service.
Article continues below advertisement
Even if they weren't "done" with a game after a month, they'd simply return it, then buy it back again, giving them another 30 days with it until they were bored and then put that credit toward a newer game. Even back when I was in undergrad, I saw that GameStop's business model of messy stores and pushing for membership sign-ups and trade-ins wouldn't last, so it was only a matter of time before...
GameStop began closing its stores.
Article continues below advertisement
That's right, the reports are true, and the company's CEO admitted as such. I used to dream of changing the structure of the business to offer touchscreen hubs that displayed, in real-time, the inventory of popular titles, with video links to game trailers/demos, along with gaming areas that offered up the newest titles, and local tournaments for fighting games/matches for multiplayer/deathmatch games of first-person shooters in the store, and hopefully that's where they're headed now.
George Sherman said recently that the company "is in a tough place" and that they "need to make some changes" in order to stay profitable in an interview with CNN Business. He continued: "We're at the end of the console cycle. Gaming as an industry could not be stronger... it's us that needs to pivot. It's GameStop that needs to make some changes."
Article continues below advertisement
In order to save costs, the company's going to close 180-200 of its stores. George has previous brick-and-mortar experience in Best Buy, Target, and Home Depot, and is confident he can help GameStop turn things around. He's right about one thing: gaming is a huge, huge business right now, but he needs to be able to capitalize on the communal aspect of gaming to bring people inside.
Article continues below advertisement
Joost Van Dreunen, a Nielsen analyst, said that GameStop is still a big option for console manufacturers to push product: "GameStop's fate has long been tied to the alleged demise of console gaming. I have no doubt that Microsoft, Sony, and Nintendo continue to look to GameStop as an integral part of their marketing and sales strategy over the next few years."
The end of the console cycle is always tough, but things should temporarily perk up for the company once new systems come out from the likes of Sony, Microsoft, and Nintendo.
I would say making the stores less of a nightmare to navigate, with a slick, welcoming atmosphere, and offering up local gaming events/parties, and tournaments, with nice little buy-ins, would make for a better experience. But what do I know? I just used to re-stock the shelves at the store.