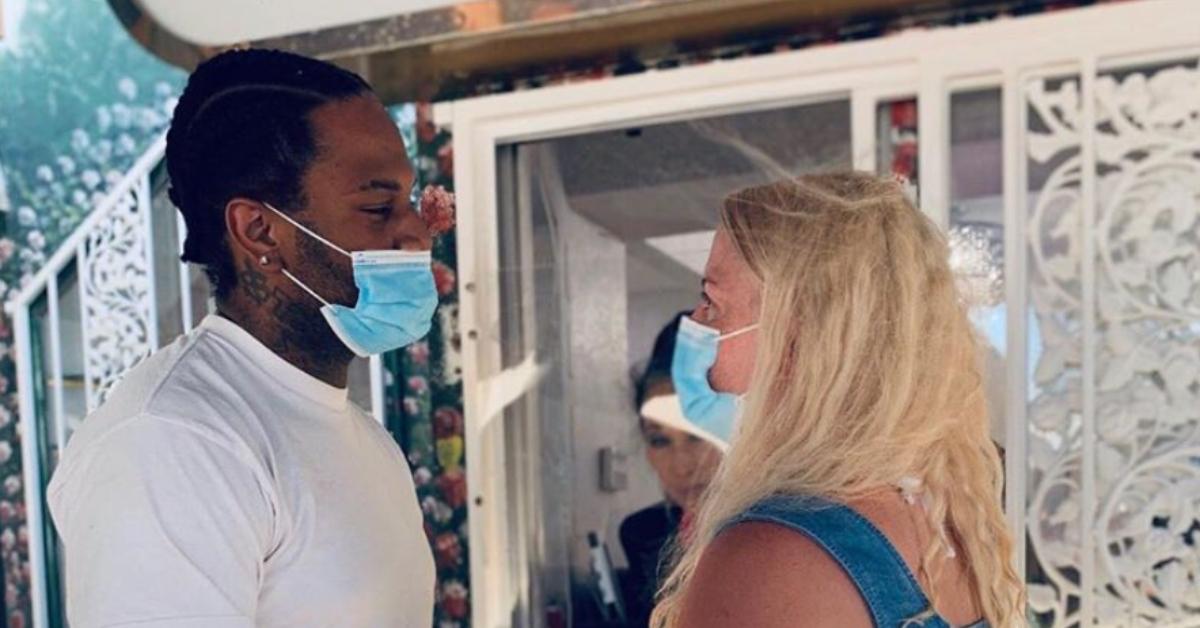 Garcelle Beauvais' Son, Oliver, Got Married at a Socially Distanced Ceremony
Garcelle Beauvais took it to Instagram to share some spectacular news on Monday, May 24. Oliver, the oldest son of the RHOBH star, got married to his longtime girlfriend, Sam.
The ceremony was originally scheduled to take place in March. However, Oliver and Sam had to cancel the big event due to the coronavirus (COVID-19) pandemic and opted for an alternative instead.
Article continues below advertisement
Oliver is 'RHOBH' star Garcelle Beauvais' oldest son.
Garcelle posted three new photos celebrating her son's wedding to his longtime girlfriend, Sam, on Sunday, May 24.
The first is a casual, leisurely snap depicting the happy couple with a beautiful sunset in the background.
Article continues below advertisement
The second was taken on the day of the big event. Instead of a more traditional, fancy outfit, the duo opted for everyday wear. Oliver wore a pair of cherry-red trousers, a white shirt, and a surgical mask to the ceremony, while Sam chose a cornflower blue dress and a similar mask. In the third photo, they are shown with their four beautiful children, including newborn Oliver Junior.
As Garcelle's post reveals, the impromptu ceremony took place at The Little White Wedding Chapel Drive-Through Window, a unique chapel offering day-of wedding certificates.
Oliver and Sam came up with the solution to replace the wedding that was originally set to take place in March 2020. Due to the coronavirus pandemic, the couple was forced to put plans on hold temporarily.
Article continues below advertisement
The couple posted a few additional snaps to mark the relationship milestone.
"Mr & Mrs Saunders! We said I do! Who knows when we can have a wedding due to covid!? So we did the most important part of a wedding which is becoming one! Wedding reception after covid is over! 💙💙," read the caption of the celebratory post they shared on Sunday, May 24 on Instagram.
Article continues below advertisement
Oliver and Sam have been dating for quite some time now.
The couple is notoriously strict when it comes to privacy.
However, they do have a shared Instagram account, which they use to document their adventures and most memorable experiences with their four children.
Oliver and Sam tend to post content about adventure-filled trips to the local carnival fair or a water park, alongside snaps documenting the mischief their kids get up to.
Their Instagram account is a celebration of the good times they had as a family, or, arguably, it could also be perceived as a backlog of some of their best memories together.
They started the page in October 2019, and they've been using it to share updates ever since.
Article continues below advertisement
Oliver and Sam gave birth to Oliver Junior just four months ago.
Oliver-Lucas Groves Saunders Junior was born in February 2020. As Garcelle revealed in a recent Instagram post, she is already in love with the new-born.
"I'm so in LOVE 💙 #mygrandson #oliverjunior @samoli_saunders," read the caption of an Instagram post she shared on Saturday, May 9.
Catch new episodes of Real Housewives of Beverly Hills every Wednesday at 8 p.m. ET on Bravo.