TikToker Claims Gas Attendant Let Air Out Tires for Using Restroom Without Getting Gas
A TikToker is claiming that a gas station attendant let the air out of her tires after she parked her car and didn't buy any fuel.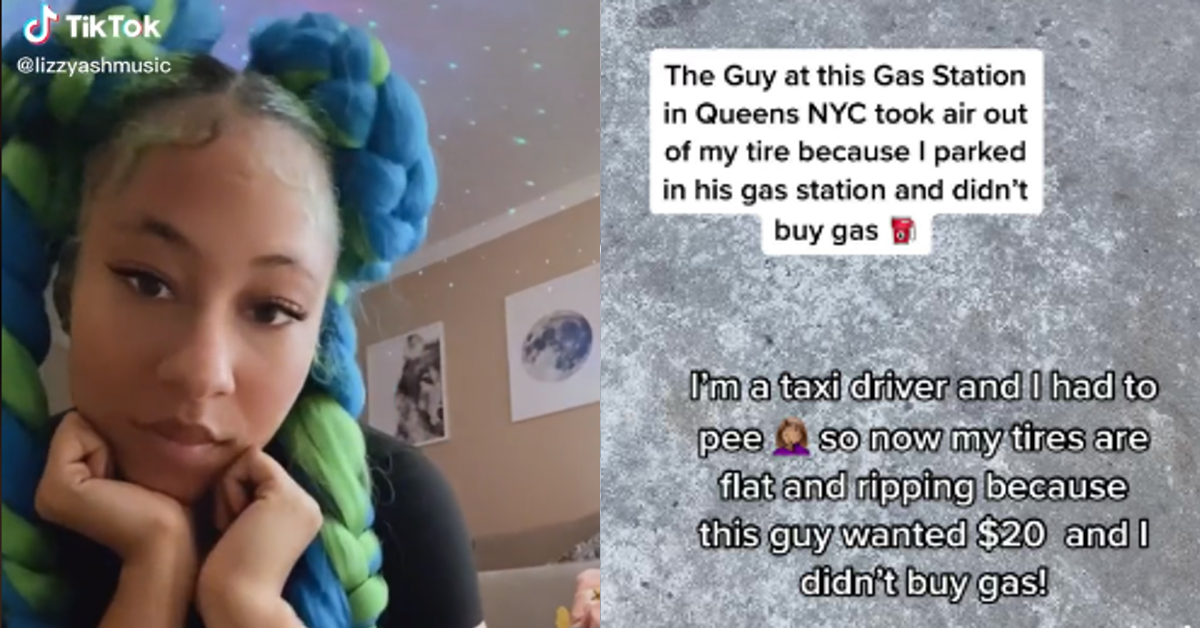 Finding free parking in New York is a journey, one that usually culminates in you getting lucky, waiting a few minutes before confusing street signage says that you're able to park without penalty, or you ending up with a hefty ticket or your car getting towed. Heck, even finding a garage that won't rip you off is a quest in of itself.
Article continues below advertisement
While this is mostly true of Manhattan, heavily trafficked areas in the outer boroughs also have their own parking rules/squabbles. Like when it snows, don't even think of trying to get in on someone's spot that they shoveled out. But regardless of the weather if there really isn't any empty vehicle real estate, folks are going to get over-protective, so it's understandable why some would get a bit territorial.
Which is something that this TikToker experienced after they parked their car at a gas station without buying anything, something that the business' attendant didn't take too kindly to, at least that's what was suggested by a recent viral clip uploaded by @lizzyashmusic (Lizzy).
Article continues below advertisement
According to Lizzy, she had to pee so she stopped at a gas station in Queens and parked her car to quickly run to the restroom. When she returned to her car and started driving, she noticed that her car's tires were all flopping around. She turned around and went back to the gas station to put some air in her tires.
Article continues below advertisement

Lizzy says that when she spoke to the attendant, he wanted to charge her $20 to put air in her tires and when she asked if he let the air out of them, he appears to confirm that he did just that.
Article continues below advertisement

Lizzy records her interaction with the employee, who shouts in the clip, "Why did you park here?"
"I had to pee!" Lizzy responds.
The TikToker states that the attendant never told her that he took the air out and she damaged her car's wheels while driving without air.
Article continues below advertisement

Going on the road with low tire pressure can be super dangerous, especially at high speeds: tires can blow out and the lack of cushioning for the rim/wheel can cause permanent damage to them. While this is a hefty chunk of change for anyone to have to cover, it's doubly costly for Lizzy, who works as an Uber driver and relies on her vehicle for income.
Article continues below advertisement

Many commenters who saw Lizzy's video urged her to file a police report, however, Lizzy says that when she did the officer in question refused to file a report and stated that it was a "prank." He encouraged Lizzy to file a complaint with the Better Business Bureau.
Article continues below advertisement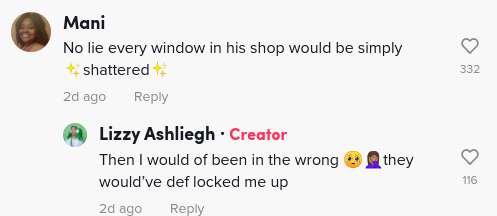 Lizzy said that while the police were of no assistance, someone who saw the incident offered to fix her car's wheel for free and thankfully, they were able to.
Article continues below advertisement
Lizzy hasn't updated her account with anymore of her interactions with the NYPD or if any legal recourse was taken. What do you think? Was it just a harmless prank or was this gas station attendant guilty of something far more serious. Had Lizzy's tires blown out if she got on the highway at faster speeds, she couldn't potentially been in a life-threatening accident.