Gas Station Customer Pretends He's Employee, Rings up People Until Worker Shows Up
A GetGo customer walked into an empty store filled with customers and recorded himself hopping behind the counter to ring them up.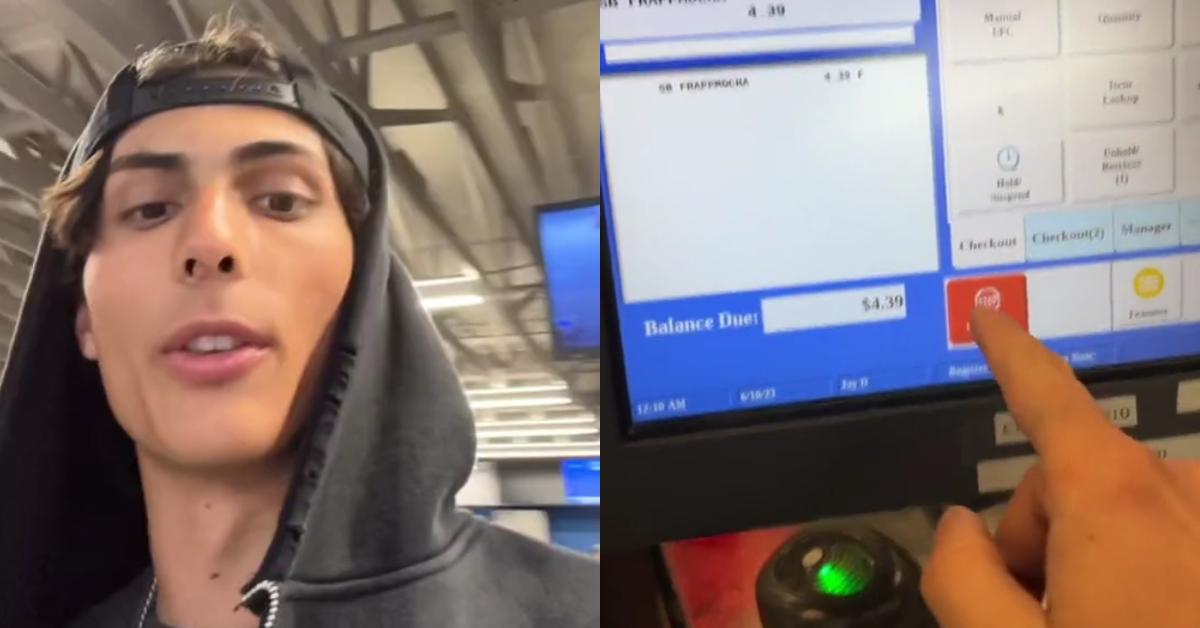 A GetGo customer strolled into a gas station convenience store one night and faced what many folks have experienced in similar situations: there's no employee in sight to process your transaction.
Article continues below advertisement
As frustrating as it is, it's an understandable phenomenon: folks call out of work, and management often leaves their businesses understaffed. The employee on duty probably just went to the bathroom or stepped outside for a smoke break.
But waiting around for someone to show up and do their job can be a pain behind, so he decided to turn his thus-far-fruitless convenience store trip into a temporarily pro-bono employment tenure with GetGo and recorded himself ringing up customers.
Article continues below advertisement
"There's nobody at GetGo, so I'm ringing people up today." A TikToker named Justin (@babyjfrank1) says on camera before then grabbing a glass bottle of iced coffee and scanning it at the register. "All right your balance is $4.39," he tells someone from behind the counter.
Article continues below advertisement
"Cash or card?" he asks in a follow-up question to the customer.
"Card," they say, ready to process the transaction.
"All right you're all set there sir," the TikToker says before helping out the next customer, who buys a lemonade.
By this time, the GetGo employee on duty can be seen approaching the register, Justin tells a customer off-camera that his "co-worker" is going to be taking care of him, i.e. the uniformed GetGo employee.
Article continues below advertisement

Justin tells the GetGo worker that he was able to figure out how to process transactions via card, but was having difficulty with cash purchases.
Article continues below advertisement
"I'm sorry but...who are you?" the GetGo employee says as he walks behind the counter to look at the customer's transaction in progress.
"I'm Justin," he says.
"I've been out the last week if you're new," the GetGo employee says.
"Today's my first day," Justin says while sipping on an energy drink. "I just started today," he says again, before the video cuts out.
Article continues below advertisement

Working the night shift at a gas station convenience store can be a mixed bag. There are periods where not a single customer pops in for a while and then, all of a sudden, throngs of shoppers will flood the store in the span of a few minutes.
Article continues below advertisement
According to various reviews from folks who work the night shift at another chain, Kum & Go, one of the biggest issues employees have is that they are almost always understaffed and there is rarely a manager on duty when they need them.

Article continues below advertisement
Which could be why the GetGo employee was quick to believe that Justin was a new hire: maybe it was a case of wishful thinking on his part.
An Indeed review from another GetGo worker described their experience at the chain as: "Understaffed and overworked but not the worst"
Article continues below advertisement

They also added that while they get paid decently at the convenience store chain, they experienced numerous call outs during their time there: "Decent pay, more than you'll make at most stores and fast food places, but just like everyone else they're understaffed and therefore will schedule you to work as much as you'll let them, sometimes more, lots of call offs lots, lots of getting called in"