"So Much Cleaner" — Teacher Says School's Gender-Neutral Bathrooms Are "So Much Better"
When a school in Minnesota got money to add gender-neutral bathrooms, the internet was predictably terrible. However, these bathroom are awesome.
I've always paid a weird amount of attention to bathrooms. I think about the people who have their toothbrushes out by the sink, where poop particles have most assuredly landed. I notice when someone hasn't cleaned that spot between the tank and the seat, and I worry that folks aren't closing the toilet lid before flushing. You want all that just pushed into the air?
Article continues below advertisement
And by the way why is the shower, the place where clean things happen, next to the area where waste is deposited. That makes no sense. Something I've never been concerned about is a member of the trans community doing anything untoward in a restroom. I think gender-neutral bathrooms are great. In fact, I have one in my own home. Not everyone agrees, as this teacher points out in a TikTok where she gives a tour of the new gender-neutral bathrooms in her school. Look how beautiful they are!
Article continues below advertisement
These gender-neutral bathrooms are glorious.
First and foremost, gender-neutral bathrooms are not exactly new. Obviously the restrooms in our own homes are not gendered, but I also still see family bathrooms in public places. I've never given it a second thought even though it would be wild to see an entire family in one restroom.
The negative focus on gender-neutral bathrooms is born from transphobia, which is nuts for many reasons, but we all benefit from a gender-neutral bathroom. I mean, have you seen the lines for a ladies' room? Yikes. In all seriousness, they protect trans kids from violence and allow them to feel safe and most of us want children to feel safe.
Article continues below advertisement
The people who put fear ahead of their hearts are the same people who freaked out when the state of Minnesota passed legislation that allocated money to revamp bathrooms in their public schools. "One of those revamps was going to be for gender-neutral bathrooms," says Ms. B, aka @tlcwithmsb on TikTok, who was giving a tour of the new bathrooms in her school.
Article continues below advertisement
"That is so horrible. That is so unsafe," said various toxic keyboard junkies who have never done a kind thing in their entire lives.
"Let me show you what it actually looks like," said Ms. B.
When I tell you I gasped. I would eat off these floors.
This school made a huge effort to assuage the irrational fears of the masses when it came to their unfounded ideas regarding how unsafe a gender-neutral bathroom is. Even though not having a gender-neutral bathroom has proven to be more dangerous, this school creates a safe space for everyone.
Article continues below advertisement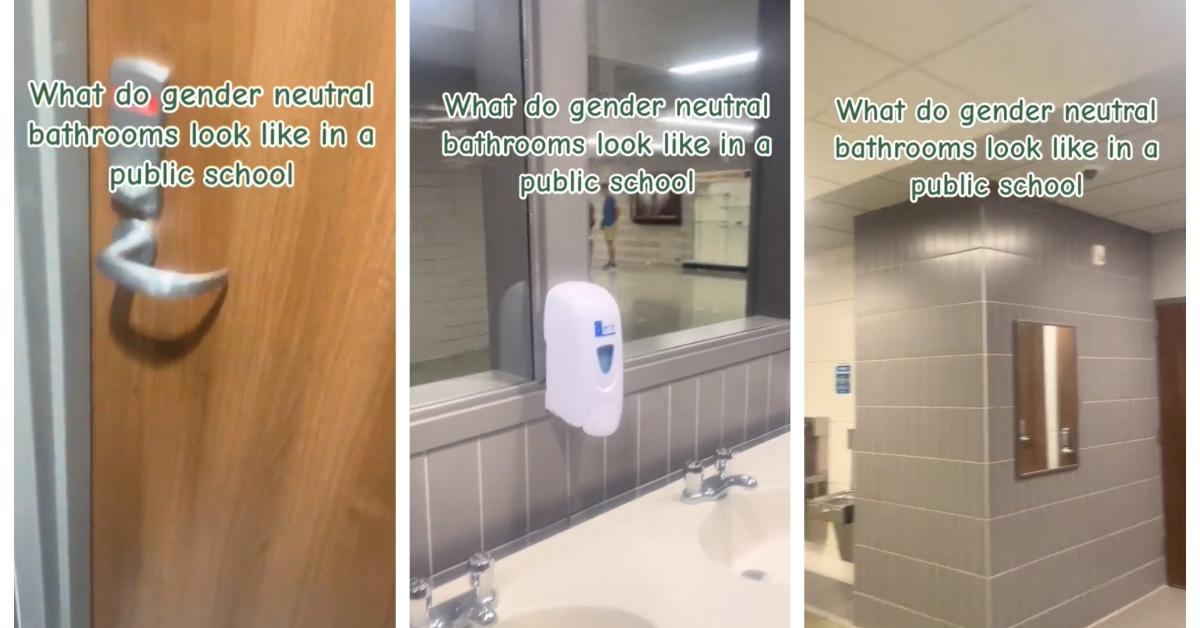 Every toilet has its own little room with a door that is clearly marked "locked" when in use. Also, the sink area is open with windows into the hallway so everyone can see what's going on. Bonus, please ask people to wash their hands if you catch them walking right by. Plus, there are visible cameras outside of the restrooms. My own home isn't this safe! This is wonderful.
Article continues below advertisement
Beyond these bathrooms being safer for trans students, I can see how this would make school life easier for every kid. Bodies are crazy, especially when we're teenagers, and having a private place to do one's business is such a load off (so to speak). Our meat sacks are embarrassing. This helps.
These gender-neutral bathrooms could also help with bullying.
In a subsequent TikTok, Ms. B points out that bullying often happens in the common area of school bathrooms. In these gender-neutral bathrooms, both the camera and the location of the sinks will reduce that. "It's also really beneficial for us teachers," explains Ms. B. The closest staff bathroom was pretty tucked away which means she was often using a student bathroom. The lines were long and they were often pretty gross.
Article continues below advertisement
Most people in the comments of both TikToks were totally on board with this smart, helpful redesign. "I want these everywhere. I love the privacy of full doors that actually lock," said one person. A single dad pointed out that this is also safer for his daughter.
Article continues below advertisement
Regarding the bullying, this look is a no-brainer. An expert in the comments section weighed in and was very useful: "As someone who works for a district department that handles student discipline, the amount of referrals from the bathroom for fights, etc., is astounding." One person made a joke about their school bathroom experience, but it was still shocking. "My high school had a literal fight club in our bathroom."
I think what we can also learn from these bathrooms is, there is actual thought and intention behind the design. For example, less mirrors means less time spent staring at yourself while you pick on your perceived flaws. Sometimes people just need to see something in order to understand how positive it is.