Your New Favorite Twitter Account Belongs to an Elderly Gardener
Gerald Stratford lives in the UK and loves sharing the vegetables he grows with his huge Twitter audience.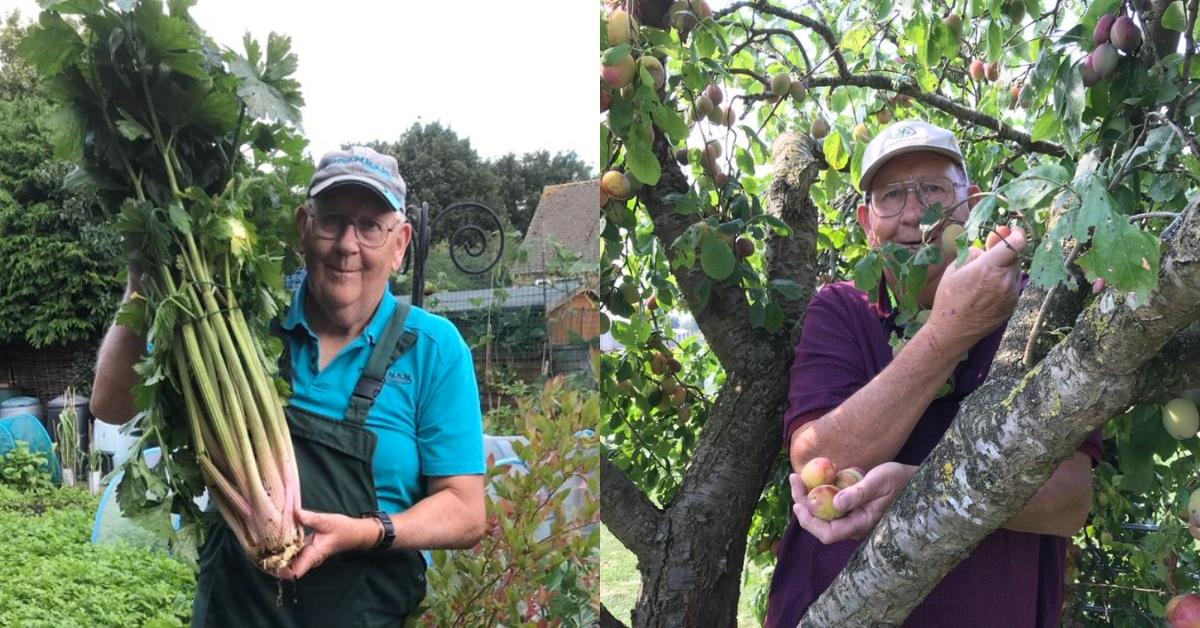 Everyone's searching for positivity in 2020. Luckily, you've found it. Possibly the most wonderful thing getting people through the year is the Twitter account of one Gerald Stratford. Gerald is a 71-year-old grandfather from Milton-under-Wychwood, a small village in Oxfordshire in the UK. He's also an avid gardener.
Article continues below advertisement
And Gerald uses his Twitter account to share his gardening triumphs and adventures. Yes, it's mostly pictures of him smiling while holding the vegetables he's grown. And yes, it will make your day better.
Article continues below advertisement
Gerald has 145,000 followers on Twitter and gets tens of thousands of likes and retweets on his photos. And his veggies are super impressive! His positivity and genuine excitement about his giant celery or his twisty carrots radiates off the screen.
"A lot of my fans are from America," Gerald told The i Paper. "I think it's partly lockdown's doing. And the difficult situation generally. Everything's a bit much and they're looking for joy. I don't do politics, I don't do religion, I don't do football. I just do me and my garden and my partner, Liz.
Article continues below advertisement
"It's calming. There's nothing controversial. I'm just an old Englishman happily showing off his vegetables." And right now, that's what people want.
Article continues below advertisement
It wasn't until May 2020 that Gerald went viral on Twitter and gained a huge audience who love to look at his vegetables. But he doesn't really know why it happened.
"I have no skill in marketing whatsoever," he said. "I don't know technology. By accident, I've created a kind of niche. People really enjoy it. I've been retired about ten years, so I have the time. I was a fisherman for a long while. I was the British game fishing champion in '84. I took it to extremes. I was a fanatic. If it swam, I wanted to catch it.
Article continues below advertisement
"Then I got tired of fishing. But I've always liked gardening — I've always done it. So now I put my efforts into that. I love it, and I love growing and eating my own produce. Although I do still catch trout from time to time."
Article continues below advertisement
The first time he went viral was May, when he posted a picture of potatoes he grew. "I had thousands of retweets," he said. "Now every day I get hundreds or more. And I spend hours answering people's questions.
"I love every minute of it. If I can make other people happy, I'm happy. It's lovely. I'm very thankful. Oh, and people are quite curious about my clothes. They ask me what I'm going to wear for my next photo shoot."
Article continues below advertisement
It probably comes as no surprise that Gerald simply loves growing vegetables as big as he can get them. He's entered some local competitions and has made a name for himself as a skilled gardener.
Article continues below advertisement
"I just love big veg," he said. "I want to grow the fattest onion, the longest leek. I want to dig up the biggest celery. You name it, I'm growing it. I do love the challenge. I've got some cucumbers over eight pounds at the moment. They're 24 inches."
What does he do with all his giant veggies? Why, he eats them of course! He and his partner Liz make lots of salads, chutneys, jams, and sauces. They even make their own sun-dried tomatoes, "like they do in Italy."
Article continues below advertisement
Gerald's happiness and contentedness in his garden burst through his social media and spread positivity to all his followers. He truly is a bright spot in a dark time. And yes, that celery is massive.