The 'Ghost Hunters' Visit the Home of a Woman With a "Scare Diary" of Hauntings
Susan Beauregard called the 'Ghost Hunters' team to her home in Willimantic, Connecticut to look into the paranormal activity in her home.
Note: All thoughts, opinions, and testimonials presented in this piece are my own and do not reflect the Ghost Hunters team, Pilgrim Studios, A&E, or anyone else involved in the production or distribution of the show.
Home cases like Susan Beauregard's in Willimantic, Connecticut are my favorite, and the entire reason I got into paranormal investigating in the first place. This one will always hold a special place in my heart because we ultimately put Susan and her son Lannie's minds at ease.
Article continues below advertisement
In fact, when we were done with our case, Grant said Lannie felt more comfortable in his house and looks up to us like we're heroes, and that to me is the fulfillment of a lifelong childhood dream. The fact that I can truly help someone with a job I absolutely love doing is easily one of the coolest things I've ever done. It's something I'd fantasize about while I was a kid myself, laying on my bed and gazing up at glow-in-the-dark star stickers on my ceiling.
You don't come by a client much better than Susan, either. From the call to help she forwarded to us, to our conversations with her before and during the investigation, she was extremely level-headed. She tried debunking things on her own, and what's even better is that she kept a detailed diary of all the events that went down in her new home since she moved in.
Her entries gave us a lot to investigate when we went into the home.
Article continues below advertisement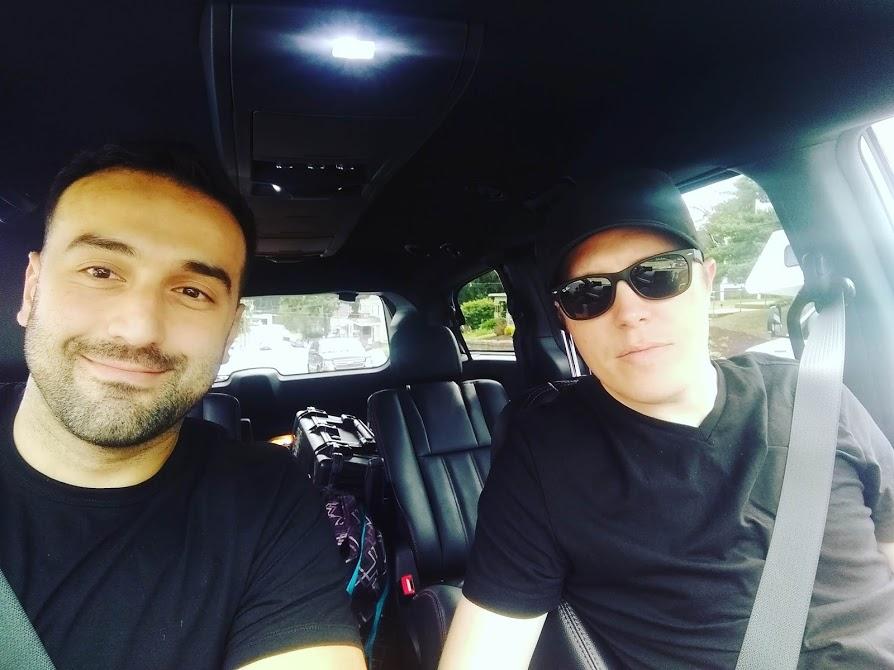 There were reports of an apparition and footsteps constantly heard going up and down the stairs. Susan also heard a child say, "Hi Mommy" when she was in Lannie's room, even though no one else was at home. She has also heard other noises, like a chime from a grandfather clock — which Susan doesn't own — disembodied voices, a drum sounding off all on its own, and a jar of seashells moving by itself.
Article continues below advertisement
Some of the mysterious circumstances were fairly easy to explain with non-paranormal origins. When we delved deeper into the story of the jar of seashells and the people who were working on Susan's property who claimed it moved, it seemed possible it had been been placed on the floor by someone else, not necessarily an entity on the premises. There were some shadows caused by cars passing on the street outside that could come in through the windows of the home as well, along with some steam from the basement that could create a shadowy effect.
Article continues below advertisement
Outside noise was a factor, too. The home is built in a way that it's easily cooled by outside air when the windows are open, something we tested while we were investigating. A lot of noises that could appear to be coming from inside the house were easily attributed to phenomenon going on outside.
But, now here's where it gets interesting: we also experienced a lot of the phenomenon Susan had noted in her "Scare Diary" like the footsteps up and down the stairs.
While attempting to establish any contact with entities in Susan's home, none of the teams had much luck in securing a direct line of communication. Discussing the history of the home or trying to make contact with a specific entity wasn't working out. But we clearly heard those footsteps. What did it all mean, though?
On our second night of investigating, Brandon had the great idea of using multiple data loggers on the stairs and sure enough, his method yielded some interesting results.
Article continues below advertisement
Not only did we have audio of what clearly sounded like someone walking down the stairs, it correlated with the pressure changes we were getting on the staircase, on every different part of the staircase. All of the environmental changes registered one by one, as if someone was headed down the stairs, not once, not twice, but a total of four separate times.
But what did all of this mean?
Article continues below advertisement
The phenomenon we experienced all pointed to a residual haunting, which many in the field believe is not conscious or intelligent. Energy is captured in a location for a variety of reasons, and different environmental factors could contribute to a residual haunting. The home itself has limestone in the foundation, which is speculated to be a conduit for activity and something we've notice as a recurring theme in our investigations.
Article continues below advertisement
Rain could also help "amp up" the activity as well, and there was some rainfall before the second night of our investigation, not to mention the presence of metalimestone deposits in the "Willimantic Triangle", which, like the limestone in the home, could be a conduit for any paranormal activity.
So it could be that the energies of the families who lived in that building, or the students who dormed there when the building was housing for the University across the street, were somehow trapped or "preserved" due to some or all of these environmental factors.
If there are intelligent entities in Susan's house, we weren't able to satisfactorily collect enough data to support it, but we did get some pretty convincing proof of a residual haunting and helped Susan feel way more comfortable in her home. And that's pretty cool.