A Comprehensive List of Gigi Hadid's Ex-Boyfriends
The model found her happily ever after with Zayn Malik, but she's had quite a few exes along the way. See all of Gigi Hadid's ex-boyfriends.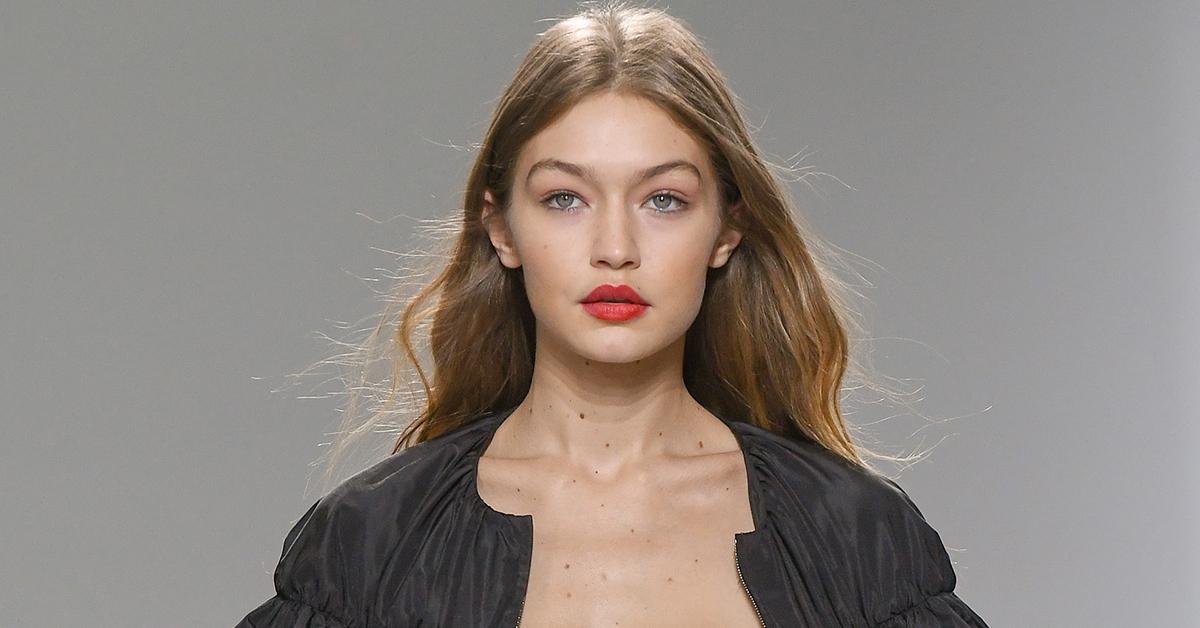 Fashion model Gigi Hadid has plenty of reasons to celebrate these days. For one, she's been happier than ever since she rekindled her on-again, off-again relationship with singer Zayn Malik, and the two were practically glowing when they celebrated her 25th birthday. But now, sources have revealed that the adorable couple is expecting!
Article continues below advertisement
One insider revealed: "Gigi has kept the secret close to her family and friends for a while, as she's only a few months along. Once Gigi and Zayn got back together at the end of last year, it was like they never skipped a beat and knew what they had was special. The couple and their families are overjoyed."
The couple hasn't shared the news publicly yet, but we can imagine how thrilled they are to turn their twosome into a family of three!
As many fans know, Gigi was previously linked to quite a few famous men before she reunited with Zayn. Let's take a look at the model's dating history.
Article continues below advertisement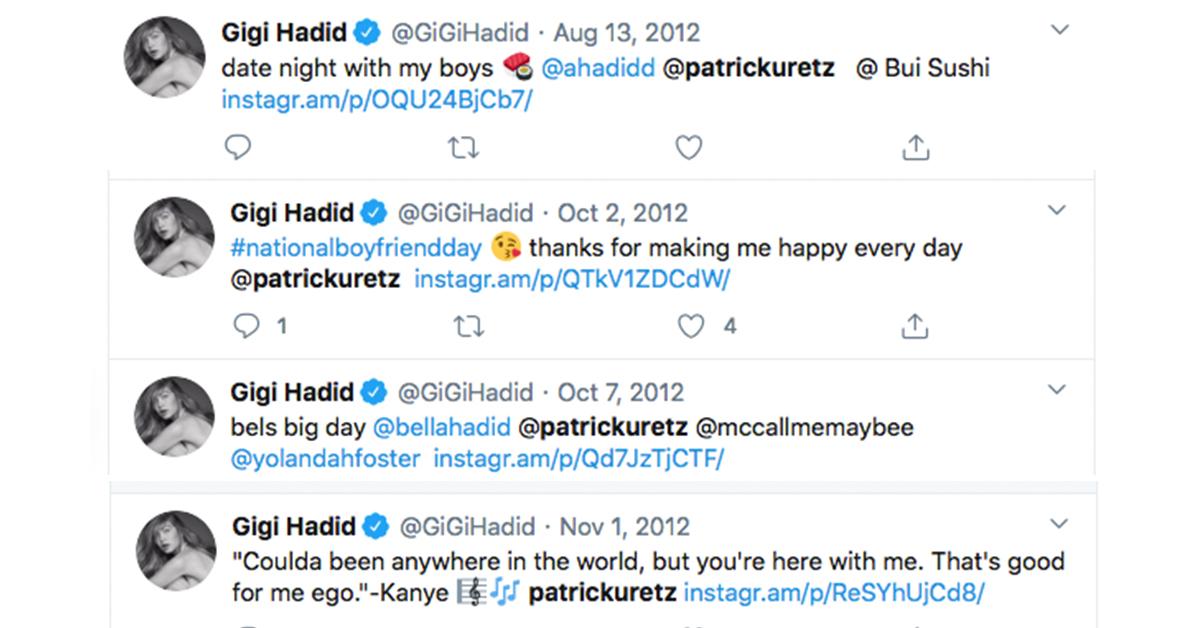 Gigi Hadid dated Patrick Uretz when she was in high school.
According to reports, she started dating the polo player when he was 24 and she was 16. She met him while she was still attending Malibu High School and they became quite close. She even tagged him in several adorable photos in 2012, but all have since been deleted from her page. It's unclear when or why they broke up, but their romance was definitely short-lived.
Article continues below advertisement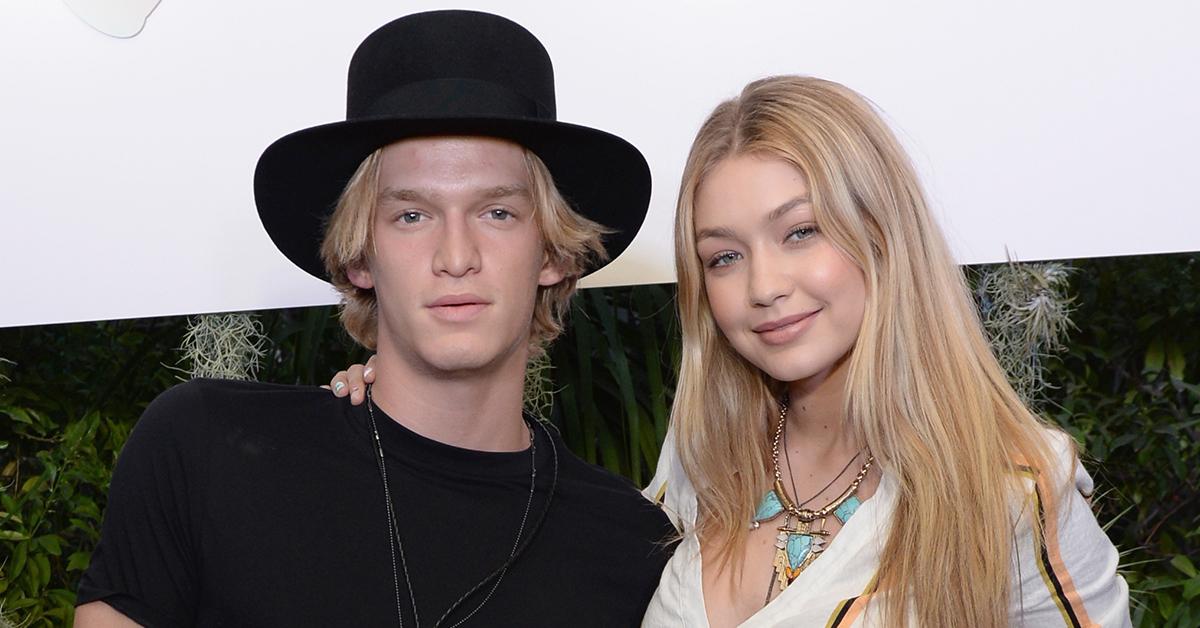 She started dating Cody Simpson in 2013.
It all started when Gigi appeared in the Australian singer's music video for "Surfboard." After hitting it off, they began their relationship in November of 2013 and seemingly had no qualms about their romance being so publicized. They shared quite a few PDA moments and looked very in love during their red carpet appearances, but in 2014, they split up.
Article continues below advertisement
Shippers grew hopeful once again after the two reunited later that year, but they unfortunately called it quits (for good) in May of 2015.
After their breakup, Cody explained: "The highly publicized thing made me uncomfortable. Going out to dinner and there being all this paparazzi and stuff…. as soon as we split I had the realization that I was straying away from who I was as a whole person. I want to keep it low-key, and focus on my music."
Cody clarified that despite these challenges, their split was mutual. "I love my ex-girlfriend," he said. "I always will. It was an amicable, mutual decision, and we still talk every now and then."
Article continues below advertisement
Gigi reportedly had a fling with Daniel Sharman in 2014.
Shortly after her split from Cody, Gigi was seen hanging out with Teen Wolf actor Daniel Sharman in New York. It's likely that they were hanging out as pals, but some fans thought that they looked a little too cozy to be just friends.
Either way, the duo never confirmed this rumor and they weren't seen together that often, so chances are this "fling" never happened.
Article continues below advertisement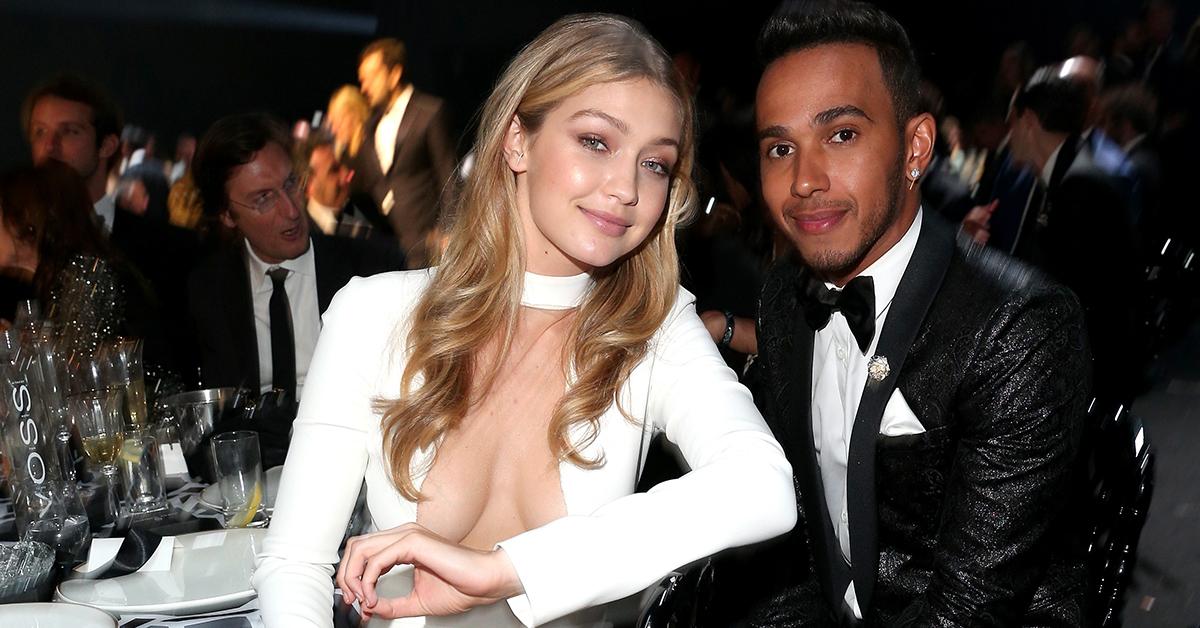 Gigi Hadid was rumored to have dated Lewis Hamilton in 2015.
This was never confirmed, but the supermodel was rumored to have hooked up with British racing driver Lewis Hamilton after they were seen spending a lot of time with each other. Sources have claimed that the two shared a connection and had chemistry, and in 2018, it was revealed that their friendship could turn into something more.
Article continues below advertisement
One source said: "Gigi and Lewis have known each other a while now, and they've always had major chemistry. She swears they're just friends, but when you see them together it's hard to ignore all the flirting. It's obvious she's crushing on him."
However, it was never reported that they were officially dating.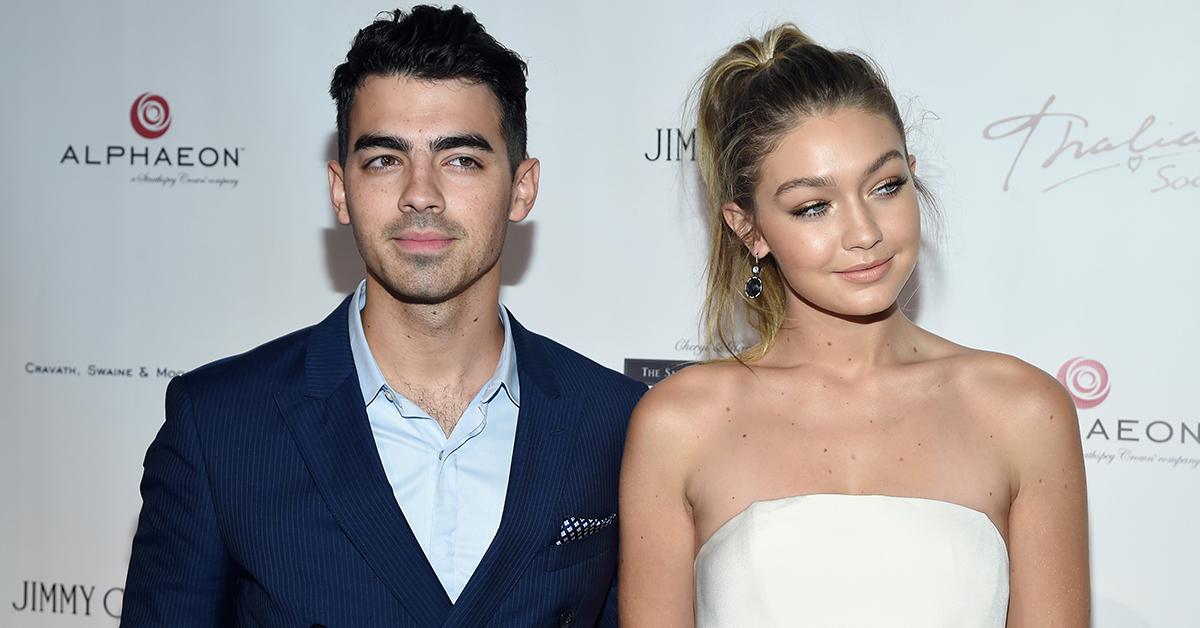 Article continues below advertisement
Gigi dated Joe Jonas for a few months in 2015.
They hadn't made their relationship official yet, but they were first spotted together at Taylor Swift's Bad Blood party in June of 2015. After this, they weren't shy about showing their love to the world, going as far as wearing matching outfits. They made red carpet appearances and shared the sweetest photos on social media, but after just six months together, they parted ways.
Joe Jonas made it pretty clear that their split wasn't a mutual one. And it definitely didn't help matters that Gigi moved on right away. He wrote breakup songs about her and said: "I think it's interesting that she moved on so quickly, I mean it was definitely very quick."
Article continues below advertisement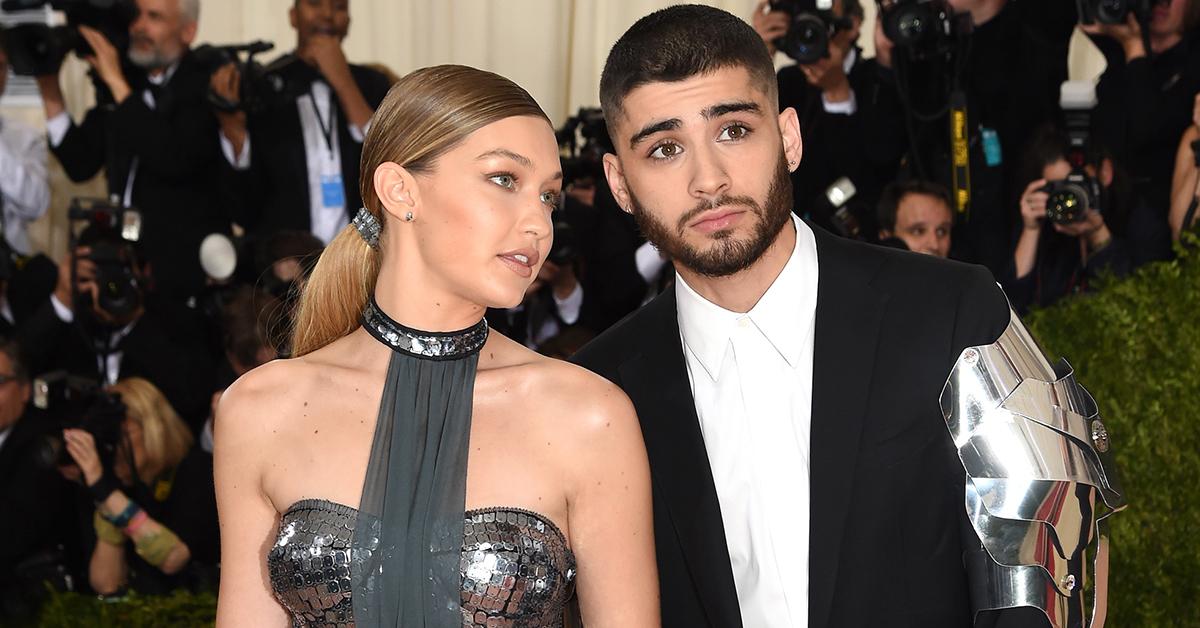 Gigi began her complicated relationship with Zayn Malik in 2015.
Only two weeks after her romance with Joe, Gigi moved on to the One Direction singer. They were first seen hanging out after the American Music Awards in November, and by the end of the month, they were spotted holding hands. Fast forward to January of 2016 and fans were treated with a three-and-a-half-minute glimpse of their romantic chemistry in "Pillowtalk."
Article continues below advertisement
They packed on the PDA for months on end and showed no signs of slowing down. But after more than two years, the couple went through their first split in March of 2018. This would mark the beginning of a number of temporary breakups, which made it quite challenging to keep up. For instance, after their first breakup, they rekindled the relationship a month later, only to break up for a second time in January of 2019.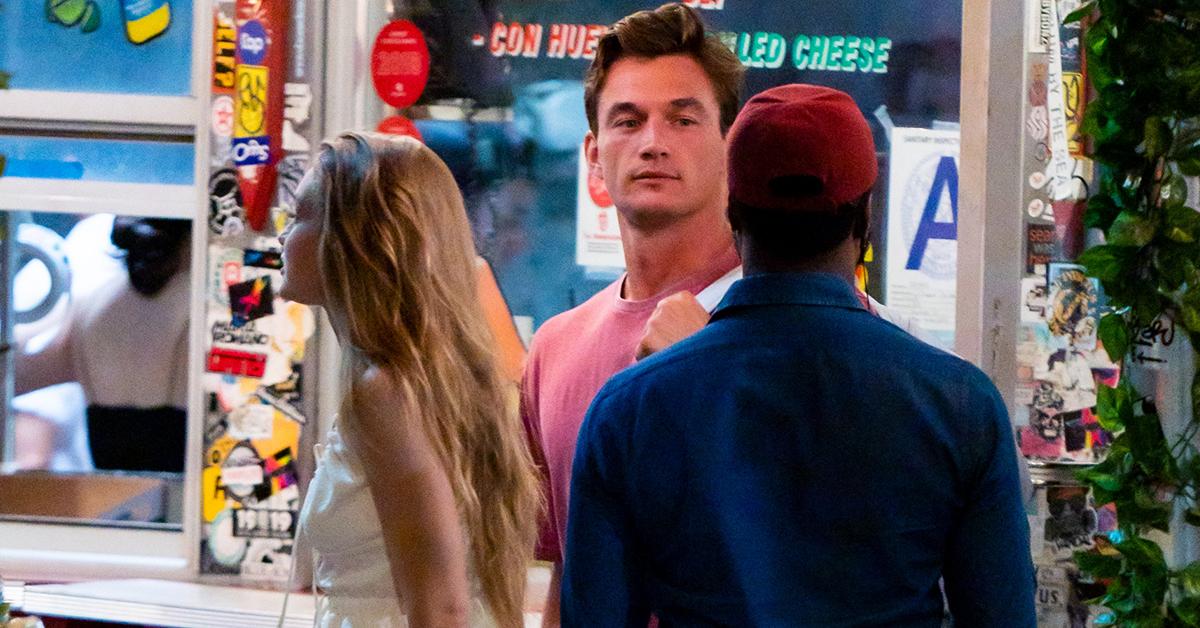 Article continues below advertisement
Gigi appeared to have moved on to Tyler Cameron.
After ending her relationship with Zayn yet again in 2019, Gigi was seen hanging out with The Bachelorette's Tyler Cameron later that year. Though they never announced that they were dating, they were spotted in New York on multiple occasions. However, Tyler missed out on getting the final rose this time around. In October, after just two months together, a source revealed: "Tyler is single. He and Gigi Hadid are no longer together."
Tyler has no hard feelings about the split. He mentioned that they're still on good terms to this day and one source noted that there's no "bad blood" between the two.
Article continues below advertisement
Gigi and Zayn are now back together and expecting.
Fans already suspected that the two were getting back together after Zayn tweeted that he loved her in March of 2019. Then in April, he clapped back at followers who assumed that he had a bone to pick with his ex. He said: "She is the most amazing woman I've ever known. And does nothing but love and support me when lord knows I don't deserve it."
Fast forward to February of 2020 and Gigi has confirmed that they are officially back together. For Valentine's day, she shared a photo of him and captioned the pic: "HEY VALENTINE. Z on the farm ♡ Dec 2019."
Now that they're expecting a little one, it seems like this reunion is the real deal. Congrats to the happy parents-to-be!