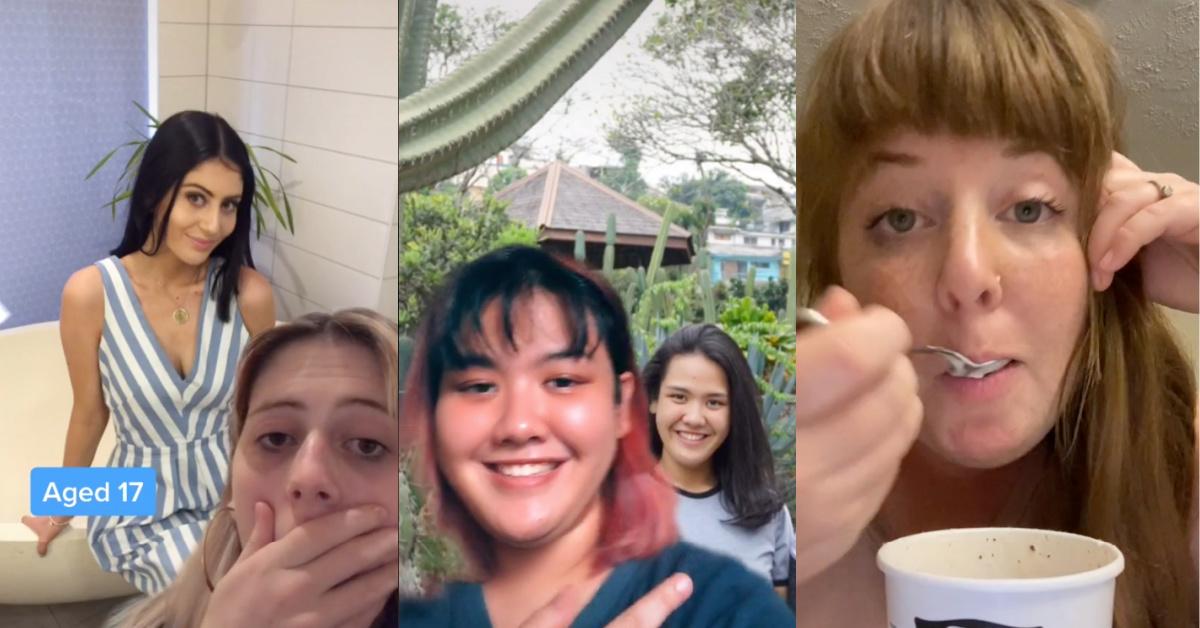 People Are Getting Really Honest Thanks to TikTok's "Glow-Down Challenge"
We're all familiar with the concept of a glow-up, right? Basically, it's when people start off as something of an "ugly duckling" and then eventually become the beautiful swan versions of themselves. It's definitely a common trend on TikTok and other social media platforms to post about how "the glow-up is real," sharing before-and-after photos of your "transformation."
Article continues below advertisement
But let's be honest. Some of us haven't experienced a glow-up. In fact, a good many of us have dealt with the complete opposite. On TikTok, people are getting brutally honest and sharing those stories as part of the Glow-Down Challenge.
Article continues below advertisement
What's the Glow-Down Challenge on TikTok?
There's never been a shortage of glow-up stories on social media. People are generally pretty willing to share their before-and-after photos when the afters look great — go figure! Gabrielle McDonald, who's known on TikTok as @gabslife99, decided that it was time for a change. She invented the Glow-Down Challenge for people who, as Gabrielle puts it, "physically peaked in high school."
Now, we can all agree that whether or not someone is considered conventionally attractive has nothing to do with their worth as a person. What's most important is that you feel comfortable and that you encourage people to do what makes them feel comfortable too. Sometimes, people are more comfortable getting their hair and nails done and dressing up for a night on the town. Other times, not so much.
Article continues below advertisement
Honestly, there can be a lot of freedom in embracing the "glow-down." After all, it's pretty exhilarating to go from spending tons of time and money in the interest of conforming to society's bonkers expectations to deciding that, actually, who really cares? Bring on the sweatpants and messy buns! Embrace the glow-down! Become the glow-down!
Article continues below advertisement
If you ask us, these "glow-downs" are more like glow-ups of self-confidence, and we are 100 percent here for that. A lot of them are also pretty darn hilarious, and we're here for that too. It's always funny to see people poking fun at themselves in a light-hearted fashion.
Article continues below advertisement
Making an actual Glow-Down Challenge video is very simple. All you have to do is share photos of yourself at your "most attractive" and compare them to the way that you look now. One way people are doing this is by using the Green Screen sticker or filter to put the "before" photos on the screen and then revealing their current look.
If you feel like you've experienced a glow-down, you can definitely get in on this trend. But before you do, it's totally worth taking a few minutes to think about all the ways that you've glowed up first — even if you no longer care as much about wearing clothes that match and make up an adorable outfit.
Article continues below advertisement
Maybe you've worked really hard to graduate or get some other certification. Maybe you've been promoted at work. Maybe you had a TikTok video go minorly viral or made your friends laugh out loud at something you said in the group text. Maybe your dog just really, really likes you. Even if you don't feel like you're at your physical peak, remember that there are many different ways to measure a glow-up.