"You Chose the Right People!" — Godparents Take Role Very Seriously in First Hospital Visit
The internet's losing their minds over a baby's Godparents who greeted the infant in the hospital rocking a 'Fairly Odd Parents' cosplay.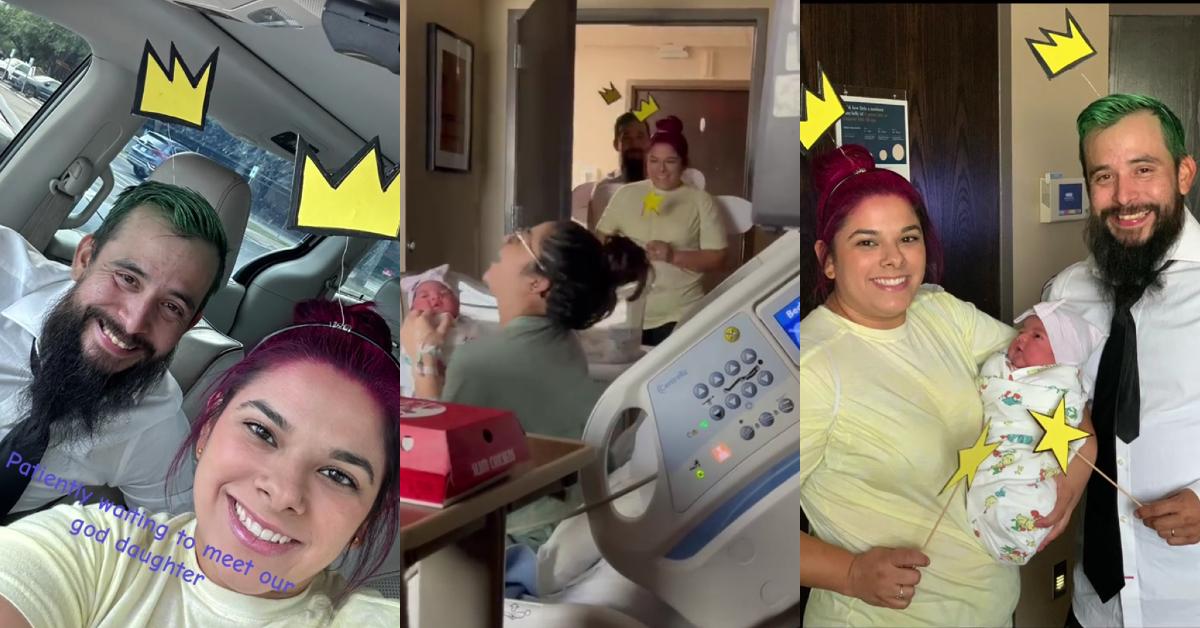 You can't really define a hospital visit as "fun" even under the best of circumstances. Sure, you can have friends and family members visiting you while you're going in for a check-up, or maybe before/after a procedure to pop in and help generate a few laughs and improve the mood of the current situation, but by definition, there really isn't anything all that festive about the places.
Article continues below advertisement
And there's nothing inherently wrong with that: they are, after all, venues dedicated to healing and ensuring that folks are ultimately getting the car that they need. They are places of illness, of recovery, of death, and birth.
And when speaking to that last point, there is, in fact, a lot of that going down in US hospitals around 3.6 million, or 10,000 births each and every day.
While this may seem like an insane statistic, it doesn't mitigate the fact that each birth is a profoundly life-altering experience for the families involved.
Article continues below advertisement
Obviously, it's life-altering for the baby because they've officially become a part of...well, life, but for the parents/folks who are now in charge of rearing the infant who's just arrived.
As the saying goes: it takes a village to raise a child: you've got aunts, uncles, neighbors, teachers, friends, and of course, designated Godparents.
And the Godparents that TikToker Brit Nay Nay (@brittnaynay_1234) appear to have relished in the opportunity to take on this role.
Article continues below advertisement
The godparents in question decided to try their hand at some cosplay and couldn't have picked a more appropriate couple outfit: Cosmo and Wanda from the popular Nickelodeon cartoon series, Fairly Odd Parents.
The TikTok features the new mom holding her baby while in the hospital as the pair of visitors walk in. The clip is set to the memorable intro theme song to the stories, and the couple can be seen walking in, all smiles.
Article continues below advertisement
Britty cracks up once she sees the door open: her visitors even dyed their hair the same color as the beloved cartoon characters: green and pink, and rocked headbands to make it look like they were sporting the same levitating, small crowns that hung above Cosmo and Wanda's heads in the series.

Article continues below advertisement
Britt dedicated several TikTok posts to the couple's dedication to the bit, as well, thanking them for taking the time to fully inhabit their role as Godparents in such a memorably lighthearted way.
After going through such a grueling and physically traumatizing experience as birth (which is also beautiful) it's probably a great feeling to know that you've got a couple of close friends, ones that you entrusted to be the godparents of your baby, who are willing to put in the effort to do that for you while you're recovering at the hospital.
Article continues below advertisement
Brit was so touched by their gesture that she even changed her profile picture to a photo of the couple holding her newborn baby, and posted another photo of the couple heading out to a Cowboys game, similarly geared up and decked out to cheer for their favorite team — it's evident that they put a lot of effort into dressing the part for specific situations.

Article continues below advertisement
Not only did the video absolutely blow up on TikTok, accruing over 11.1 million views on the popular social media platform, it also went absolutely nuts on X (formerly Twitter), racking up double the amount of watchers there.
The person who posted the clip to X penned: "Imagine having a baby, and the godparents you selected showed up to see the baby for the first time like this."
Article continues below advertisement
And commenters to the OG TikTok video had a lot to say about the Fairly Odd Parents as well: and pretty much all of it good.
"The fact that even the man participated, you chose the right people!!!," one person wrote, stating that Brit's instincts were right on the money.

Article continues below advertisement
"THE HAIRRRR WHY IS NO ONE TALKING ABOUT THE DYED HAIR," another remarked.
Another said that seeing the video makes them feel some type of way about the fact that folks their generation are now the latest batch of parents: "Just wild to think that we're the new adults"
While a hospital worker said that they wish they would've seen this kind of gesture from a new mom's loved ones while they were on shift.
What did you think? Was this an absolute win for everyone? Or would you have wanted your friends to show up like Don Corleone or Whitney Houston from the Cinderella made for TV movie?