Woman Blasts Her Neighbor for Her Horrible Attempt at a Hit-and-Run
One woman was floored by her neighbor's bold attempt to cover up hitting her car in their parking lot. Here's how she responded in a now-viral video!
Having a good relationship with your neighbors can be a healthy and convenient way to establish a sense of community in the area where you live. While some people may want to be best friends with those who share the same street name as them, it's not always necessary. In some cases, neighbors are simply people you might bump into while running errands or on your way to work.
Article continues below advertisement
It's OK to admit that your neighbors might not be a part of your social circle. However, it's important to feel respected and safe around the people you live in close quarters with. Unfortunately, in some cases, neighbors aren't trustworthy.
One TikTok user discovered how shady and audacious one of her neighbors could be. In addition to damaging her car, the woman's neighbor also took very little effort to hide the evidence. Keep reading to see what all went down!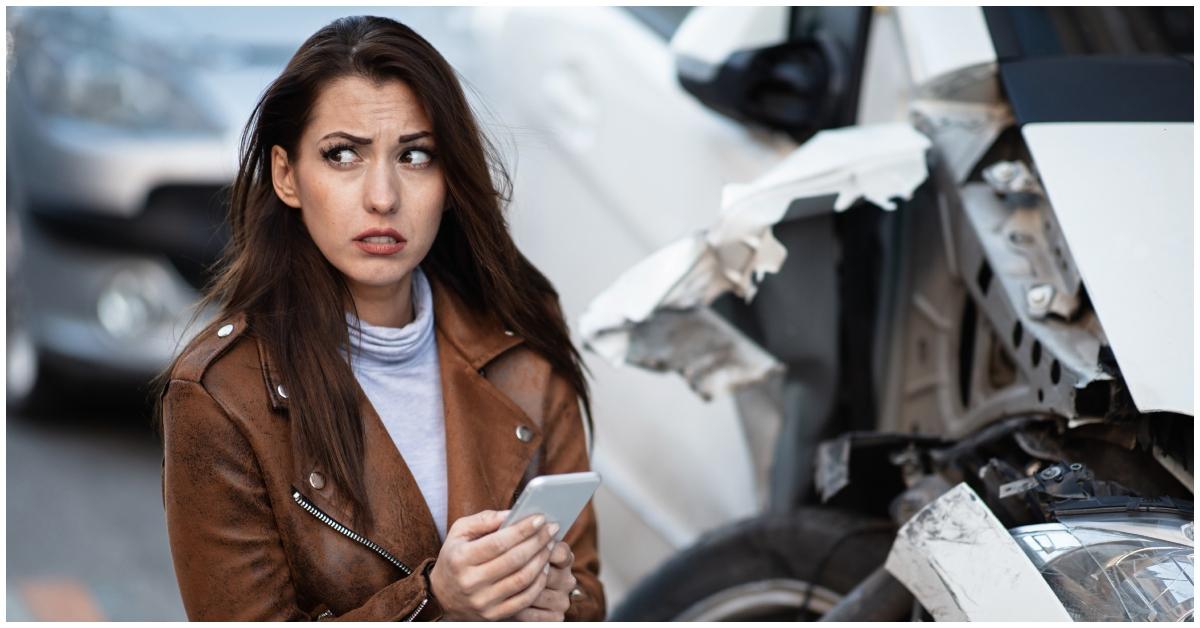 Article continues below advertisement
A woman called the police on her "dumb" neighbor for hitting her car and then parking it in the same lot.
Being the victim of a hit-and-run is never a fun task. It's incredibly unsettling to know that someone committed a crime and didn't have enough courage to take responsibility for their actions.
Thankfully, in TikTok user Alexa's (@ivycathadier) case, no one was injured during the hit-and-run she experienced in her own residential parking lot. Still, Alexa was understandably peeved when she realized the person who hit her van was one of her neighbors.
In October 2023, Alexa posted a TikTok of her making the shocking discovery. She said in the post that another neighbor informed her 20 minutes before she started recording that someone had hit her van. Alexa then went out to the parking lot and saw, sure enough, her van had been hit and the tail end of the van was covered in scratches and a dent.
Article continues below advertisement
As Alexa inspected the damage, she said she noticed the white car that usually parks next to her van was missing from their parking space. She said the missing car made her assume the neighbor driving it was responsible for hitting her van, and she decided to wait for the neighbor to return home so she could confront them about the incident.
Article continues below advertisement
Alexa didn't have to wait long to see her neighbor was likely already home and hiding. While looking around the parking lot, Alexa noticed that the white car she mentioned earlier was parked across from her in the same lot. She then inspected the white vehicle and noticed the car also had scratches on it, including a bright red one that Alexa suspected was from her tail light.
Soon after putting two and two together, Alexa decided to confront her neighbor at her home. However, the neighbor wouldn't open the door, though Alexa said she heard the woman "shuffling around in there." After not being able to confront the woman herself, Alexa called the police and said they were on their way before calling her neighbor a "dumb b----."
Article continues below advertisement
Alexa's followers warned her that she may not have a case against her crooked neighbor.
Many users agreed with Alexa's choice to call the police on her neighbor after their highly disrespectful hit-and-run. However, several commenters familiar with cases like Alexa's worried she might not benefit from taking legal action against her neighbor. According to them, Alexa doesn't have much of a case, considering her neighbor never confessed to the crime.
Article continues below advertisement
"Good luck, it's f----- up, but if there's no proof, it's your word against hers," one commenter said.
"This happened to me," another admitted. "The cops said that it is not enough proof if you didn't see it happen. They handed me a form for the insurance and left."
Article continues below advertisement
"Oof, if she doesn't confess, her insurance will not accept liability," stated a third concerned commenter. Word v word. Do any of the neighbors have cameras?"
Alexa responded to the commenter asking about cameras and stated that no cameras were around to document the case. However, she did say her claims adjuster informed her it was "obvious" her neighbor hit her, so that's something!
Alexa provided updates throughout the insurance claim process.
Alexa did provide a series of updates on the hit-and-run drama and the progress with the other woman's insurance company. Thankfully, the woman's insurance company did admit fault and covered the repairs to Alexa's van since there was enough physical evidence. In this case, it didn't matter that there weren't cameras.