Hit-And-Run Victim Becomes Own Detective, Finds Culprit Who Tried Covering It Up
A victim of a hit-and-run went through extreme lengths to discover who the culprit was behind the damage to his parked car, and eventually found her.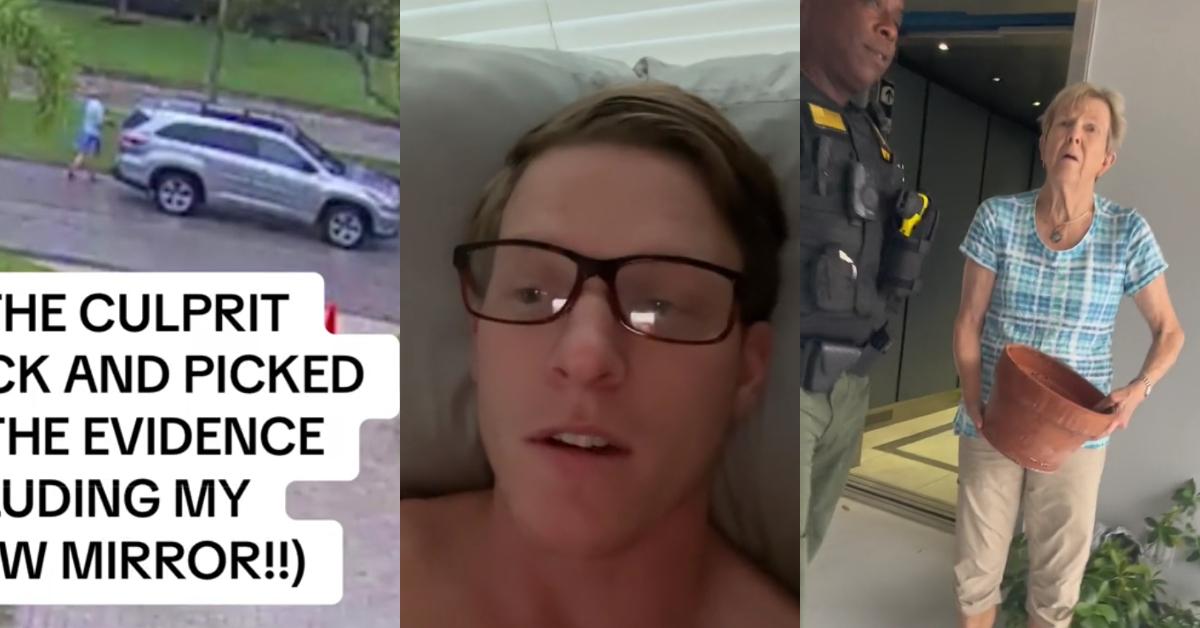 Article continues below advertisement
But there are times, when Karma gets people and gets people good, which is what TikToker @buckyjuggs said, happened to this hit-and-run driver who slammed his parked car while he was working.
However, little did the culprit know that they were being recorded the entire time. Bucky relays the story in a viral clip he posted to the popular social media application through text overlays and footage.
Article continues below advertisement
"My car got 'hit & run while I was working," Bucky writes in the clip, which shows his car getting sideswiped by a driver ambling down the road. The offender gets out of her vehicle and can be seen picking up pieces of the wreckage, presumably in an attempt to cover up what happened.
Article continues below advertisement
"Then the culprit came back and picked up all the evidence (including my sideview mirror!!)," he went on before the video cuts to him speaking into the camera.
He says that he was working at a client's house before walking outside and seeing his vehicle damaged.
The client let him check the security footage from their cameras and lo and behold, the individual was caught in the act performing the hit-and-run on Bucky's car.
He immediately went to work: he filed a police report and then called every single mechanic and auto body shop in town to let them know what had happened to him.
Article continues below advertisement

He went even further, alerting everyone in town about the hit-and-run driver and even uploaded the video footage to every Facebook and neighborhood watch group he could think of and even printed fliers that contained screenshots of the woman and passed it along to everyone in the area where the accident occurred in the hopes of discovering who this woman was.
Article continues below advertisement
While passing out fliers he flagged down a vehicle to talk to them about the incident and the man in the car said that he saw a car like the one in the video down the street (a silver Toyota Highlander) and asked Bucky if he wanted a ride to the vehicle.
Bucky ended up finding the silver Highlander and, sure enough, it had damage on the left front passenger door and mirror.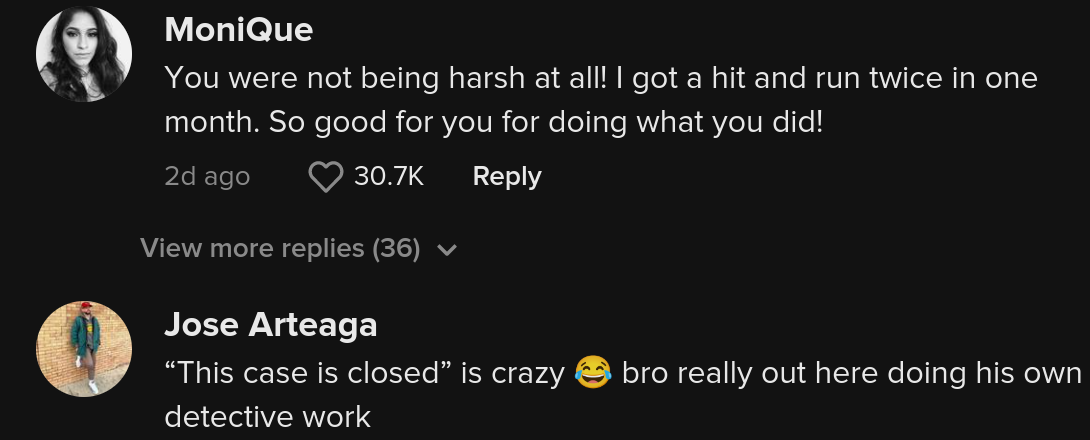 Article continues below advertisement
The clip then transitions to him walking with a member of the local Sheriff's office (after he took down the culprit's license plate number).
They end up finding the woman outside of an elevator, who tries to say that the man hit him.
The officer and Bucky immediately shoot that down stating that they have the incident on camera. She says she didn't know what to do as Bucky tells her that he's a tutor and a teacher and "can't afford" to fix this kind of damage to his vehicle. "Why would you do this to me?" he said.
Article continues below advertisement

"I will do anything I've been so upset about this," the woman says, to which Bucky replies that she could've come up to the house and said something. She argues that there wasn't anybody there but the TikToker doesn't seem to be buying it. The woman asks what they would like to do, and the officer says that it's up to Bucky.
Article continues below advertisement
Bucky immediately says he wants her arrested, to which the officer says that they would need to get a warrant for that. They have a back and forth until the woman agrees to get her license and registration and that she is going to give Bucky his mirrors back that she took off the ground following the hit and run.
The officer follows her into her residence as she keeps saying she was happy that the man ended up finding her because she felt so guilty about the accident, to which Bucky replies that there is no way she means that as she was clearly caught trying to get away with it.
Article continues below advertisement

The woman then says that she's never lied in her life, and you can almost hear Bucky rolling his eyes in his voice stating that there's no point in even discussing it any further because everything is captured on camera and that the "case is closed."
Article continues below advertisement
When they're at the vehicle, Bucky tells the woman he would be happy to trade vehicles with the woman to settle the matter, before giving up on that idea and walking back away from her, stating he's not trying to get close
At this point in the clip, an elderly man comes out to talk to Bucky, asking him who he is. The TikToker informs him that he's the man who owns the car his wife hit.
The elderly man gestures towards Bucky and keeps approaching him to which he says he's getting too close, Bucky calls out to the officer stating that he doesn't want to engage with the individual. "He can record all he wants," the cop tells the elderly man. "This is for my own protection," Bucky says.
Article continues below advertisement

The officer then asks the older man for his license and registration, and he complies. The clip then cuts to Bucky speaking into the camera again, stating that the woman is going to have to appear in criminal court to answer a "hit-and-run" charge.
Article continues below advertisement
He ends his clip by stating that while there maybe be some people who feel he was too harsh, he doesn't think people should have a sense of entitlement where they think they're better than others and that what keeps "society" together are folks who take accountability for their own actions.

According to Bankrate, a hit-and-run in the state of Florida that results in damage towards an individual's property only can result in a $500 fine and up to 60 days in prison.