"Everything Needs to Be Fixed" — Wife Points Out Projects Her Husband Hasn't Finished
In a now-viral video, a woman pointed out all the projects her husband started around the house but never finished. Check out the full story.
If you're a homeowner, you know there's always work to be done around the house. Home improvement projects will be calling your name forever, and while it's initially exciting to renovate your own space, it gets old very quickly. And then, like this one woman on social media, you're left with a bunch of unfinished projects.
Article continues below advertisement
In September 2023, TikTok creator Trisha Hyde (@trishahyde) shared all the home improvement projects her husband had yet to finish around their house. There are a lot, so buckle up for this bumpy ride!
Read on for more details, and stick around to hear what the internet has to say about Trisha's house.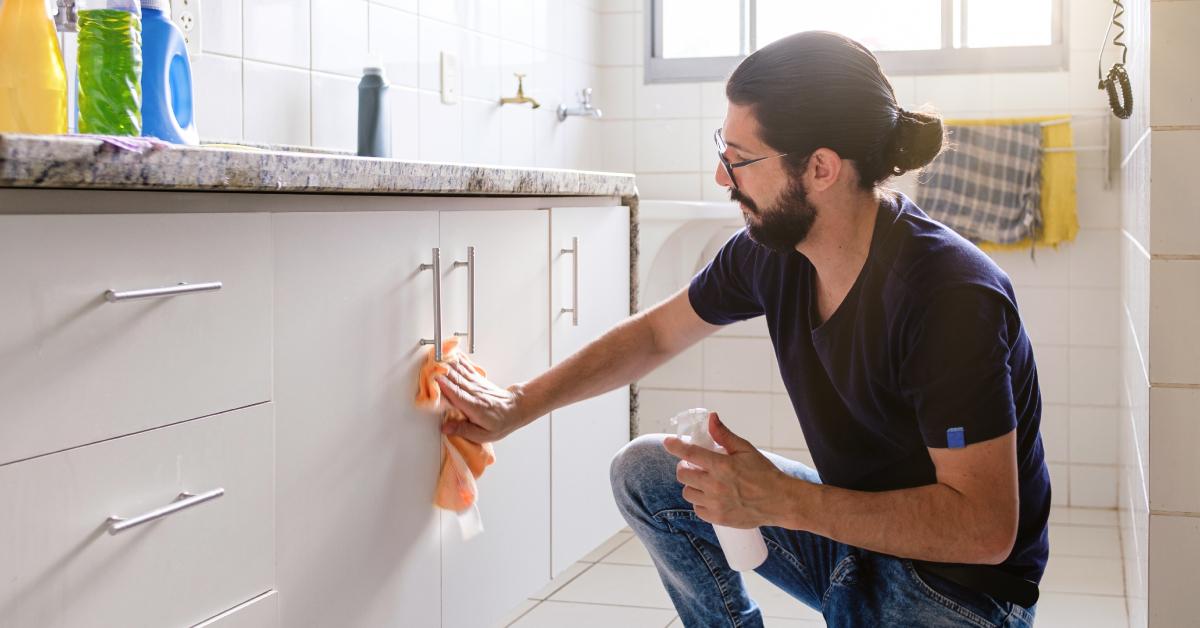 Article continues below advertisement
This wife pointed out all the home improvement projects her husband hasn't finished.
"Does anybody ever just look at their house and be like, 'Everything needs [to be] fixed,'" Trisha said before taking her followers on a tour of her house to point out all the unfinished projects.
First up was the dining room; Trisha flipped the camera around to show a broken chair. It was leaning to one side, but Trisha revealed that "it's always like that. It's always tilted." She also showed off the rug underneath the dining room table, which was completely wrinkled. Trisha blamed her husband and claimed it had been like that since "day one."
Article continues below advertisement
After her daughter, Evelyn, pointed out the broken curtain rod, Trisha disclosed an unfinished project that "drives me nuts" — missing chunks of wood flooring. She also unveiled their shower floor, which she "absolutely hated" because it was incredibly dirty with yellow stains.
Article continues below advertisement
From there, Trisha exposed filthy trims, broken kitchen drawers, ceiling stains, mismatched wallpapers, and holes in the walls. She noted that her husband did, in fact, fix the latter, but their daughter Evelyn kept creating new ones by putting things up on her walls.
"I could go on and on, I really could," Trisha added. "And me, the OCD one, like, I have to have finished projects, so I just sit here and stir in agony because nothing ever gets finished."
Article continues below advertisement
TikTok users praised Trisha for her realistic house tour.
As of this writing, the now-viral video has received over 1,100 comments from fellow TikTokers praising Trisha for her, as she put it in the caption, "realistic house tour."
"Thank you for sharing this!!!" one user said. "We all live like this… not everyone will own up to it, though. "
Article continues below advertisement
A second TikToker wrote, "My favorite are realistic house living tours. We're not alone."
"Thank you for making me feel normal," a third person added. "I spend [my] days feeling overwhelmed and frustrated by everything, thinking it's just my house."
Others also agreed that all husbands are the exact same, with a TikToker responding, "Literally my house, my husband never finishes or fixes anything!"
Article continues below advertisement
Another person commented, "My husband gets so mad when he has to fix anything in the house. I end up doing it."
"My husband didn't fix the kitchen cabinets until he saw one fall on my head," someone else revealed, to which Trishia jokingly replied, "Typical husband."