Shopper Stuns the Internet by "Unboxing" Food at Grocery Store
A woman took to social media in order to complain about the fact that food comes in boxes. She actually took it out of the box at the store. It's wild.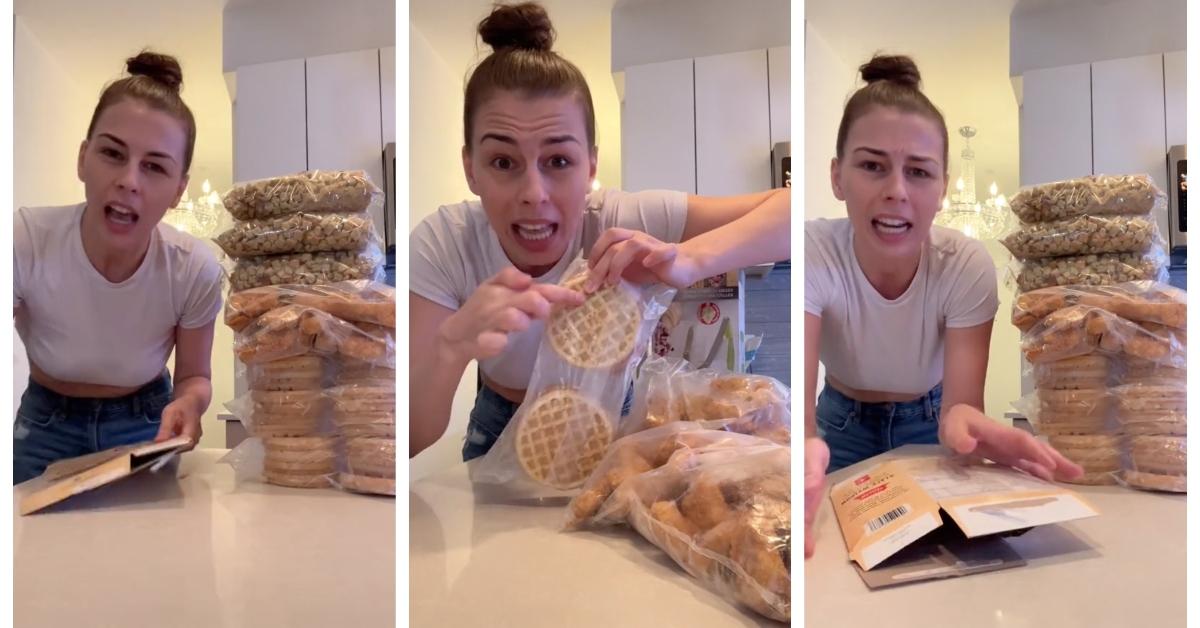 I love a good unboxing video but only in a very specific arena: ASMR videos. ASMR stands for autonomous sensory meridian response and describes a "tingling, static-like, or goosebumps sensation in response to specific triggering audio or visual stimuli," per University of Nebraska Medical Center. There is nothing I love more than long nails tapping on a cardboard box, right before the open it up to reveal a gaggle of gifts bestowed upon them by internet strangers.
Article continues below advertisement
This is why I was excited to see an unboxing video about groceries from Jessica Wetz, who goes by @jessicawetz6 on TikTok. Sadly I didn't get binaural whispering or slow hand movements. I got someone screaming about the boxes her food comes in at the grocery store. I also enjoy a good rant, but I'm not sure Jessica is directing it at the right folks.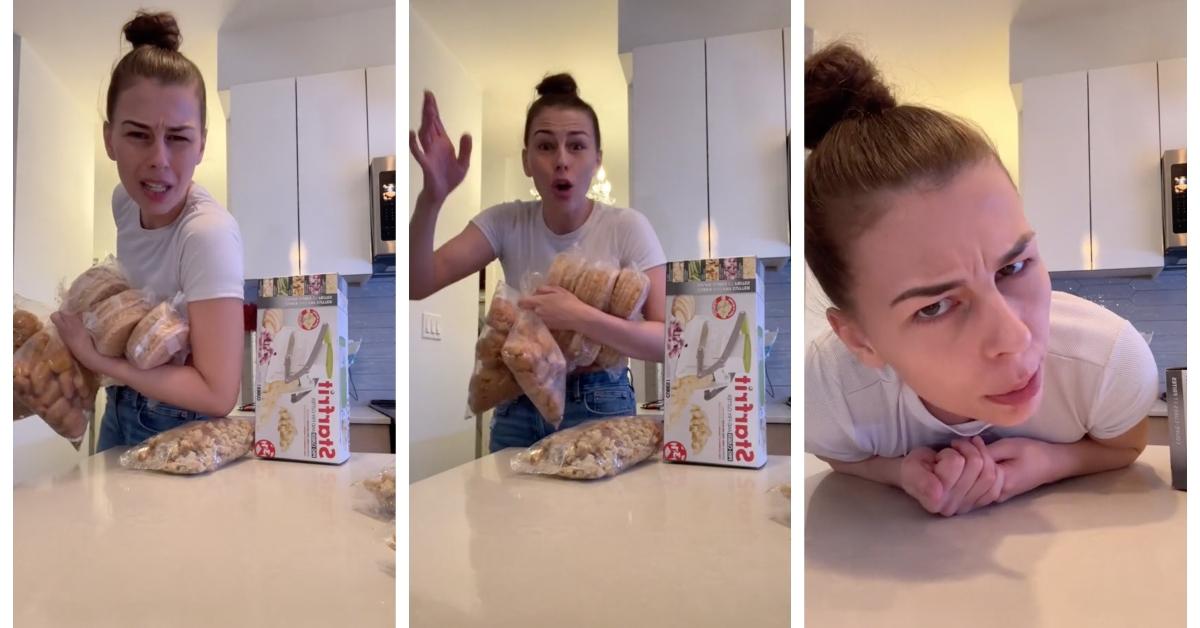 Article continues below advertisement
She removed the food from their boxes at the store.
The TikTok that Jessica dropped about the use of boxes in food packaging is labeled as a kitchen rant, and boy is it ever. She's very angry about the fact that processed food is put into a sealed plastic bag, which is then encased in a cardboard box. But it has nothing to do with the environment, if that's what you're thinking.
Jessica bought eight items from a grocery store, each of which came in their own boxes. By the looks of it, she got frozen waffles, frozen chicken nuggets, and either ceral or a ton of croutons.
Article continues below advertisement
Annoyed by the boxes, she stopped by the customer service desk and removed every item from its respective box. Jessica then asked the customer service employee to recycle the boxes for her. Maybe Jessica doesn't have recycling where she lives? I certainly don't.
Article continues below advertisement
"I hate when I go to the grocery store and I just develop garbage before I've even eaten it," explains Jessica. Here's the thing, that garbage is going to happen regardless of whether or not Jessica brings the boxes home. So it's not the trash itself she's concerned about. It's the fact that it follows her back to her house.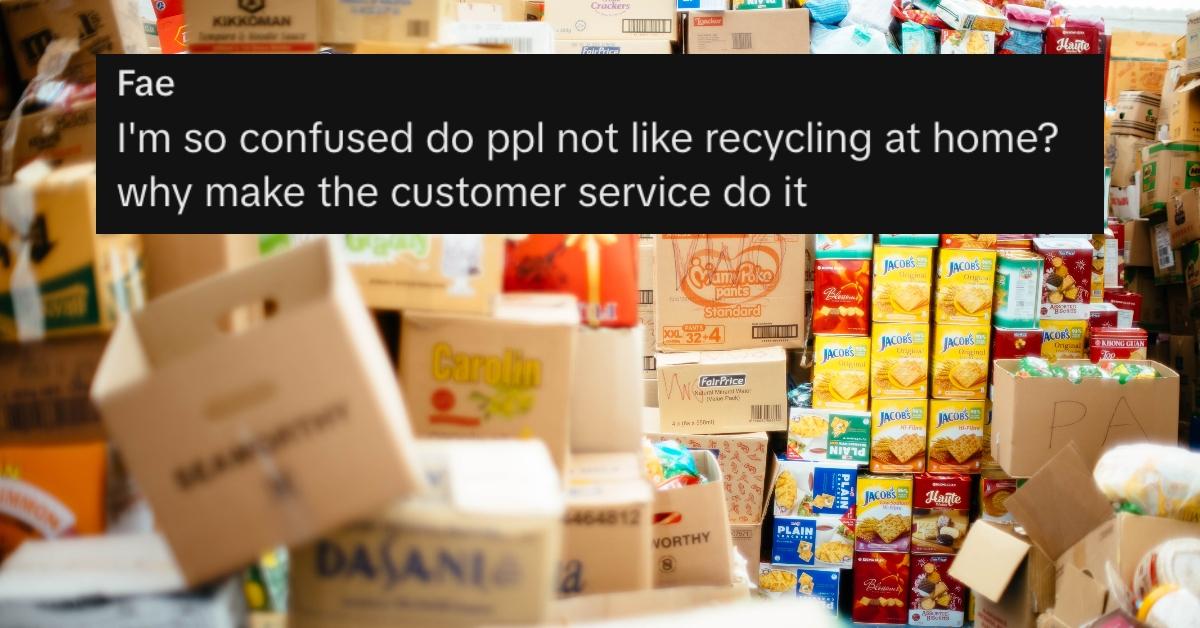 Article continues below advertisement
The real issue reveals itself as Jessica yells that she is being forced to go down to her recycling bin. Presumably, a customer service employee is now being asked to complete the same task. The difference is, Jessica should recycle things in her own home. A customer service employee at a grocery store is not usually tasked with handling the recycling.
It's unclear who she is angry with. It sounds like she's frustrated with the grocery store, but they are not responsible for food packaging. If I were Jessica, I would write a strongly worded email to the individual companies whose boxes she just had to recycle.
Article continues below advertisement
While holding up her chicken nuggets, Jessica says she would happily buy her food in just a plastic bag. Before that's possible, some changes would have to be made. There are certain regulations that need to be met under the Fair Packaging and Labeling Act. Each bag would have to have the name of the food, amount of product, nutrition facts, ingredients, allergens, as well as the name and address of the manufacturer, packer, or distributor.
Article continues below advertisement
The video then abruptly switches to Jessica opening up a new potato cuber. It should be noted, the cuber comes in a box but Jessica doesn't seem bothered by that. In fact she seems pretty excited about opening it up for the next seven plus minutes of the TikTok.
The real issue here is not grocery stories and waste. It's the food corporations and waste. If only Jessica would do a kitchen rant about that instead of lamenting the fact that she has to go to her recycling bin in order to recycle the items she just bought.