This Guy's "How-To" Guide for His Next Girlfriend From His Ex Had People Roasting Him Online
Jacob Brown, a handsome fellow from California, thought that he'd give some prospective future girlfriends a helping hand by posting this guide from his "ex".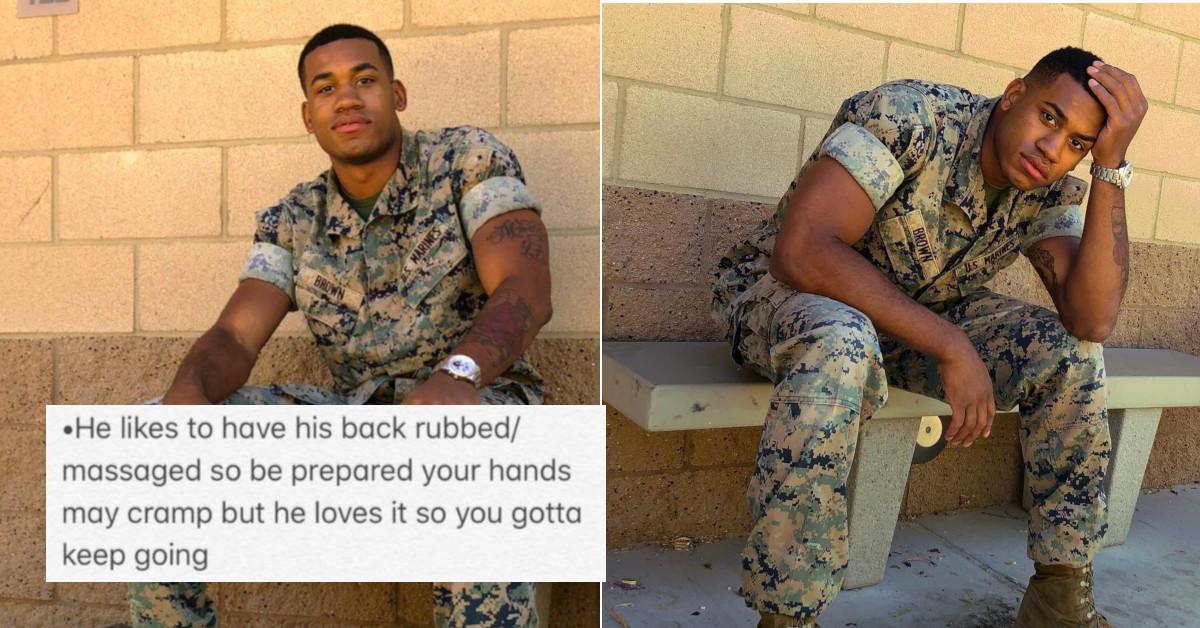 Jacob Brown is getting roasted online for a "how-to guide" for his next girlfriend — which he says his ex-girlfriend wrote. We'll let you be the judge of that, but first, some background.
Article continues below advertisement
Datig in the 21st century can sometimes be a pretty crazy process, to say the least. Whether you're meeting randos through social media or on platforms like Tinder looking for love, you're inevitably going to end up going on a bunch of bad dates or meeting with people you're just not compatible with. All of this can lead you feeling really frustrated. Wouldn't it be great if you could just hand out a how-to guide to let future suitors know what you're looking for?
That seems to be what Jacob here was going for when he posted this "how-to" guide from an ex-girlfriend that lists all of his personality traits, quirks, likes, and dislikes.
If it sounds like a super weird thing for an ex-girlfriend to do, you should probably go with your instincts. Because the more you scan this list, the more it reads like the author is... Jacob.
Article continues below advertisement
It's pretty evident from the get-go that this note is a wish-list of things he hopes to get from a potential partner. It also looks like something a 9-year-old would write. I was surprised to not find his favorite type of Pokemon on the list and how he demands you try and sneak him into R-Rated movies.
Article continues below advertisement
Sadly, the list just gets worse as it goes on. Each "note" about his personality really crystallizes the fact that this dude doesn't really have any plans to do anything for the woman that he wants to be in a relationship with. It's just filled with a list of duties to perform for him with no mention of what they'd get in return.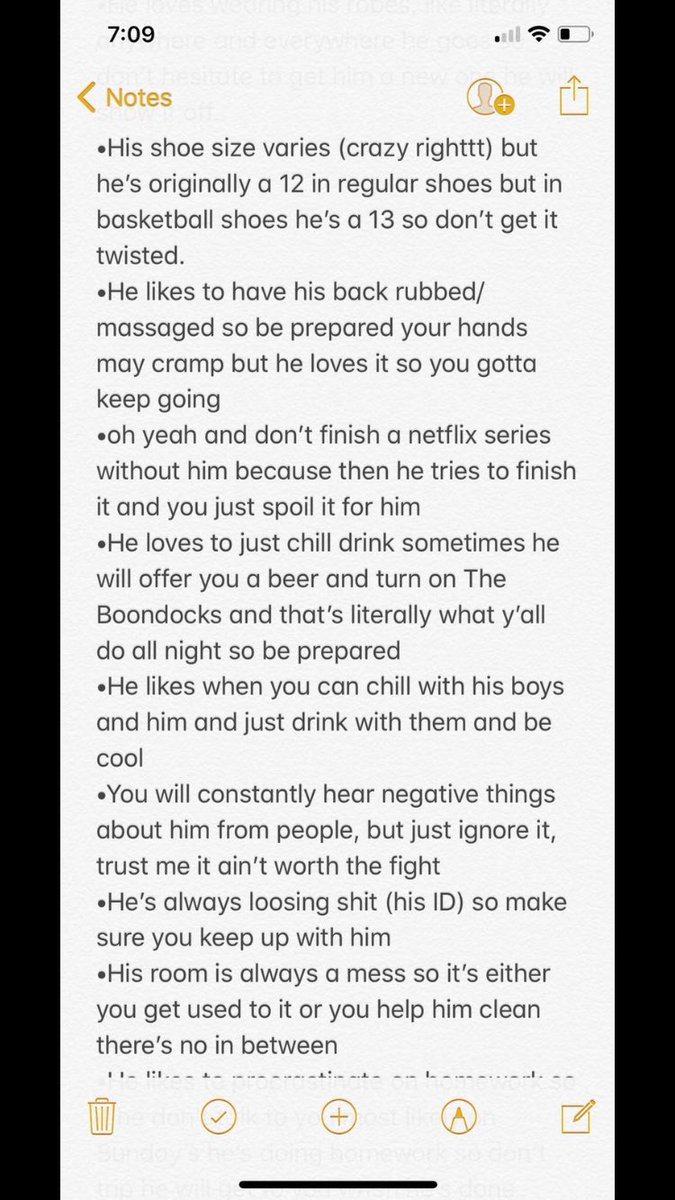 Article continues below advertisement
There's a mention from his "ex" that he loves getting back massages and you should keep going even if your hands get tired. Prospective girlfriends should also ignore all of the bad things that they hear about him from other people. Wait, what? Who's just going up to a dude's girlfriend and telling them that they're a scumbag for the heck of it? Even when guys are scumbags, people feel weird about telling their new boo what kinda person they are.
Each entry is worse than the next. He wants someone to help him clean up his messy room or put up with the filth. She should also be willing to help him find necessary documentation he keeps losing, and she should also be cool with just drinking Coronas for hours and hanging out with his friends. If you wanted a date night, you better just enjoy drinking beer and watching The Boondocks the entire night, and don't even think about cracking open Netflix on your phone and watching something else while he views the same episode for the zillionth time.
Article continues below advertisement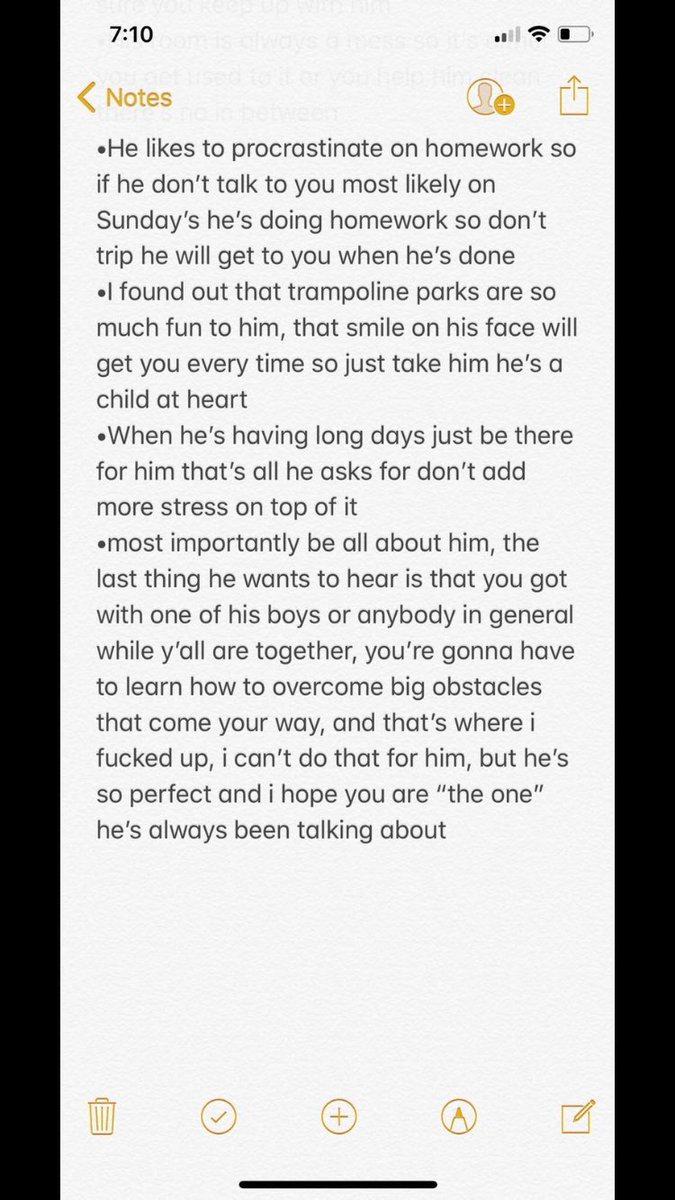 The best/worst part of the note is that there's a litany of red flags about this dude (the fact that he tweeted this at all being the ultimate red flag) all throughout it but it ends off with his "ex gf" vaguely admitting the breakup is her fault and that he's "perfect".
Article continues below advertisement
Although I'm pretty sure that this dude wrote this note himself, if by some chance a legitimate ex girlfriend did write it, why would anyone in their right mind sign up to be in a relationship with the subject of that note? Granted, he's pretty dang good looking, but I wonder how attractive you'll find him when he's been ignoring your messages all Sunday and then calls you to come over his house where he's lounging around in sweatpants watching cartoons and sulking because you didn't bring him Popeye's and Corona.

Article continues below advertisement
Obviously, a ton of people on Twitter had choice words for Jacob and the contents of the note. One guy asked if the author was his ex girlfriend or his "ex babysitter."

Article continues below advertisement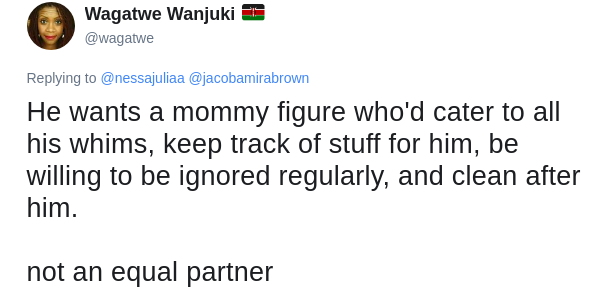 Many pointed out how childish the "demands" in his note were, and that he wasn't really looking for an equal partner, just a mom he could be romantically involved with. Gross.
It didn't take long either for people to start coming up with their own "notes from exes", and roasting Jacob into oblivion.
Article continues below advertisement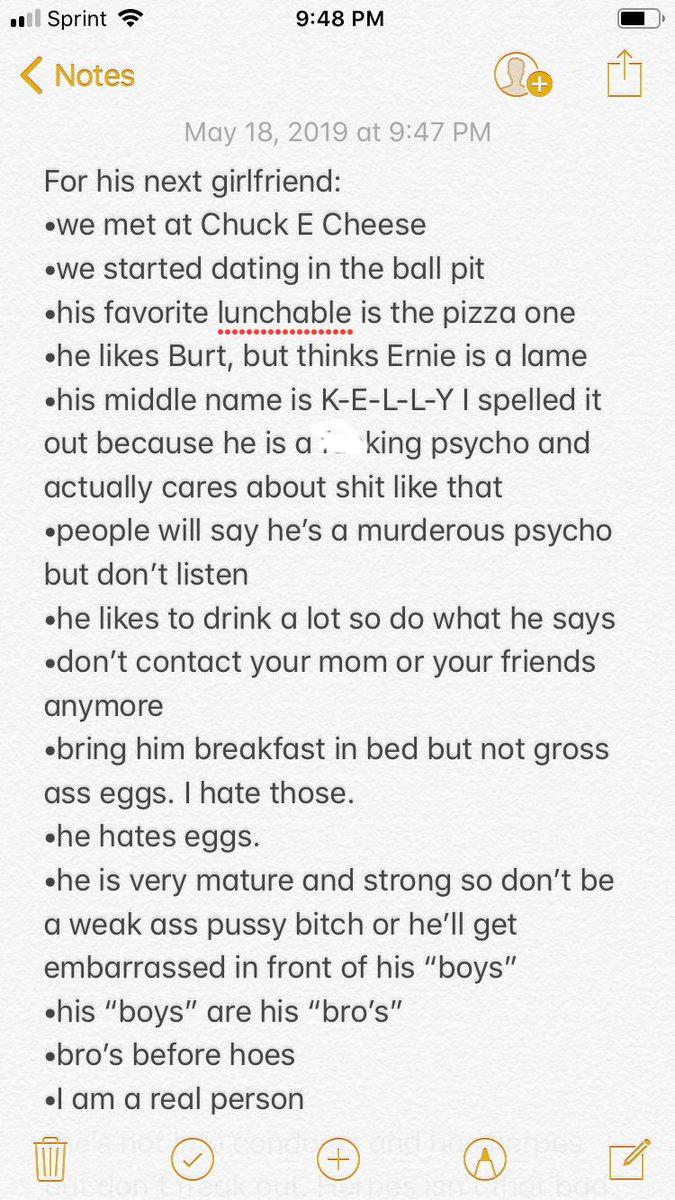 Article continues below advertisement
Some of the roasts just cut straight to the core of everything that was wrong with what Jacob posted.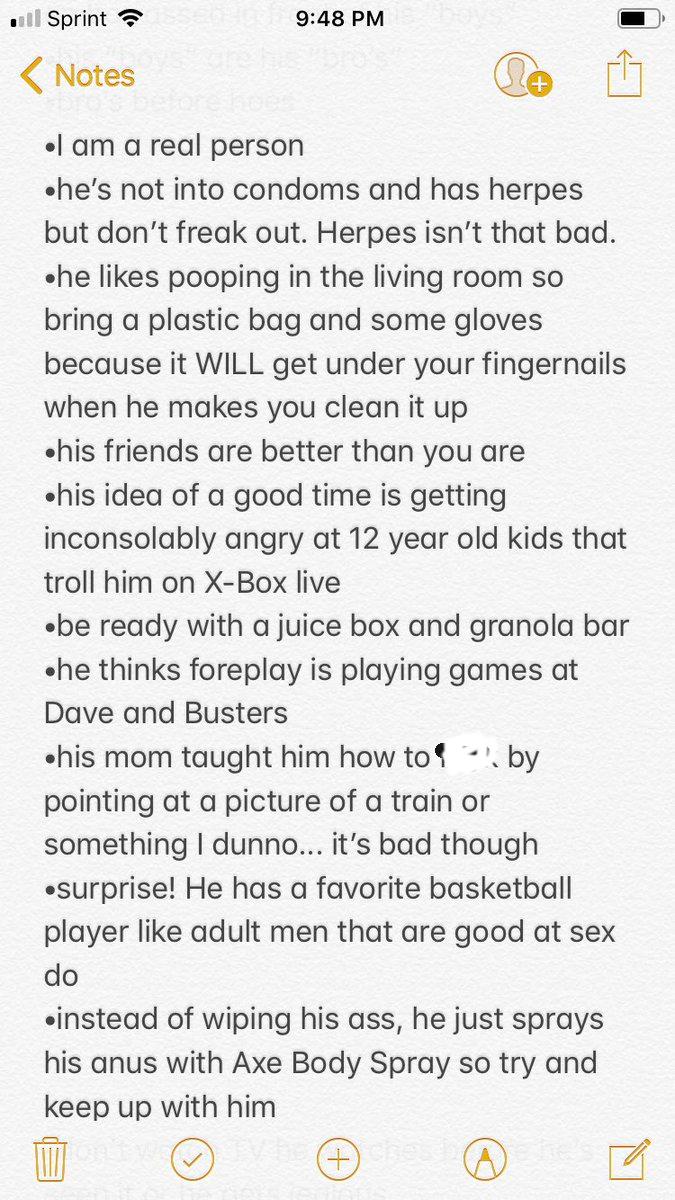 Article continues below advertisement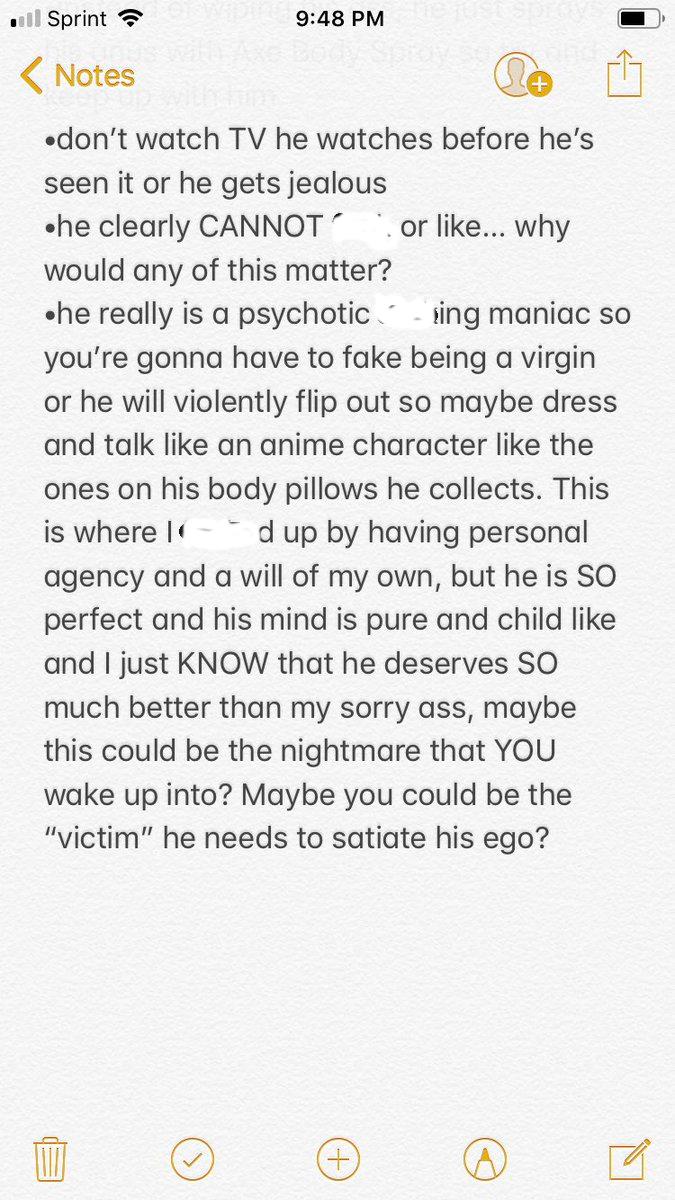 Others took a more lighthearted approach, but still roasted the man pretty dang well.
Article continues below advertisement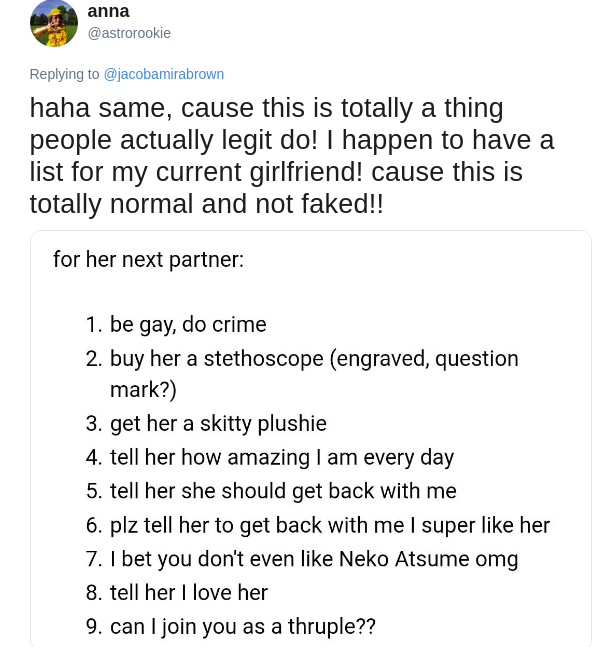 It seems like Jacob might've not taken the heat well, as his profile caption reads that we shouldn't take his Twitter seriously. So I guess the whole ex girlfriend thing was a "joke".
Article continues below advertisement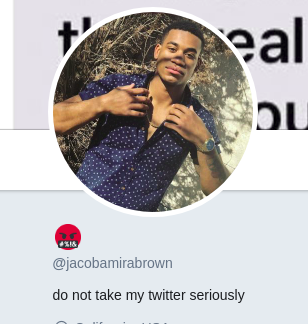 What do you think? Did Jacob's ex-gf tweet those notes out? Or did he just write them himself, seriously, and is trying to backtrack now he's being called out on it? Or is it an actual joke?