"Goodwill Has Gone Too Far" — Shopper Shocked to Find a DIY White Claw Candle for Sale
A Goodwill customer did a double take after finding a can of White Claw on a store shelf, rocking a price tag.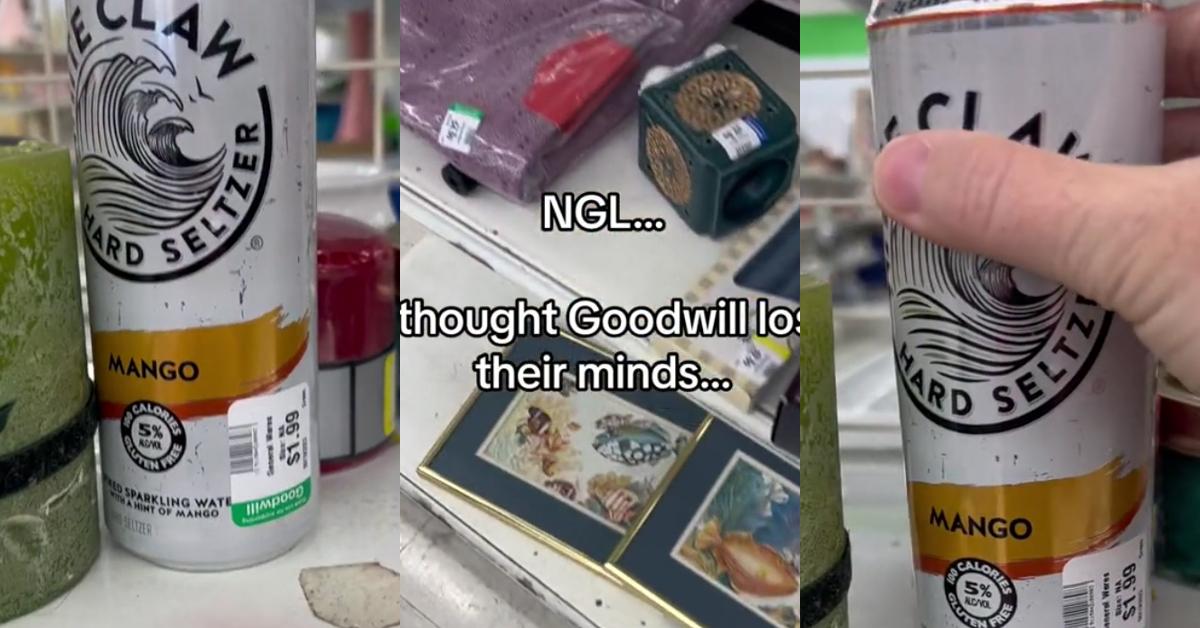 "One man's trash is another man's treasure." It's a popular saying that is the core of thrift stores like Goodwill and other thrift stores where shoppers can often find bespoke items that they can then purchase, providing charity funds for needy people while getting some swag for themselves in the process.
Article continues below advertisement
And while there are definitely some folks who've managed to hit the jackpot during their shopping experiences at thrift stores, there are plenty of instances where people have discovered that one man's trash often ends up becoming someone else's trash too.
Like this one TikToker who was ambling through the aisles of a Goodwill location when they came upon a White Claw can on the shelf. No, it wasn't a malted beverage that someone simply found and then decided to leave in the store and go about their day.
Article continues below advertisement
No, this can of White Claw ended up having a sticker appended to it and was labeled as an official item being sold by Goodwill, which seems odd because the brand doesn't have a liquor license, which is the reason why you'll never find any taxidermy inside of a Goodwill.
Article continues below advertisement
Curious as to why Goodwill would be selling the carbonated alcoholic beverage that became all the rage in 2019, Jess (@jess_joy) decided to inspect the can even closer, to reveal that while it was indeed a can of White Claw, the store wasn't necessarily selling a drink.
It would appear that the location was offering up a custom home decor piece as whoever donated the White Claw can cut the top of it off and turned it into a candle.
Article continues below advertisement
According to Reddit's r/candlemaking sub, making a functional candle holder out of aluminum is probably not the best idea, as user @craftking writes: "I am no expert, but wouldn't recommend it. The afterburn when a candle almost runs out of wax is the most dangerous part. If you do it, for sure don't leave the room while it is burning. Especially at the bottom."

Article continues below advertisement
Another commenter on the post asking whether or not aluminum would be a suitable housing for a candle, echoed the aforementioned sentiment, writing: "I wouldn't recommend it at all. Aluminum cans can melt if left unattended for too long. If you're doing it for yourself and you'll be watching it non stop I'd say try it out. Other than that there is no way I would take that risk with a customer."
Some TikTokers, however, appeared to like the idea of the White Claw candle, writing: "that's actually a good idea for those that want to display their favorite empty drink cans. now it's not tacky trash but candles"
Article continues below advertisement
Jess said that she's purchased a canned candle previously as well: "It is! I bought an Orange Crush candle at a vendor fair before. This just caught me off guard"

Article continues below advertisement
But there were others who were a bit wary of lighting up some wax encased in a highly conductive piece of metal: "nah i'd be so scared of the chemicals from the can burning up, i remember googling it when i was younger because i wanted to make them"
And then there were commenters who shared some of the more bizarre finds they've happened across at the Goodwill store: "the weirdest thing I've found this far is a porcelain onion. I love it"
Article continues below advertisement

"my Goodwill was selling Amazon gift wrap bags," another wrote.
Someone else said: "I just saw a can of corn at Goodwill today…"
While another penned: "I found a jewelry box that had 2 baby teeth in it"
Article continues below advertisement

What are some of the more bizarre Goodwill finds you've come across in your shopping journeys? Or is thrifting really not your thing?