Woman Receives Games Pack With a Soiled Adult Diaper From Great Wolf Lodge
Great Wolf Lodge was definitely not a vacation for the woman who opened up her games pack to see a soiled adult diaper inside. Here's what happened.
If you've ever heard the phrase, "You can't make this s--- up," it's the most fitting phrase for the experience TikToker Britaney Kay (@britaneykay) had at the Great Wolf Lodge. Britaney thought she was taking her 9-year-old son on his dream vacation to the Great Wolf Lodge for his birthday, but instead, she found her family in the middle of a poop-filled nightmare.
Article continues below advertisement
Britaney explained in a TikTok video that she was handed a box from the front desk that was supposed to include a set of games. What she got instead would give her a perpetual fear of opening boxes. She opened the box and found an adult diaper. It wasn't just any diaper. It was a used adult diaper. Blech! So here's the (hopefully not diarrhetic) tea.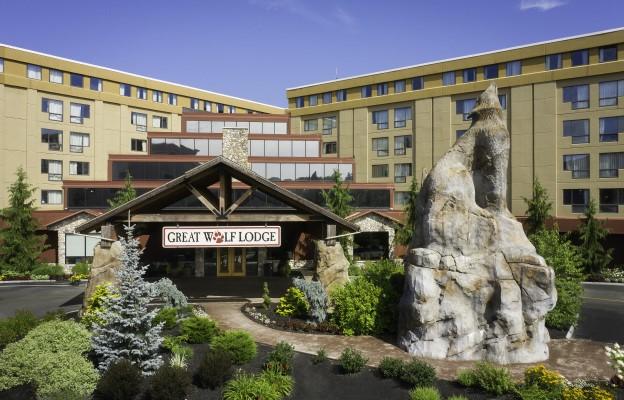 Article continues below advertisement
Britaney Kay was given a soiled adult diaper by the Great Wolf Lodge front desk.
When we think of the Great Wolf Lodge and its many locations throughout America, we think of fun, games, and family! We don't think of adult feces served in a box. It's the ultimate example of expectations versus reality — Britaney expected to impress her son with a fun weekend and instead, she got literal s---.
She arrived at the Traverse City, Mich. location with her son and her sister to celebrate her son's ninth birthday. She received a box that was supposed to be filled with Game Night games. But she explained what happened next:
Article continues below advertisement
"I took it up to the hotel room and I opened it, and it was all wrapped in a tissue paper," Britaney said. "So my assumption was, 'let's dig through this and see what they have wrapped.' So me and my sister, Brandi, continue to dig. We unwrapped it. At first, I see wet wipes, like butt wipes, and I'm really confused at this point. So my sister continued to dig. As she's unwrapping this, when we got to the middle, this was a legit soiled adult diaper that we had our hands in."
Article continues below advertisement
Ew! I don't even want to get my own feces on my hands let alone a stranger's feces. This is the ultimate nightmare scenario, but it gets worse. Britaney asked management for help, and all they did was give her a $50 refund for the pack, a new pack, and two vouchers for Build-a-Bear. (We didn't even know Build-a-Bear was still a thing.)
Article continues below advertisement
Luckily, the manager was more helpful the next day. But in our opinion, no amount of money is worth digging through a stranger's poop. Can the GWL also pay for lifelong therapy?
People weren't surprised by the Great Wolf Lodge's inadequacy.
Although getting a games box filled with poo is definitely shocking (and even seems unbelievable), TikTok commenters were mostly unsurprised that Britaney's GWL experience was subpar. The top comment said, "I've NEVER heard of a good review for the Great Wolf Lodge."
Article continues below advertisement
Another wrote, "I just saw a vid about bedbugs there," which is a more common thing that can happen at hotels. Someone else said, "This is the 3rd video I've seen about GWL. When we went to the one in TC the whole kitchen caught on fire and we had to leave. No refund whatsoever."
Article continues below advertisement
People have had even more poor experiences at the GWL. "My family went once when I was a kid and my mom got a wart on her foot. We never went back," someone else wrote. That might not have been caused by the GWL, but it seems like Britaney's experience may be a warning for others to heed.
Article continues below advertisement
A representative for the Great Wolf Lodge said in a statement to Distractify: "We take the health and safety of our guests very seriously and we investigated these allegations when raised several weeks ago."
"While we were unable to fully determine the validity of the claim, we reviewed our process and implemented additional quality controls out of an abundance of caution. In the spirit of hospitality, we covered the cost of the family's two-night stay and also offered to provide a future complimentary stay at our resort."
The Great Wolf Lodge may not be as "great" as it appears, considering the fact that many commenters shared their own negative experiences.
Distractify has reached out to Britaney Kay for comment.