Grocery Store Worker Documents Inflation by Recording Sticker Price Changes Every Month
A grocery store worker is documenting inflation by recording their sticker price changes they update periodically in the store.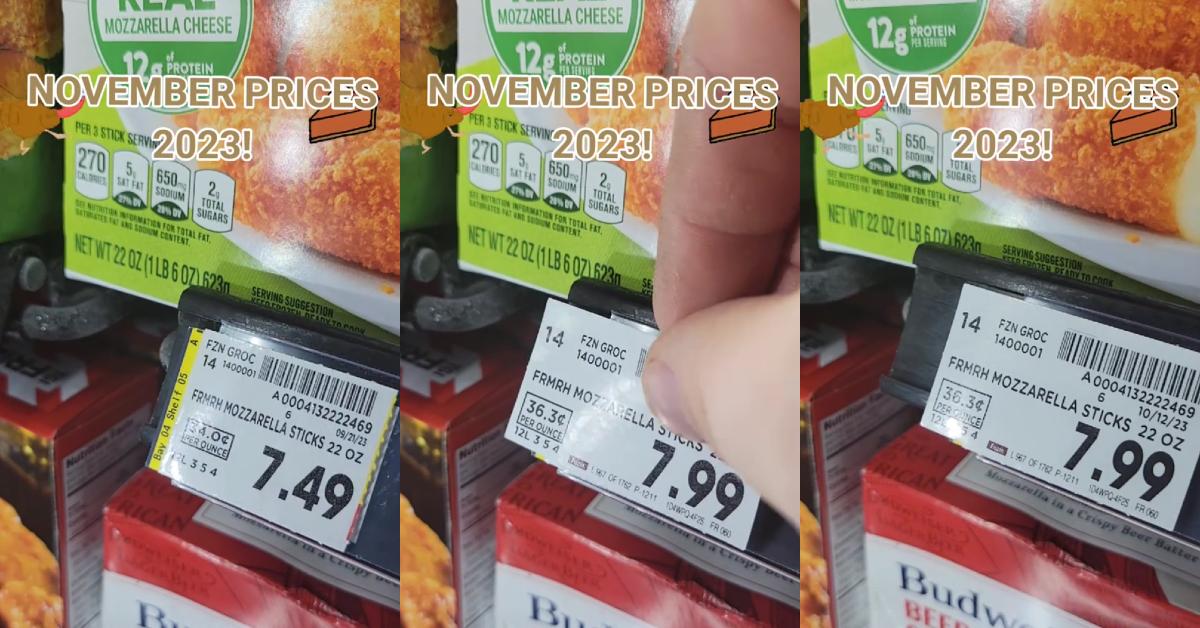 Article continues below advertisement
One TikTok account, @inflation_nation1 has dedicated itself to documenting inflationary increases in the United States by documenting real-time sticker price changes at a grocery store on various items month to month. Looking at their videos, it appears that the social media user in question works in a supermarket stocking shelves and updating item costs.
Recently, they uploaded the "November Prices 2023" edition, which shows a breadth of frozen foods and beauty/healthcare products that have jumped up in cost. Several commenters who saw the videos highlighted that these price increases, which help corporations net record profits, aren't transferred to their workers.
Article continues below advertisement
In the above-embedded clip, the TikToker shows off a slew of price sticker updates on products: all of them are increases. The first item is an 8-count package of "Pagoda Pork Egg Rolls" for $7.99.
At least, that was its price before the grocery worker appends a new tag to it indicating that customers will have to shell out 50 cents more: they're now $8.49.
Article continues below advertisement
The same goes for the 24-ounce pack of Bibigo miniature wontons. After that, the worker shows off a box of fried mozzarella sticks that jumped up from $7.49 to $7.99.
A 90-ounce box of steak chimichangas? They were $21.99, but thanks to inflation they're a buck more at $22.99.

Article continues below advertisement
Little Debbie's Oatmeal Creme Pie ice cream, which packs the same flavoring as the snack cake company's popular pre-packaged treat, jumped up in price from $2.99 for a pint to $3.29.
It's not just food that saw the price hikes either: Native Cucumber body wash at the store went from costing $12.99 to $14.49.
Article continues below advertisement

Re-heatable White Castle cheese burgers: the 16-count slider box jumped up from $14.99 per package to $16.49. Folks who like Marie Calender chicken pot pies are gonna have to shell out a few more bucks for them as they jumped up from $7.99 per 4-count box to $10.99 each.
Article continues below advertisement

Article continues below advertisement
According to a study conducted by Suffolk University, around 70% of US residents have expressed their fears pertaining to inflation and the overall state of the economy, with many stating that they aren't holding out hope for it to improve any time soon.
Article continues below advertisement
The Pew Research Center also supported these claims with its own research indicating that a whopping seven out of every ten Americans believes that inflation is one of the largest issues facing the country, followed by healthcare affordability.
Article continues below advertisement
And in a piece published by The Hill, some 61 percent of Americans have said that price hikes of various goods, products, and services since 2021 have caused either moderate or extreme financial hardship in their lives.