After His Guilty Plea, Many Golden State Killer Survivors May Speak Out
Now that the Golden State Killer is captured and jailed, survivors are breaking their silence. The victims map shows some were practically neighbors.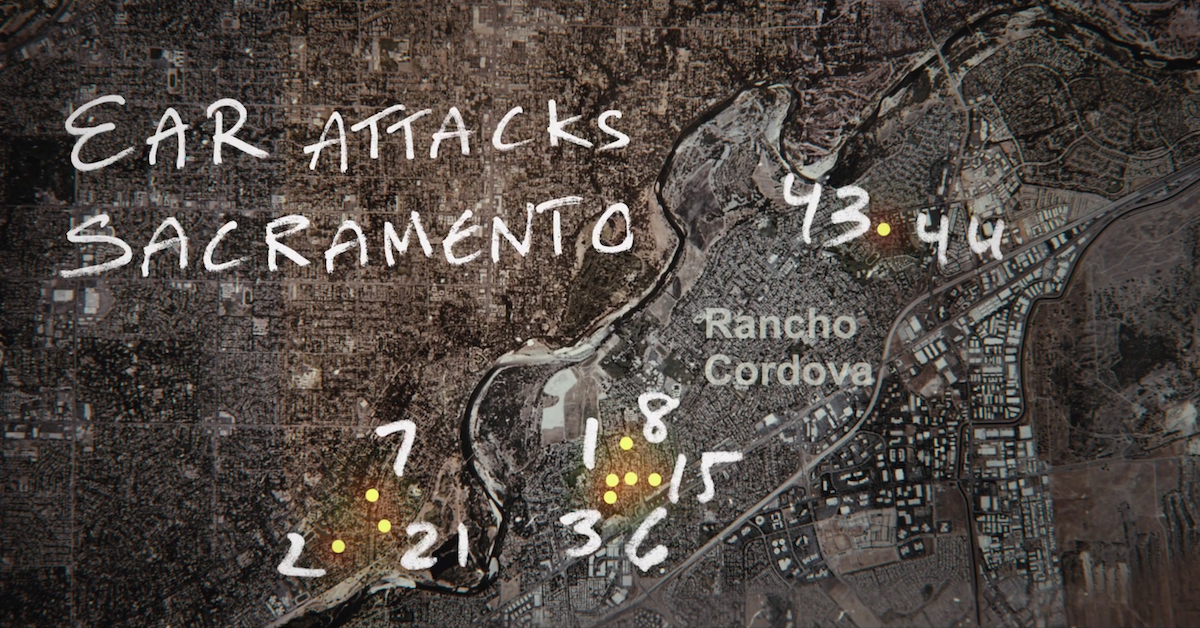 After 45 long years, the Golden State Killer, Joseph James DeAngelo, is behind bars and will remain there for the rest of his life after pleading guilty on June 29 to the charges against him and even admitting guilt for those he can't be tried for due to statutes of limitations. Now that his survivors can finally feel safe from their tormenter, many are breaking their silence.
Article continues below advertisement
In some cases, GSK rape victims lived so close by they were basically neighbors, but due to the fear and shame they felt about their experience, they only recently learned just how close they were.
The Golden State Killer's victim map shows he kept returning to the same neighborhoods.
Though he was known only as the East Area Rapist in the late 70s, DeAngelo had several favorite neighborhoods he would return to over and over, sometimes hitting houses that were literally around the corner from a previous victim.
Article continues below advertisement
In the town of Rancho Cordova, he hit at least six homes. His first and third victims were not just around the corner from each other but shared a common drainage ditch in the alley according to citizen sleuth Melanie Barbeau, who took true crime writer Michelle McNamara on a tour of the EAR's early attacks.
Though GSK's victims' names are well-known, many survivors are not.
The last known East Area attack was in July of 1979. After more than 50 rapes and attempted attacks, including his first-known murders, DeAngelo moved south. While some of the rape survivors in the Sacramento area have spoken out publicly about their experience, others have either passed away or remained anonymous. However, many of them or their surviving family members will have the opportunity to break their silence when DeAngelo is sentenced at a hearing scheduled for August 17, 2020.
Article continues below advertisement
For example, rape victim No. 5, Jane Carson-Sandler, who now lives in South Carolina, spoke with Hilton Head's Island Packet newspaper about her experience. And one of GSK's youngest victims, Kris Pedretti, spoke about her harrowing experience in great detail for the documentary I'll Be Gone in the Dark. In fact, the title for the book and documentary comes from the threat DeAngelo whispered in her ear as he held a knife to her neck: "If you scream or move i will put this knife through your throat, and i'll be gone in the dark."
Article continues below advertisement
Another of DeAngelo's teenage survivors is Mary Berwert, who had just turned 13 when she was attacked in her home in Contra Costa County. Mary was one of the last rape victims in the East Bay area.
The Golden State Killer's list of murder victims includes at least 13.
Though the majority of DeAngelo's murders took place after he apparently moved south, he did admit in his June 29 hearing to all 13 murders attributed to him, including the 1975 murder of Claude Snelling in Visalia, Calif., and the 1978 murders of Katie and Brian Maggiore in Rancho Cordova.
Article continues below advertisement
In the counties of Ventura, Orange, and Santa Barbara, DeAngelo, then known as the Original Night Stalker, killed 10 people between 1979 and 1986:
Victims 4 and 5, Dec. 30, 1979: Robert Offerman and Debra Manning, Goleta (Santa Barbara)
Victims 6 and 7, March 13, 1980: Charlene and Lyman Smith, Ventura (Ventura)
Victims 8 and 9, August 19, 1980: Keith and Patrice Harrington, Dana Point (Orange)
Victim 10, Feb. 6, 1981: Manuela Witthuhn, Irvine (Orange)
Victims 11 and 12, July 27, 1981: Cheri Domingo and Gregory Sanchez, Goleta (Santa Barbara)
Victim 13, May 4, 1986: Janelle Cruz, Irvine (Orange)
It's unknown if DeAngelo stopped killing or raping after 1986 and, if so, why, but if more victims are ever discovered, he may be charged, provided the statute of limitations has not expired, at a later date.