'RHOM' Star Guerdy Abraira Shares the Truth About Her 27-Year Love Story: "It's Not Easy" (EXCLUSIVE)
Guerdy Abraira from 'RHOM' talks her decades-long relationship with her husband, Russell Abraira, in an exclusive interview with Distractify!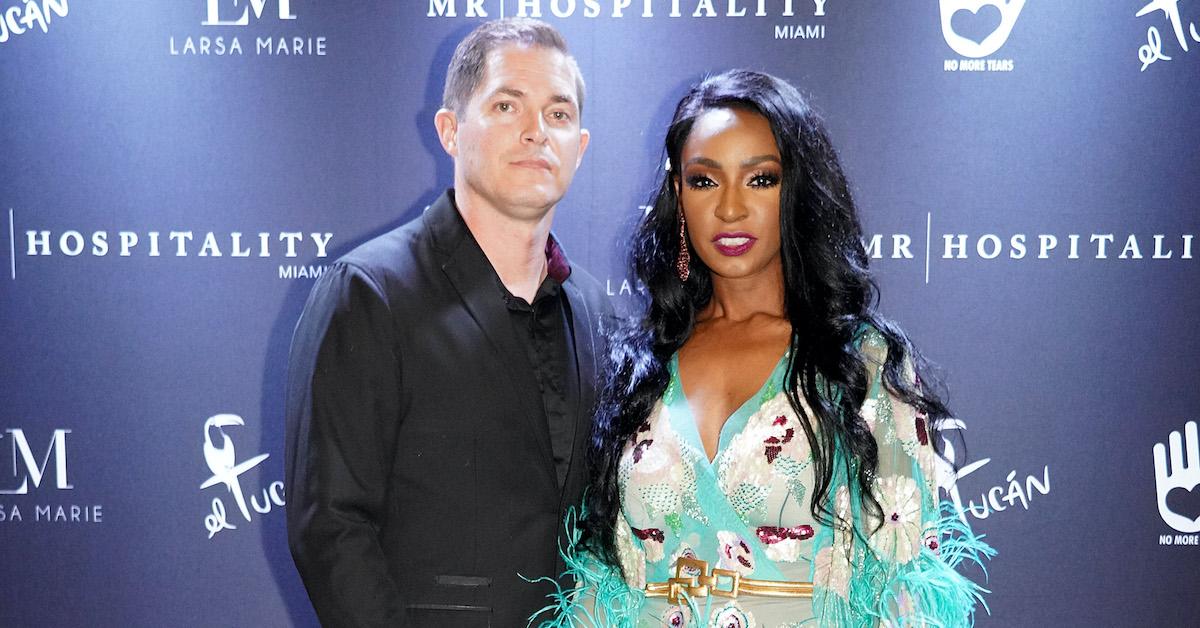 After more than eight years off the air, The Real Housewives of Miami returned to television with a mix of familiar faces and a few new additions — including Season 4 newcomer Guerdy Abraira.
When she's not appearing alongside the other ladies on the show or planning luxury parties, Guerdy is a dedicated mom and wife. In fact, her husband of nearly two full decades was also her high school sweetheart.
Article continues below advertisement
We caught up with the Shark Beauty ambassador at this year's BravoCon while she was promoting the launch of the Flexstyle Airstyling and Drying System. In our exclusive interview, Guerdy got candid about her years-long love story. And according to her, Season 5 of RHOM has been the most tumultuous chapter of their relationship thus far.
So, is Guerdy still married to her husband, Russell Abraira? Read on for Season 5 spoilers!
Article continues below advertisement
Guerdy Abraira on celebrating 20 years of marriage with her husband, Russell Abraira: "He's my person."
Love is a losing game, but Guerdy told us that she took home the win when she met Russell. According to the reality TV star, she and her husband "had each other at hello." She added, "I mean, that's literally in our vows."
She and the firefighting chief tied the knot after seven years of dating in 2002. Today, they share two children who they raise in their luxe home in Miami.
While Guerdy and her husband can seem like "oil and water," on screen, in actuality, their marriage "is a very well-oiled machine." The RHOM star told Distractify, "He's my person, I was very lucky. Because honestly, if I wasn't with him, I would be probably single."
However, trailers for the 2022-2023 season of RHOM tease trouble in paradise between the lovebirds. So, are they still together? Guerdy answered all of our burning questions!
Article continues below advertisement
Are Guerdy Abraira and her husband still together? The 'RHOM' star teases Season 5 spoilers.
Season 5 of RHOM sees Guerdy and the rest of the gang help Lisa Hochstein cope with the fallout from her divorce. Meanwhile, Guerdy and her husband are faced with some marital issues of their own. For Guerdy, Lisa's divorce was a sign to check in on her marriage.
Article continues below advertisement
"You'll see that there's a dynamic shift between us where, after I learned of Lisa's divorce, I'm telling you, it shocked me to the core. And I had to evaluate," Guerdy recalled. "I went back home and I'm like, wait, let me make sure that I'm good at home."
The reality TV star went on, "Having him verbalize some of the things that he thinks we could do better or I can do better was really kind of eye-opening and scary at the same time."
"We had to find our way back to where we are," she admitted. "I was listening to exactly what he needed from me. I'm working on it every single day."
"It's not easy, you know, keeping a relationship intact," she said other 20-year marriage to Russell. But Guerdy assured us that Russell's her "ride-or-die" and the wheels aren't falling off anytime soon.
The Real Housewives of Miami returns to Peacock on Thursday, Dec. 8.