You may know Guy Fieri from his many shows on Food Network, but when the 52-year-old isn't eating his way through America on Diners, Drive-ins, and Dives, or hosting the cooking competition series Guy's Grocery Games, he's at home with his two sons. The proud dad married his wife, Lori Fieri, in 1995, and the two have since welcomed two children together.
The boys are always featured on their famous father's Instagram account, so it's about time we learned all about them. Scroll down to meet Guy's kids!
Hunter Fieri, 23
Hunter Fieri was born on Aug. 7, 1996, which was the same year that Guy opened up his first restaurant, California Pasta Grill. Sweetly enough, it seems Hunter is following in his famous dad's footsteps by taking on a career in food.
Just like his father, Hunter attended the University of Las Vegas, Nevada, and graduated in 2019. However, he didn't just go there because his father did... he liked their program. "I chose to go to school at UNLV because it's one of the best places for hospitality. That's why I wanted to go there," he told Delish.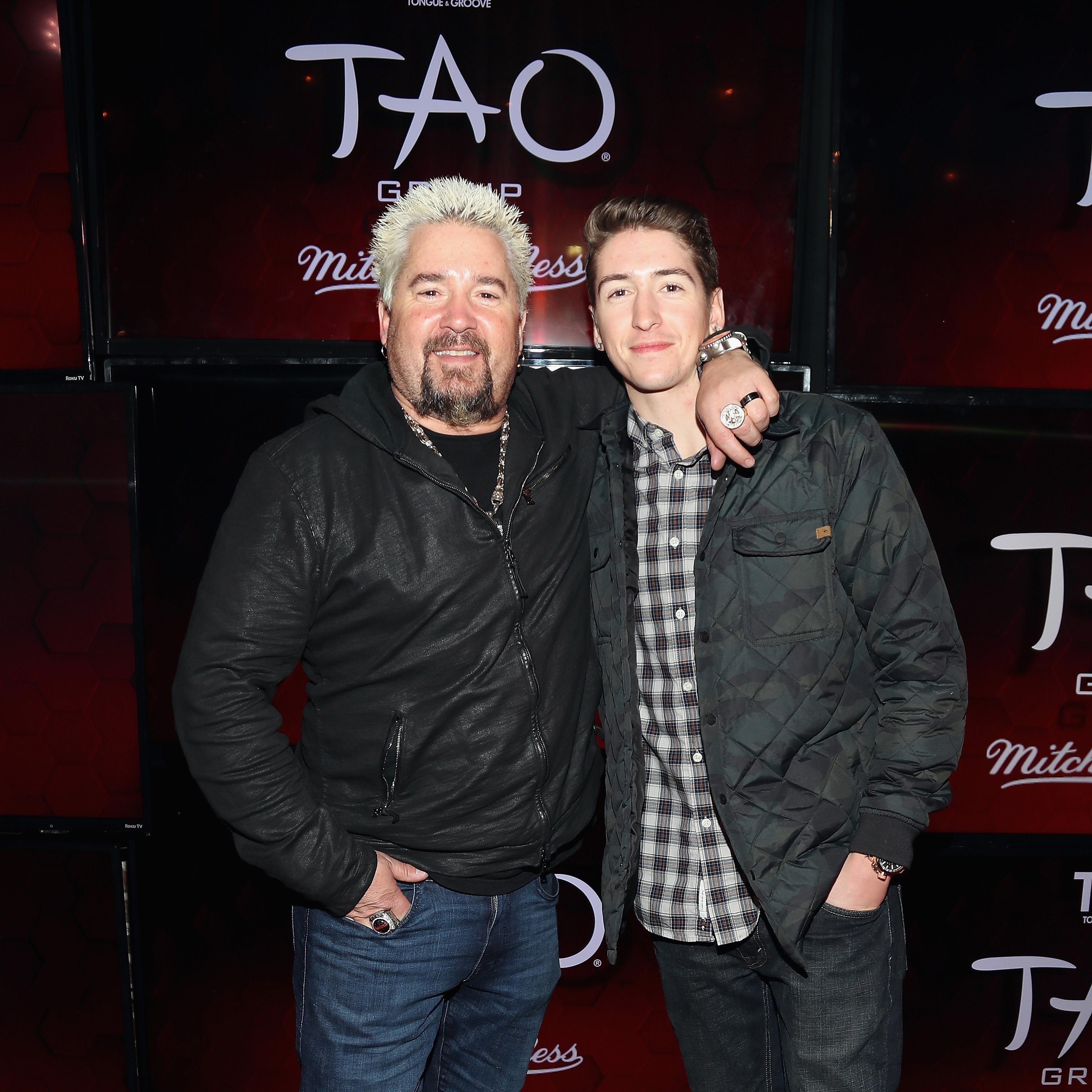 Having had experience in his dad's restaurants, Hunter also elaborated on his future by sharing that he wants to follow the same culinary path that Guy has.
"I want to follow in the same path because I feel like I can kill it with that. I want it all. I want to open my own restaurants — to have things that I created and things my dad created and run this empire," he added. "I want the restaurants and the shows and the cookbooks — and more. I have to one-up dad, of course."
Hunter has also appeared as a guest on a plethora of his dad's shows, including Guy's Big Bite, Guy Fieri's Family Reunion, Guy's Family Cruise, Guy & Hunter's European Vacation, Guy's Family Road Trip, Guy's Grocery Games, and Diners, Drive-ins, and Dives, so he has a lot of experience on the small screen in case he starts his own show one day.
Ryder Fieri, 15
Ryder Fieri was born in 2005, nine years after his big brother, Hunter. At this time, it's unclear if the teenager wants to follow in his dad's footsteps considering he's only in high school, but we wouldn't be surprised if he ends up doing so since Hunter already has.
Similar to Hunter, Ryder has also appeared on many of his dad's Food Network shows, including Guy's Big Bite, Guy's Family Cruise, Guy & Hunter's European Vacation, Guy's Family Road Trip, and Guy's Grocery Games.
The family-of-four lives in Santa Rosa, Calif., and it seems like their house is the perfect place for two active boys. "I built this house to be a place where the kids could hang out with their pals," Guy recently gushed to Closer Weekly. "We have a dirt-bike track, basketball hoops, a pool, pinball machines — you name it!" Guy sounds like he's an awesome dad if you ask us!