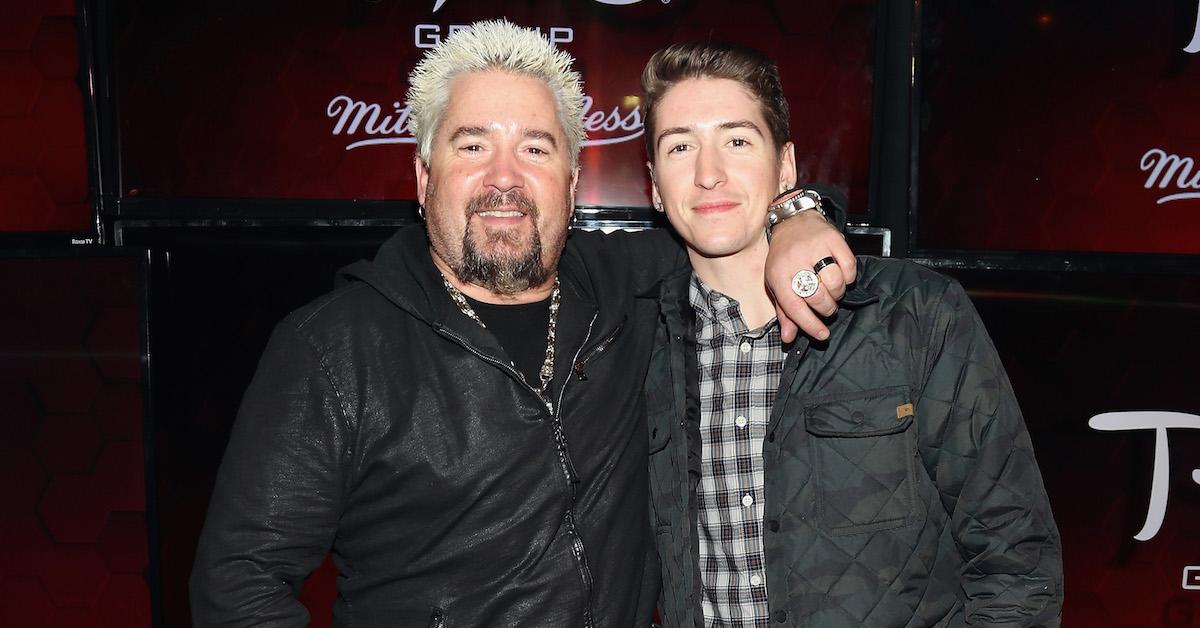 Guy Fieri's Son Hunter Is Following in His Dad's Footsteps to Flavortown With a Food Career
When Guy Fieri won Season 2 of Food Network Star in 2006, it was hard to imagine that he'd be the household name that he is now. With his iconic frosted tips, sunglasses on the back of his head, and the red convertible he drives around on Diners, Drive-Ins, and Dives, there's nobody else on the Food Network who is quite like him.
Article continues below advertisement
Guy Fieri is also a family man, and his oldest son Hunter has become a staple on the Friday night comfort food show. It's hard to try to follow in a famous chef's footsteps, but Hunter is slowly making a career for himself in the food industry.
Who is Guy Fieri's son Hunter? Details on his background, the way he's trying to (and not trying to) emulate his dad, and why we'll be seeing more of him on his dad's shows.
Who is Guy Fieri's son? He's followed in Guy's footsteps on more than one occasion.
Hunter was born in 1996, the same year that Guy opened up his first restaurant, California Pasta Grill. Guy and his wife, Lori, met in Long Beach, Calif. at a restaurant that Guy was the manager of. The pair married a year before Hunter was born, and they also had a son named Ryder together.
Article continues below advertisement
Hunter was just 10-years-old when his dad hit it big and won Food Network Star, which was followed by his first show, Guy's Big Bite. In 2007, Diners, Drive-Ins, and Dives debuted, and the show became a Friday night staple on the Food Network.
Like his foodie dad, Hunter also attended the University of Nevada, Las Vegas (UNLV), where he graduated from in 2019. During his teen years, he had aspirations to be a Supercross racer, but he shifted his focus to food after college.
Article continues below advertisement
He also said that he chose UNLV because of its reputation, not because his famous dad had gone there.
"I chose to go to school at UNLV because it's one of the best places for hospitality. That's why I wanted to go there," he said in a father-son profile with Delish.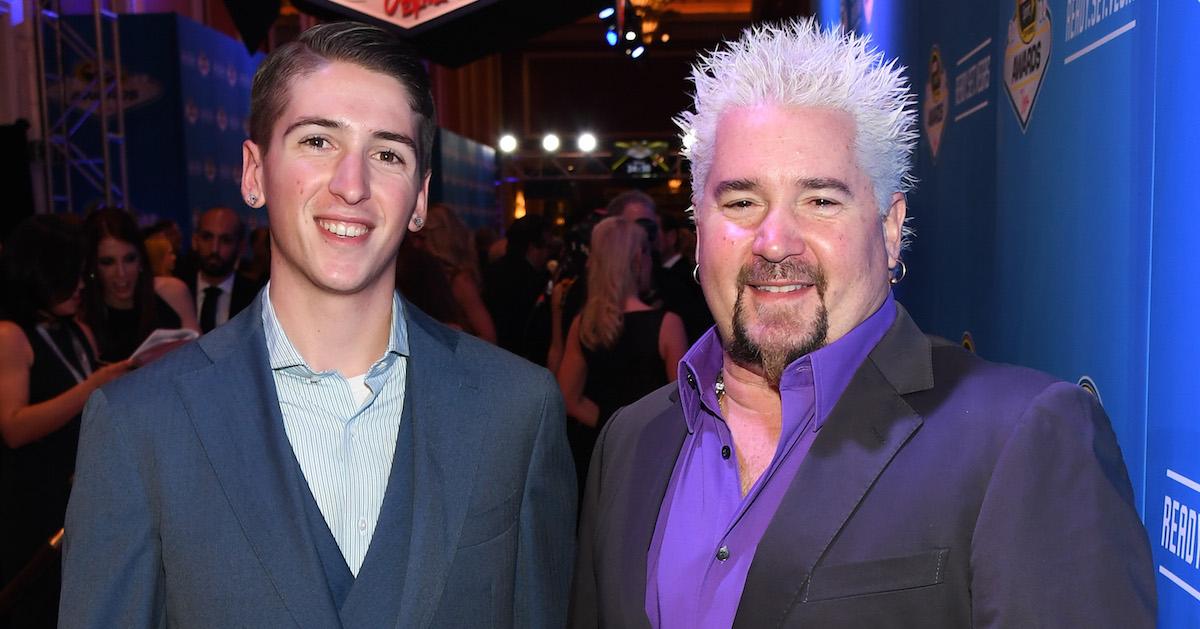 Article continues below advertisement
Hunter wasn't given a free pass when it came to working alongside his dad. Guy revealed that Hunter worked at two of his California restaurants, first washing dishes and then working his way up. Hunter said that cooking ended up being his calling, though, and he does have plans to have a career like his dad's — but not because of any favors.
"I want to follow in the same path because I feel like I can kill it with that. I want it all. I want to open my own restaurants — to have things that I created and things my dad created and run this empire," he said to Delish.
"I want the restaurants and the shows and the cookbooks — and more," Hunter continued. "I have to one-up dad, of course."
Article continues below advertisement
Will Hunter Fieri take over Diners, Drive-Ins, and Dives?
Though Guy had shown his wife and kids on early seasons of Diners, Drive-Ins, and Dives, Hunter began making more regular solo appearances with his dad in the most recent seasons. Is this because Guy is going to hand the show over to his son?
Guy spoke to Deadline in August about making the show into a family affair, and he joked about how he hoped that his son would take more steps to be like him.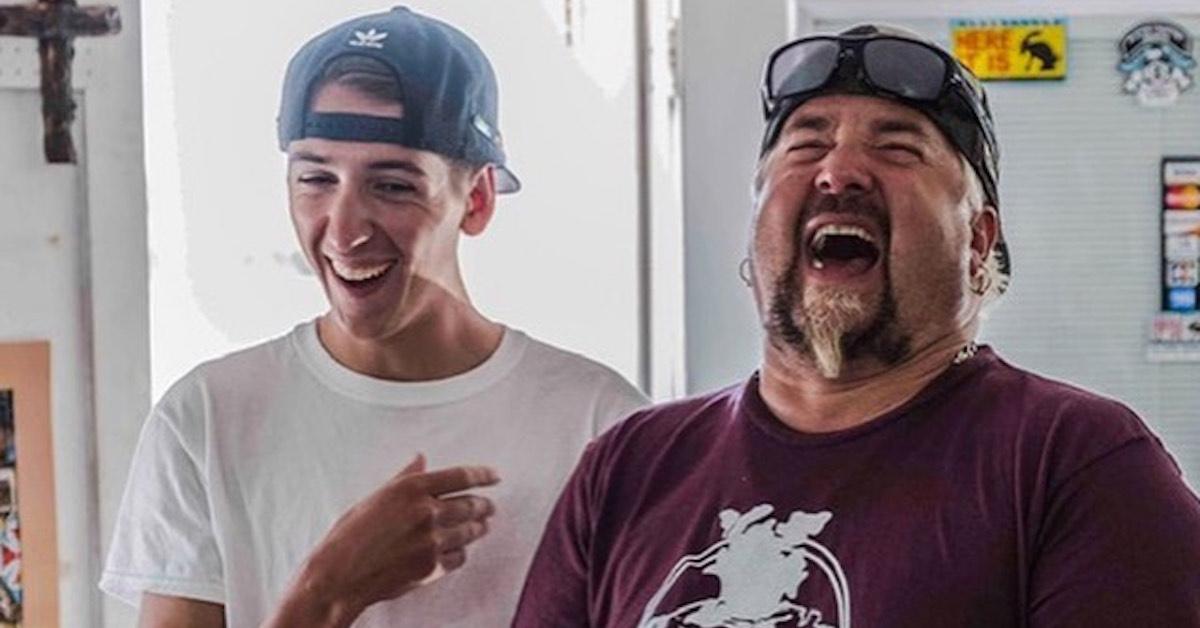 Article continues below advertisement
"I remember the first couple of years we did it, I said, 'You know what? This will go on for a couple more years, and then we'll probably run out of locations,'" Guy said. "Yeah, right. I'll be doing this thing in a walker, dude. I don't know when it's going to stop. I'm trying to get my son, Hunter… I told him, 'Grow that goatee out, would you?'"
For now, it doesn't seem like Guy is ready to give up the keys to Flavortown, (though Hunter does refer to himself as the Prince of Flavortown on his Instagram bio).
We'll definitely be seeing Hunter and Guy try out some of America's finest eateries on the new season of Diners, Drive-Ins, and Dives. It airs on Fridays at 9 p.m. on the Food Network.