Guy Pretends He's Legally Blind at Eye Doctor to Avoid Getting Tickets for Car Tints
A car-tint enthusiast visited the eye doctor so he could pretend that he's legally blind in order to put tints on his car without getting a ticket.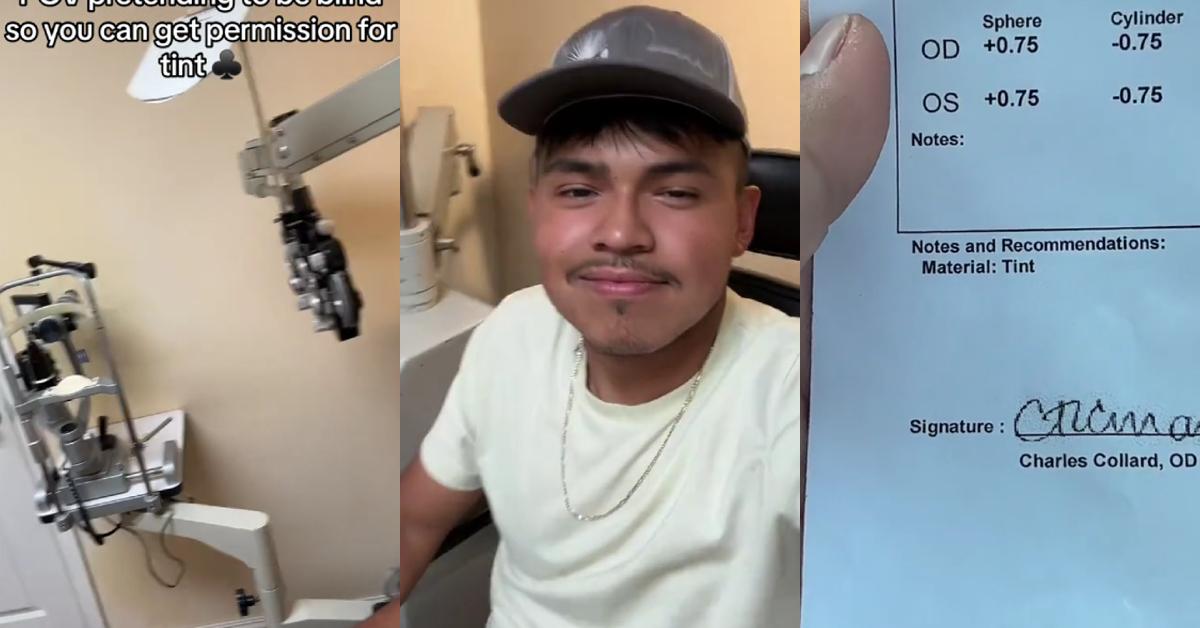 Some people are really, really serious about their car customizations. Whether it's slapping a gaudy spoiler meant to stabilize cars making turns at 100 mph on a Honda Civic, or rims that cost thousands upon thousands of dollars, people just love tricking out their whips.
Article continues below advertisement
For some folks, it's all about the tints, which is an understandable upgrade to one's vehicle. I don't want someone sitting in traffic watching me belt out the lyrics to Celine Dion's "It's All Coming Back to Me," let me enjoy my ballads in peace, okay?
And there's one TikToker who went viral for documenting the lengths they were willing to go through in order to legally get tints placed on their car: by pretending that he's legally blind.
Article continues below advertisement
In his viral clip, TikToker @pbshiesty records himself at what appears to be a doctor's office. He smirks into the camera as a text overlay above his head reads: "POV pretending to be blind so you can get permission for tint," followed by a spade emoji.
Article continues below advertisement
He shows off eye examination equipment in the video and nods his head, indicating that with his new diagnosis, he should be able to get away with having dark tints on his car without being ticketed by the police.

Article continues below advertisement
And judging from the end of the video, it looks like the process ultimately worked for him, because he records himself holding a piece of documentation from his doctor in the clip that he will presumably use in order to justify applying tints to his vehicle.
The legality of window tints vary from state to state, with different jurisdictions in different parts of the country allowing for varying percentages.
Basically, the lower the percentage of a window tint, the darker the tint will be.
Article continues below advertisement
There are plenty of reasons as to why folks would want to get tints, but there's one big reason why some members of law enforcement hate it: "compromised safety," as Tint View puts it.

Article continues below advertisement
It's not hard to imagine that a police officer who, while going through basic training, was subjected to numerous videos of traffic stops gone wrong, where unassuming cops get ambushed or surprised by a desperate suspect with a weapon, which lends itself to the old saying: "I'd rather get judged by 12 than carried by 6."
Folks can usually get exceptions to putting window tints on their cars with medical exceptions, which are required in some states. However, RVinyl says that even with these special permits, it's not like you can turn around and make your windows look like black holes.
Article continues below advertisement
Even with a note from a doctor, there are certain percentage limits that usually must be adhered to, according to the company, which states that tint percentages between 20-32% are usually all you can get even with this clearance.

Article continues below advertisement
"If your doctor approves you, window tints for medical conditions are often between 20 and 32 percent. Window tints less than 20 percent are not considered valid and will fail inspections, regardless of your affidavit. If you require tinting less than 20 percent, you will be referred to the Medical Review Unit. It's vital to carry your validation form at all times while driving to ensure you don't receive charges for illegal tinting."
Rayno has also posted the corresponding tint percentages that are allowed in each state along with the various laws pertaining to this car customization. In New Jersey, for instance, no amount of window tinting is allowed on front or rear windshields, or passenger windows.
Article continues below advertisement
New Mexico, on the otherhand, allows for a 20% tint without any special provisions, just as long as certain application conditions are met.

Article continues below advertisement
Some folks who saw @pbshiesty's post cautioned against this approach, with one person stating: "Bru that goes on ur license now u can't drive with out it at all"
Another seemed to have tried this same approach as the TikToker's, but that it ultimately didn't work out in their favor: "They told me I just needed eye drops when I went," the person said.
Article continues below advertisement

Someone else also remarked that they were ultimately denied a note allowing them to put tints on their car when they went to the eye doctor as well: "they offered me a roll or film to use as sunglasses when I tried"
What do you think of trying this out? Do you ultimately think it's worth it? Or should you just rock a pair of sunglasses in your car instead of heading to the doctor's and pretending you're legally blind?