Man Returns 2-Year-Old "Dirty Mattress" to Costco, and It Actually Worked
A Costco customer wanted store credit to put towards a new mattress, so he decided to try and return a 2 year old mattress — and it worked.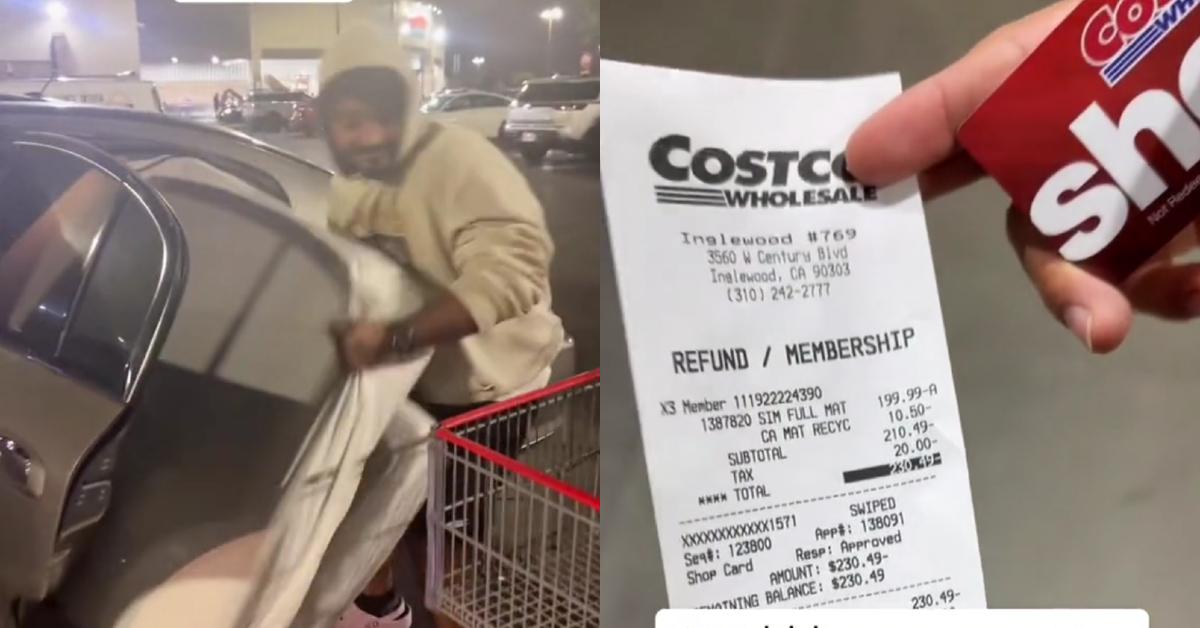 If you've ever worked retail for a store with a generous and forgiving return policy that doesn't really have a timeline for when customers' can return items they've purchased from the establishment, then you more than likely have encountered particularly "shameless" folks who have no qualms with returning products they've had in their possession for a long time.
Article continues below advertisement
And while there are some people who would think that anything more than a month or so would be too long to return said item, there are certainly individuals who don't appear to have any qualms with pushing the boundaries of these return policies.
And it would appear that Yuliana Martinez (@yuli_luna11.11) is one such person who wanted to test these limits as her and a friend decided to visit Costco with a 2-year-old mattress in the hopes of returning it to see if they could get some money to put towards the purchase of a new one.
Article continues below advertisement
The video begins with footage of a man in what appears to be the parking lot of a store pulling out a mattress from a vehicle. "Come with us to return a two year old mattress at Costco," Yuliana writes in a text overlay of the clip as a man in a hoodie extricates the mattress from a car and places it into a shopping cart.
Article continues below advertisement
At one point in the clip it looks like the mattress, which he attempts to fold to put into the cart, plops down on the asphalt of the parking lot, the two of them can be heard laughing in the clip. "Oops," another overlay reads.
"We saw we can return at anytime," she pens in another caption over the video as the video transitions to Yuliana recording herself, smiling as she walks towards the Costco location to return the mattress. "We came when it was about to close lol," she writes.
Article continues below advertisement

"Everyone was staring at us so we stared back at them," the TikToker adds as her friend looks back into the camera, grinning with his tongue poking out of his mouth.
Article continues below advertisement
She said that the experience was "nerve wracking" as they approached the customer service counter. Her friend in the video goes up to the store associate to ask if they can return the mattress.
He returns to Yuliana: their mission was a success and the store will take back the 2-year-old mattress. "They had to check for any stains," she writes in a text overlay, followed by, "They say it looks good."
Article continues below advertisement

Next up: Yuliana and her friend then had to wrap the mattress in a plastic cover, but they couldn't do that in the store, "We had to go outside," she says as she follows her friend, rolled up mattress in cart, to place in the plastic wrapping the Costco employee handed over to them.
Article continues below advertisement
"It was so embarrassing but we wanted a new bed," Yuliana says as her and her friend start working on placing the mattress inside the large plastic bag they were given. "We ended up folding it like a taco," she writes.
After it was placed in the plastic, her friend then drags the mattress through the store to bring to the customer service desk. "Good bye bed," she writes as it was placed on a flat shopping cart and taken away by a store associate.
Article continues below advertisement

They ended up getting $200 in store credit from the store to use for a new bed. They end the video showing off a gift card and a receipt following their return transaction.
Article continues below advertisement
One commenter seemed shocked by the graciousness of Costco's customer service department, "We dont deserve Costco's return policy," they wrote.

Someone else seemed to think that all that work wasn't worth $200: "How bad do you really need $200 I thought it's gonna be $1000 at least"