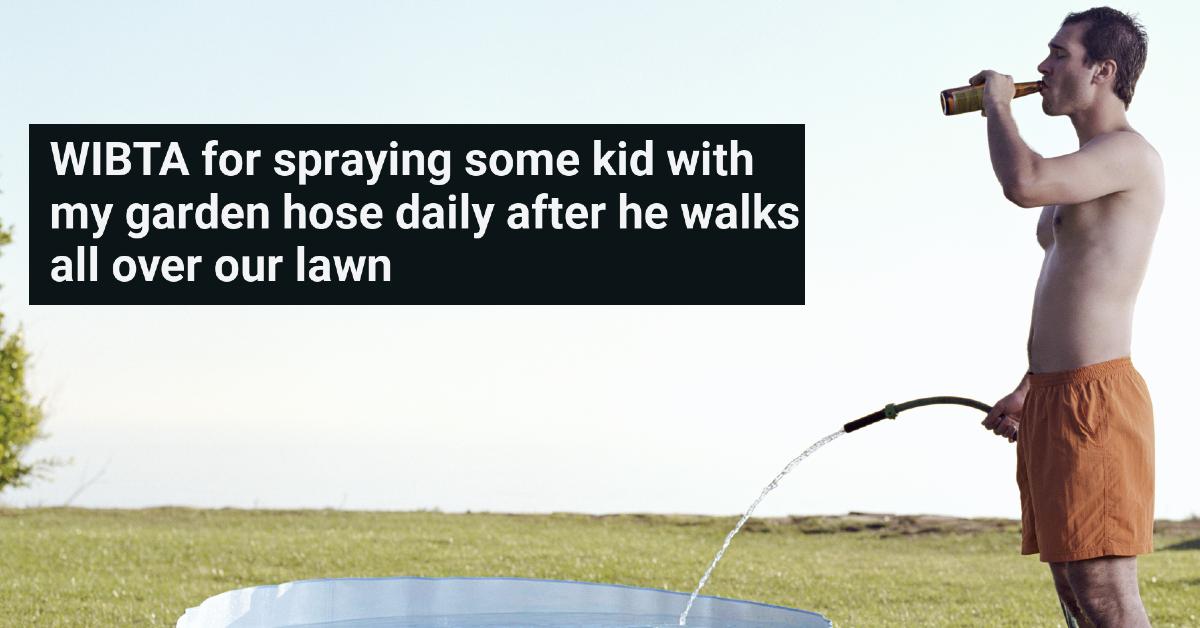 Dad Hoses Neighborhood Kid for Stepping on Lawn, Develop Weird Friendship Over It
A dad keeps spraying a neighborhood kid with his hose for stepping on his lawn and the two form an unlikely friendship.
It's basically the plot of 90% of movies: but isn't it always great when people who start off as complete strangers, or even sworn enemies, end up becoming friends?
Article continues below advertisement
Through a series of shared tribulations, you get two folks, maybe they're even from entirely different worlds, who end up forming an alliance to accomplish a shared goal. Maybe they're two musicians who were both kicked out of their respective groups so that they can join forces and win a battle of the bands as a duo?
Or maybe it's a young girl who's training to become a princess of an island and she needs to work with an arrogant Demi-God in order to return the heart of Te'fiti?
Whatever the case, there's something undeniably heartwarming about folks who start off as enemies ultimately becoming pals.
Article continues below advertisement

Article continues below advertisement
A user on the popular social media site, @utway23421 wanted to know if he was in the wrong for continually spraying a neighborhood kid with his hose every time he walks on his lawn.
He provides a bit of backstory on the situation, stating that he first came across the neighborhood kid who walks by his house after his soccer practice, digging his cleats into his lawn or riding his bike over the grass.
Article continues below advertisement
OP said that he attempted to curtail the kid's behavior by giving him some stern looks, which then changed to him asking the kid to simply go around his yard.
After he started doing that, the kid made it a point to stick his foot into OP's lawn just to dig up some of his dirt out of spite. OP then decided to retaliate by spraying the kid with his hose.
Article continues below advertisement
The first time it happened the kid ran away, but after that, he would just stand and take getting hosed with the two of them looking at each other. OP said that the relationship was a "bitter" one but it's since transformed since then.

Article continues below advertisement
Now the kid will come by his house after soccer practice and OP sits on his porch and hoses the kid down while they engage in small talk for about 15-20 minutes before the kid heads home.
OP said that his wife told him to stop engaging in that activity as it's weird and making his household look like it's being run by "childish idiots." He says that he finds the whole thing pretty fun and doesn't think it's a big deal since no one's getting hurt, plus the kid probably enjoys cooling down after sweating a ton after soccer practice.
Article continues below advertisement
Several Redditors expressed that they were surprised to see the turn that the story took and didn't think that the guy was in the wrong at all. Many of them found it hilarious and even made jokes about their strange relationship.
"Sometimes you just have to spray the hate away.
Hose
Coming this fall." one Redditor wrote.
Article continues below advertisement

Someone else thought that OP was providing some sort of attention for the kid that he isn't getting elsewhere: "I mean the kid sounds like kind of an AH. But I guess NAH haha.
The kid is obviously deprived of attention and is weirdly getting something bizarrely meaningful from this incredibly strange relationship haha. Has he stopped trying to damage your lawn?"
What do you think? If you were the parent of the kid would you find it kind of strange that he ended up befriending a grown man who enjoys hosing him down after soccer practice from the porch of his home?