This Horrifying Halloween Butt Mask Is Haunting People Everywhere
This Halloween butt mask claims to be Sloth from 'The Goonies,' but it is very clearly just a butt. A terrifying butt. Keep reading for more.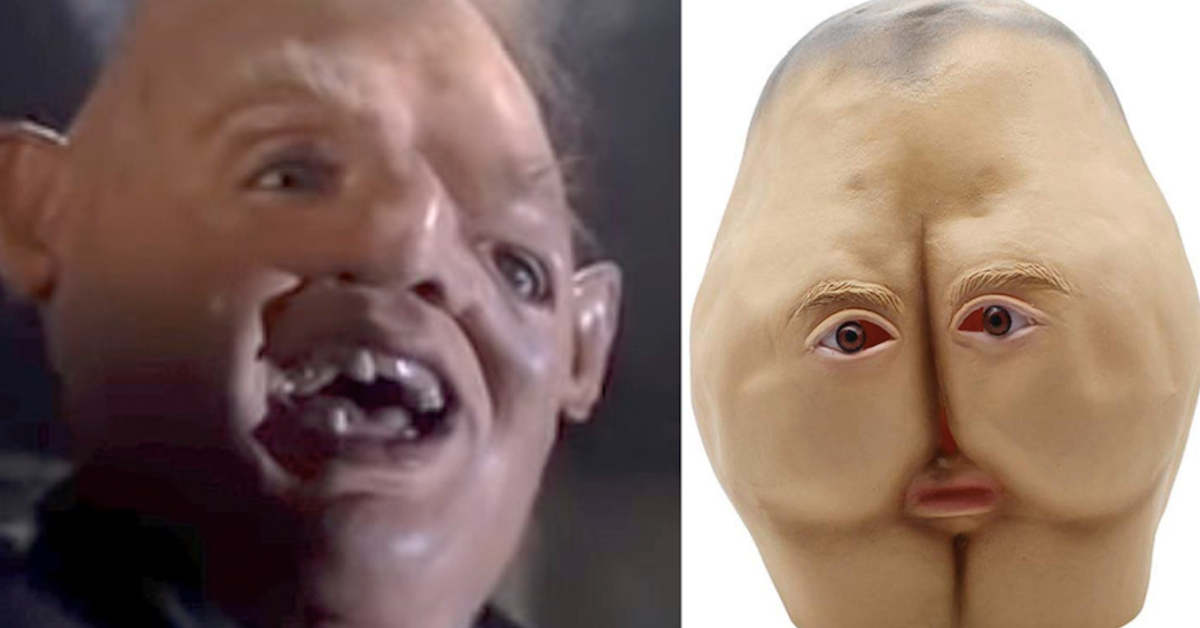 If you were a kid growing up in the '80s or '90s, you probably watched The Goonies. I was shown this movie for the first time when I was eight years old on a rainy day at camp, and it scared the crap out of me. Sure, it's a heartwarming kids' adventure tale, but it's also got scary adults and that terrifying, disfigured Sloth man. I know he ended up being nice, but this movie was scary enough to scar me for life. Now, I'm scarred for an entirely different reason.
Article continues below advertisement
There is a Halloween butt mask being sold on Amazon.
This butt mask is supposedly Sloth from The Goonies, but it's very clearly a butt with two creepy eyes and a mouth. Actor and writer Ted Travelstead was the first to bring widespread attention to the butt mask on Twitter. I'm so sorry for what you are about to see.
Article continues below advertisement
How horrifying is that? Sloth from The Goonies had such a distinct look, one that, according to Vice, took hours to achieve. It "was an involved process that included the weeks-long creation of a latex prosthetic fitted with an animatronic eye, plus a reported four hours a day of makeup. The result was an iconic image, with Sloth immediately recognizable by his asymmetrical eyes and small, sparsely spaced teeth."
It is so true. We all know what Sloth looks like. And this butt mask... isn't it, to say the very, very least. Below, you will see an image of Sloth from The Goonies.
Article continues below advertisement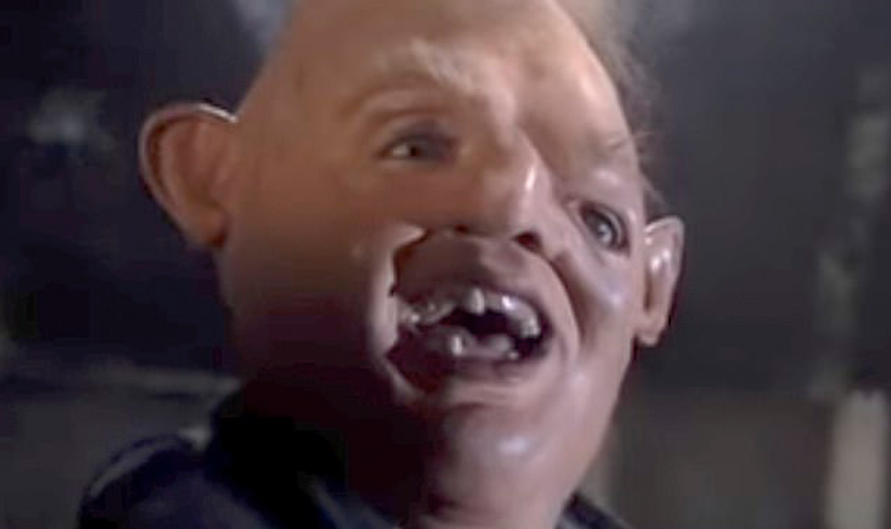 There are actual Sloth masks sold on Amazon.
Many of them bear a close resemblance to the character. They are not that hard to find. He's got that distinct face that we have all come to know, whether or not we were traumatized by it at camp when we were little.
Article continues below advertisement
But someone thought we would be fooled by the butt mask. Someone thought that we would go to Amazon.com to hastily purchase a Sloth mask and we would pay no attention to the terrifying butt in the picture when we clicked "Buy Now." How wrong they were!
Article continues below advertisement
In case you are still curious about the butt mask, do know that there are several versions of it for sale on Amazon. One that costs $17.66 and claims to be suitable for Easter parties, among others. Another, the one that claims to be Sloth in its description, is sold for $28.66 and makes sure to mention that the latex it's made of is 100 percent natural and non-toxic. What a relief.
Article continues below advertisement
Although I will not be sharing these in this article, the other pictures included in the ad for these butt masks make it clear that the... other sides of the masks are just as horrifying. There seems to be a belly button, two legs, and a truly disturbing, bright red version of female genitalia.
Once again, I am so sorry that I had to share my knowledge of the Halloween butt mask with you. Here's hoping you aren't haunted by this the way I was haunted by The Goonies as a child. No guarantees, though.