Mom Trolls Trick-Or-Treaters Who Try to Take Entire Bowl of Candy With Glitter Bomb
A mom's booby trap for trick-or-treaters who clear entire bowls of candy in one go went viral on Twitter.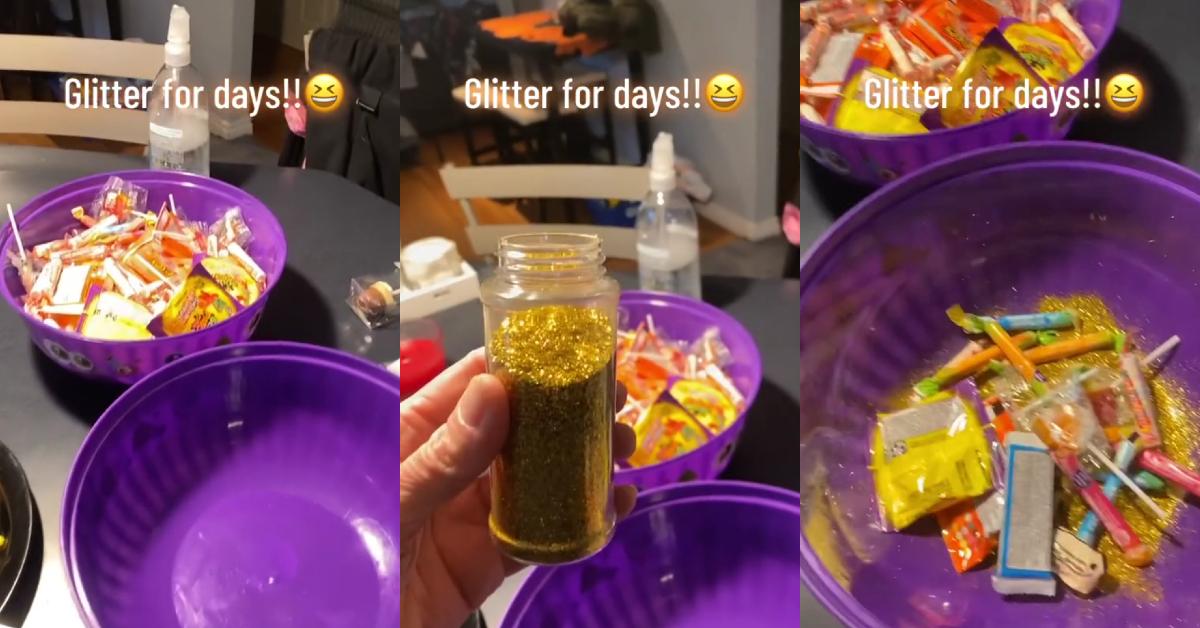 Article continues below advertisement
And if you grew up trick-or-treating or are fond of taking your own kids out for the Halloween festivities, then you've probably noticed a few recurring trends over the years: first of them is just identifying which houses are actually giving out candy.
If they're decked out with decorations, then there's a good chance that there's going to be some folks at home waiting for people to come by so they can hand out sweet treats. If the screen door is open and the foyer light is on, then that probably indicates that yes, you should knock and/or ring the doorbell to file your candy request.
Article continues below advertisement
However, there are some people who don't feel like babysitting their candy stash all night or can't be present during the evening of Halloween because they've got plans of their own, but they don't want trick-or-treaters to be left without candy so they decide to leave out a bowl of goodies based on an honor system in the hopes that whoever is clamoring for candy will honor the "just take one" request.
Article continues below advertisement
The trouble is, as you can see from the TikTok above, that not everyone honors this request. If you scroll through social media, you probably won't need to look too long to see clips ripped from people's doorbell video cameras that there are throngs of folks who have no qualms with taking entire bowls of candy for themselves.
So how does one stop this practice aside from outfitting their home with dedicated Halloween security guards to protect their sweet stashes from ne'er do wells?
One mom found a brilliant solution that puts the "trick" in "trick or treat," and is a security method that may deter some overzealous candy hoarders from ever hoarding candy again.
Article continues below advertisement
A TikToker named Courtney (@courtnee.d) demonstrated how folks can prank any bad-acting trick-or-treaters in a viral clip that's garnered over 2.8 million views on the popular social media platform.
Article continues below advertisement
Courtney writes in a text overlay of the clip: "Glitter for days," where she shows off two big purple, Halloween-themed plastic bowls. One of them is filled with candy and with the other, empty one, she decided to use as a means of demonstrating her prank.
"Just in case any little a-hole kids try and take the whole bowl of candy because this is the first year I'm leaving on my porch so I can go out, they in for a nice surprise."
Article continues below advertisement

At this point in the clip she shows off a small bottle of gold glitter in front of the camera, which she begins to pour into the empty plastic bowl. "A nice surprise," she repeats as she fills the bowl up with candy, covering the glitter.
Article continues below advertisement
"Go ahead and pour your bowl into your bag wait till you get home and you got sparkles everywhere."
Commenters who saw the booby-trapped bowl of candy were loving the idea.
"Hilarious. Everyone needs to do this!!," one user said.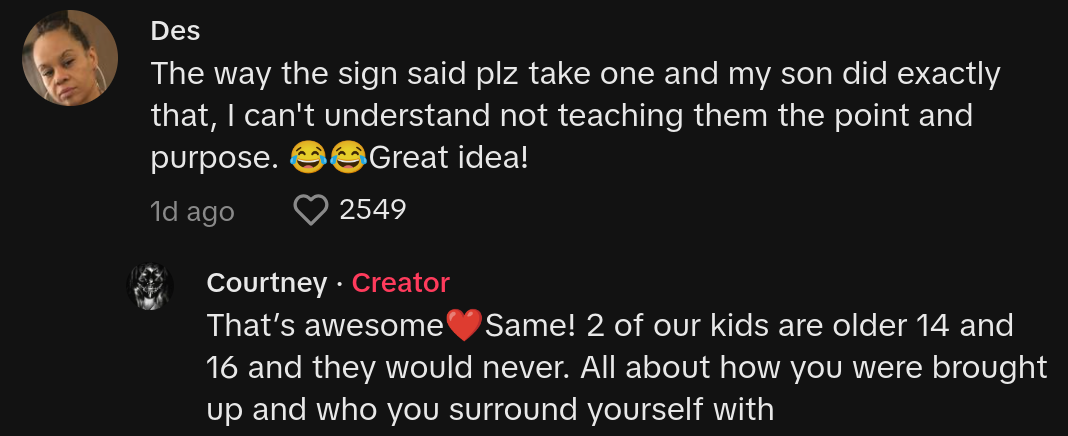 Article continues below advertisement
Another person wrote, "Just imagine Your neighbour just knocks on your door asking for help with something and they are covered with the glitter"
Someone else said that these candy thieves ruin trick-or-treating for everyone else: "My neighbor across the street use to leave candy on their porch until one kid ran away with the bowl. They haven't given candy out since."
Article continues below advertisement

"Happened tonight. They didn't pour the bowl they just scooped like 8 handfuls lol," someone else wrote, remarking that candy thievery seems to be a very common occurrence.
How do you feel about the "set it and forget" candy leaving approach? Have you ever fudged the rules while trick or treating? Or do you think unattended candy is fair game?