"I Think Her Dad Is Putting Things in Her Head": Daughter Wants to Share Child Support With Mom
A TikToker shared a daughter's argument about why her mom should share the child support that she gets from the dad. Folks are desperate for context.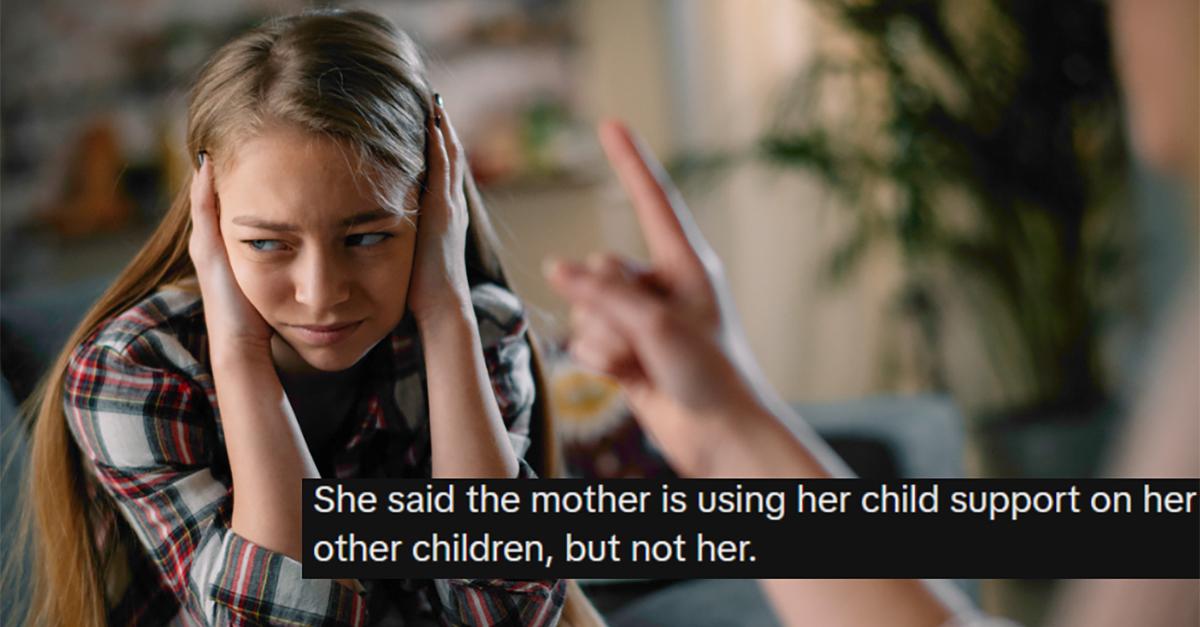 Divorces tend to be difficult, especially when children are involved. The emotional toll that it can take on all parties involved can be quite daunting and one can only hope that the former married couple and whatever kids are involved come out of it in a healthy manner. But sometimes when things get really rough, child support may become a factor.
Article continues below advertisement
Depending on who has overall custody of the kid or kids in a divorce who are under the age of 21, child support may come into play. As you're probably aware, child support boils down to regular payments that one parent is mandated to give another parent that goes toward the child's care.
Child support can be a touchy subject for some, but one daughter isn't afraid to discuss how she feels entitled to more when it comes to her mom. One TikToker offers her take on the drama.
Article continues below advertisement
A mom shared her daughter's intense thoughts on why she deserves to share child support.
Jessica Bailey Hassan on TikTok (@jessicabaileyhassan) typically posts comedy skits, life updates, and even some drama to more than 237,000 followers on her platform. However, this one probably takes the cake in terms of how heavy it gets.
In a video posted in late October 2023, Jessica provided her own commentary on a post in which a 16-year-old daughter practically demanded that her mom share more child support with her. The daughter even sent her a lengthy text where she makes her case.
Article continues below advertisement
"I just don't understand how my dad pays $1,900 in child support [and] when I ask for something, you say no," the daughter wrote.
The text also explained that the mom is reportedly more willing to spend money on the daughter's siblings.
Article continues below advertisement
The daughter essentially goes off on a rant about the things she dislikes about living with her mom and makes some pretty bold statements to that effect.
"If it wasn't for me being here and my dad paying, you couldn't afford to keep the house," the daughter continued.
Article continues below advertisement
She even openly admits to preferring to live with her dad over the mom.
"I don't think it's right [that] I don't benefit from my dad's child support yet you spend it on everyone and everything else," the daughter says toward the end of the text.
Those are some pretty intense statements to make.
As for Jessica, she posited that if she were in that mom's shoes, she would simply wait until the child was old enough to take care of herself.
"There's only two years till she turns 18 and she could do what she wants," Jessica states in her video. "Let her go."
Article continues below advertisement
Naturally, commenters are starved for details. After all, there are few things trickier than navigating two different parenting styles being used over the same child.
One person wrote, "I'd need a lot more context to judge the situation than just this exchange. Is the teen not being cared for at mom's? Is dad just a manipulative a--? Is the daughter a brat?"
Article continues below advertisement
Another person suggested that the daughter might not know exactly what the child support is meant for and believes she should be informed.
"Break down that it just doesn't go for fun stuff. It covers rent, food, water, car/gas to transport her, [and] toiletries. Show her the numbers!
Child support can be an outlet for some real ugliness and there's so much we don't know about the situation for people to truly take a stance one way or the other. We can only hope that the daughter is doing well down the line.