Here's How to Get Tickets to 'Seltzer Land' for Summer 2020
A hard seltzer festival called 'Seltzer Land' is going to be touring around the U.S. this year, so here's how to get your tickets for an epic day.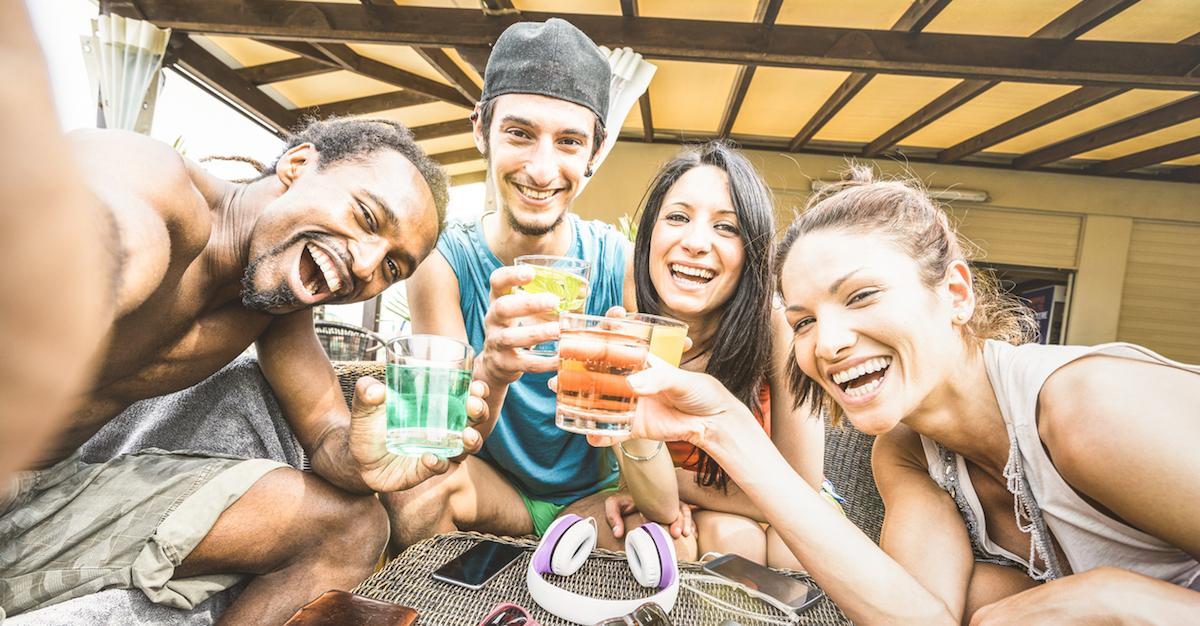 Close your eyes and imagine a world where the sun is shining, there's live music playing, and you're drinking all of the hard seltzer you could ever want. This almost sounds like a fictitious utopian society, but alas, it's reality, and it's coming our way as of spring 2020.
Article continues below advertisement
A hard seltzer festival called 'Seltzer Land' will be touring across the U.S. this year, so grab your sunscreen, start hydrating, and prepare to embark on a trip to bubbly paradise. Stay tuned for everything you need to know regarding Seltzer Land. From grabbing your tickets, to pricing, dates, and brands, we've got all the info.
Article continues below advertisement
Here's what to expect from Seltzer Land:
Seltzer Land is what some might call a #BasicBetch's dream come true — according to the website, festival-goers (who are at least 21 years of age) will be able to taste over 100 different types of hard seltzers. From big brands like White Claw and Four Loko, to smaller, lesser-known varieties, such as Crook & Maker, Willie's Superbrew, Itz & Spritz, and SeekOut, there will be so many different sips to sample.
Meanwhile, with a seemingly endless selection of food, attendees will be able to eat to their heart's content while listening to live music, and — most importantly — getting to take advantage of some seriously picture-perfect moments. It sounds like the epitome of epic, if you ask me.
Article continues below advertisement
The first date for Seltzer Land is April 18.
That's right — Seltzer Land is only two short months away, and we're seriously psyched. According to the Seltzer Land website, it's kicking things off in Minneapolis, Minn. on April 18 before continuing onto Chicago, Ill. on May 9, New York City, N.Y. on May 16, and Seattle, Wash. on June 13.
Article continues below advertisement
After that, the festival will be moving onto Nashville, Tenn., Boston, Mass., Philadelphia, Penn., Denver, Colo., and Austin, Texas. Dates for these cities have not yet been announced, but when they are, I'll be first in line for a ticket.
Article continues below advertisement
Luckily, tickets are pretty well-priced.
Ticket prices vary based on tier. Per Seltzer Land's Event Brite page, evening tickets (which get you in from 5 p.m. to 8 p.m.) are cheaper than afternoon tickets — right now, evening general admission pre-sale evening tickets cost $29, which get festival-goers three hours of unlimited seltzer tastings, photo opps, games, and more. Evening pre-sale VIP tickets are going for $49, which get you in for a half hour longer, as well as access to a VIP lounge and a full 12-ounce hard seltzer can.
Afternoon tickets are pricier — afternoon general admission costs $39 and gets festival-goers in from 12:30 to 3:30 p.m., and comes with all the same amenities as evening general admission. Afternoon VIP tickets cost $59, enabling attendees to come in a half-hour earlier, with the same amenities as evening VIP tickets. It's the most expensive ticket type for Seltzer Land, but as far as VIP festival tickets go, it's certainly well-priced.
Article continues below advertisement
If you can't make it out to Seltzer Land, you'll be happy to know the company behind the event, called Cannonball Productions, also puts on other tasty gatherings like the Beer and Bacon Classic, Taco Takeover, and winery tours out West, according to Travel & Leisure. So remember: if life gets in the way of bubbly heaven this year, it isn't the end of the world.