Healthcare Workers are Sharing Photos of Their Bruised Faces to Encourage us to Stay Inside
Staying inside may seem hard, but their job is harder.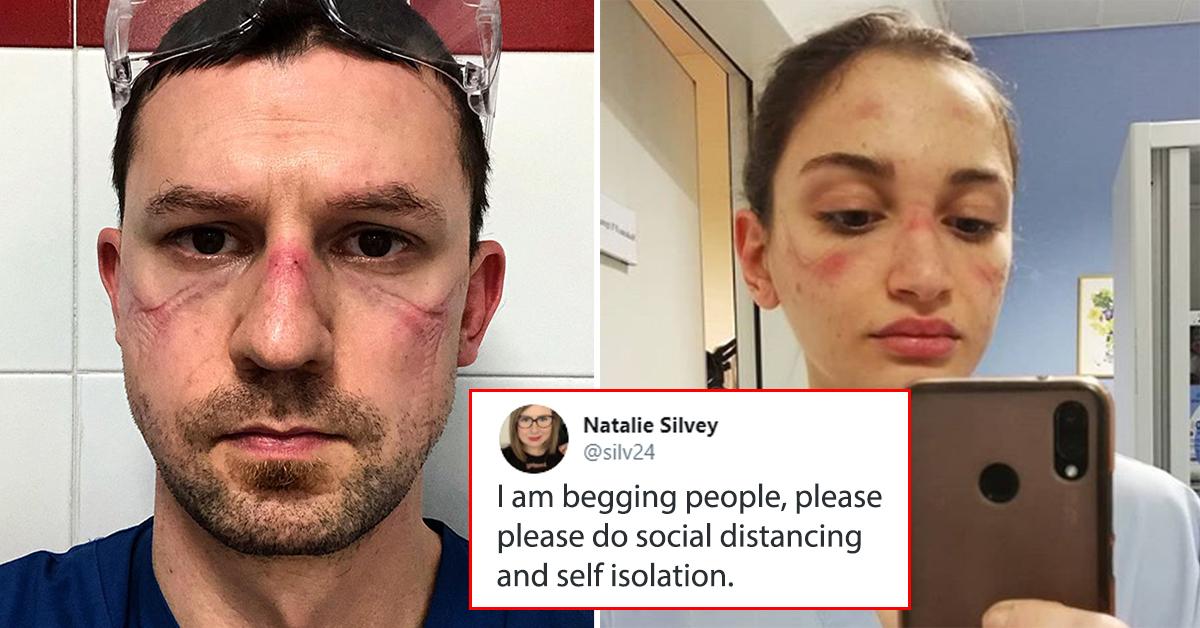 Nations around the world are encouraging their citizens to avoid all but essential social contact amid a coronavirus pandemic. Even the young, who are less prone to the consequences of catching coronavirus, are being encouraged to practice social distancing and help flatten the curve.
Article continues below advertisement
It's hoped that by limiting the amount of social interaction, we can slow the spread of the virus and reduce the number of patients in the healthcare system at any one time. This is vital in reducing the number of fatalities as a result of coronavirus.
Despite the proven effectiveness of this method in China and South Korea, it's proving difficult to get those in Western countries to stay inside. In the United Kingdom, Prime Minister Boris Johnson has threatened mandatory quarantine after people flaunted advice to stay indoors. And in the United States, thousands of young people took part in Spring Break despite recommendations to stay away from the beaches.
Article continues below advertisement
Now, healthcare workers are taking to social media in a bid to get people to limit their social interaction. These people, who are on the front line of the coronavirus pandemic, have been sharing photos of their exhausted faces, bruised by the protective gear that they have to wear to protect themselves from the virus.
"This is the new normal after a shift, blisters on the nose and irritation to my face," wrote an ER nurse who goes by Cierra Nicole on Instagram. Wearing a mask for 12 hours straight. Reusing a mask for at least 3 days, or until it is visibly soiled. Placing it in a paper bag after a shift until the next day. This virus is real, and people are sick, fighting for their lives."
Article continues below advertisement
Rin, pictured below is a nurse in New York City, where the virus has hit the hardest. On Instagram, she writes, "I can't even begin to describe my emotions after a 14-hour-long night on Coronavirus Critical Unit. I'm exhausted, overwhelmed, anxious, furious for not having enough or quality PPE, scared of carrying the virus to home or contracting myself; I'm physically and mentally drained and may be somewhat proud of myself for helping to fight this pandemic."
Article continues below advertisement
RN Sydni Lane had this to say about the toll of her days in the hospital: "I broke down and cried today. I cried of exhaustion, of defeat. Because after four years of being an ER nurse, I suddenly feel like I know nothing. Because my face hurts after wearing an N95 for 13 f--king hours, which happens to be the same N95 I wore yesterday for 12.5 hours, and the same one from all last week.
"I don't know how many times I've heard the statement 'but this is what you signed up for.' Just, no.
"I signed up to take care of sick patients, yes. I did not sign up to be unprotected by their sickness (although my hospital is busting their a--es to try to protect us). I did not sign up to be yelled at by angry patients because our government failed to be prepared. I did not sign up to risk mine and my family's health and safety because people wanted to go on their vacations after they said NOT to."
Article continues below advertisement
"This is the face of someone who just spent nine hours in personal protective equipment moving critically ill COVID-19 patients around London. I feel broken – and we are only at the start. I am begging people, please please do social distancing and self-isolation," anesthetic registrar Natalie Silvey from the United Kingdom wrote in a now-viral tweet.
Article continues below advertisement
Other healthcare workers included their own selfies in a bid to show just how hard they're working. "Here's mine from yesterday after only 4 hours," registered nurse Liz Staveacre wrote.
Article continues below advertisement
"I feel your pain this was me last night on shift as a critical nurse when I went on my lunch hour after wearing a mask and all the gear and do you know what I wouldn't be doing anything else," another user added.
Article continues below advertisement
"I was honestly wondering if everyone's face was bright red after taking off their mask," another added. "Stay safe everyone!"
Article continues below advertisement
Nurse Cao Shan was photographed after working in an isolation ward at Wuhan's Jinyintan Hospital. "She and her husband, a doctor also working at the hospital, have slept in the vehicle for 23 nights to avoid bringing viral hazards around, save commuting time, and give their assigned nearby hotel room to colleagues," the photo caption read.
Article continues below advertisement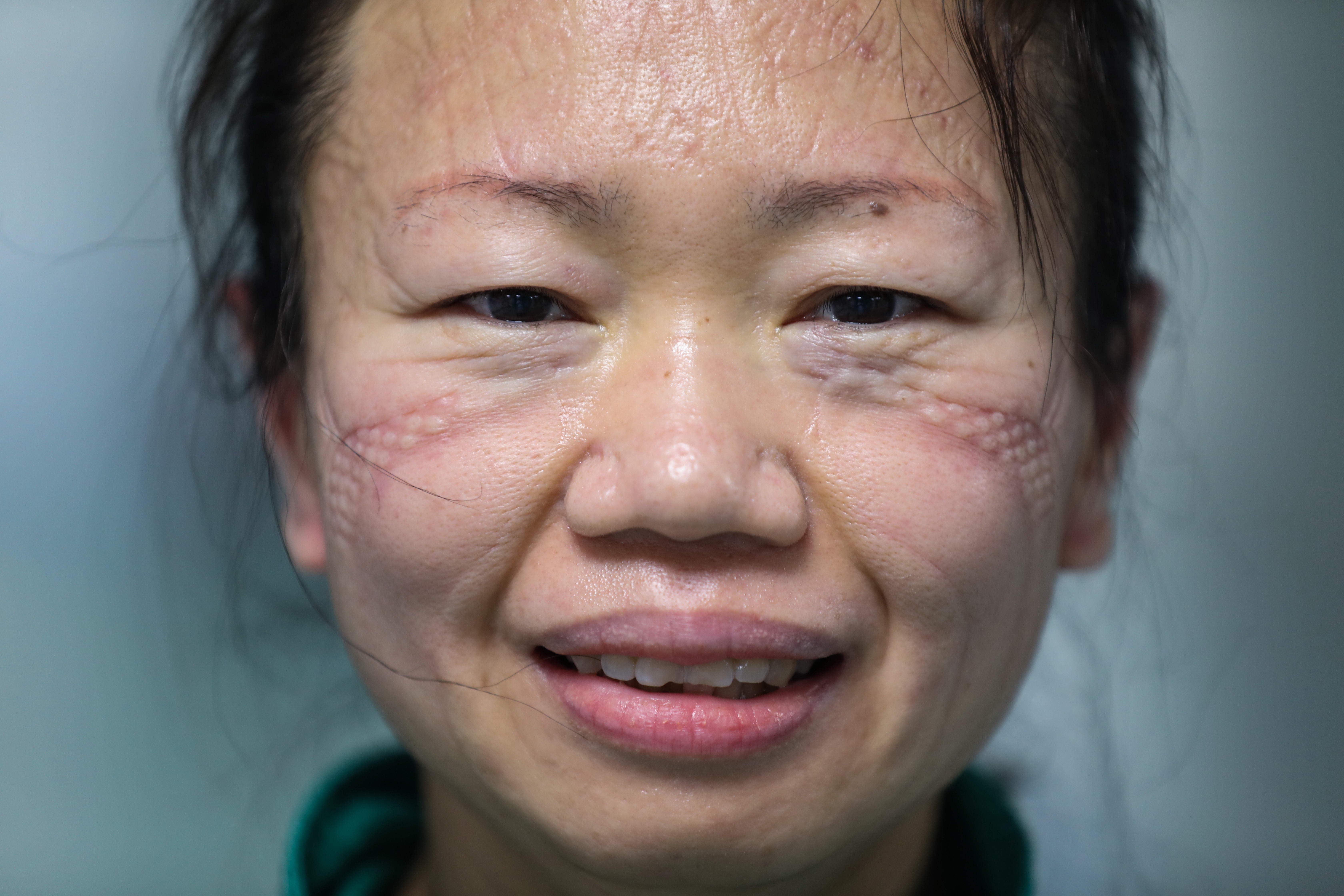 In Italy, photos of healthcare workers Nicola Sgarbi, Martina Benedetti, and Alessia Bonari also went viral.
Article continues below advertisement
"I mainly took the photo for two reasons. Firstly, to send it to my partner, to tell her that I had finished my shift at work and that I was on my way home, slightly bruised," Sgarbi told CNN. "Secondly, to show it to my 1-year-old daughter when she will have grown up. I will be telling her about this moment."
Article continues below advertisement
Article continues below advertisement
"I'm not afraid when I'm at work," another nurse wrote on Instagram. "I'm doing what I was trained to do. I'm afraid when we run out of resources— supplies and staff. Covid19 is real and it's here. Stay home, wash your hands and stop buying all the things that healthcare workers need to do their job. When we don't have what we need to take care of you, we too will become ill... then who's left to take care of you and your loved ones?"
Article continues below advertisement
"This is what you look like after wearing an N95 mask all day," one nurse wrote on Twitter.
If we all stay inside and only go out when we need to, we can beat this thing.
The best way to prevent contracting or spreading coronavirus is with thorough hand washing and social distancing. If you feel you may be experiencing symptoms of coronavirus, which include persistent cough (usually dry), fever, shortness of breath, and fatigue, please call your doctor before going to get tested. For comprehensive resources and updates, visit the CDC website. If you are experiencing anxiety about the virus, seek out mental health support from your provider or visit NAMI.org.