Even Though the Herd Immunity Fest Changed Its Name, People Are Still Pissed
Wisconsin's "Herd Immunity Fest" may have just rebranded to "July Mini Fest" but that doesn't mean it's not happening in midst of a global pandemic.

Article continues below advertisement
And by the way, "herd immunity," per Johns Hopkins, means "When most of a population is immune to an infectious disease, this provides indirect protection—or herd immunity (also called herd protection)—to those who are not immune to the disease." Originally calling the festival "Herd Immunity" is basically a huge troll move, since gathering a bunch of people together who probably aren't immune to COVID-19 isn't, in fact, herd immunity. And they wouldn't be protected.
Article continues below advertisement
What's the Herd Immunity Fest?
The festival organizers changed the name from "COVID Herd Immunity Fest" after receiving a ton of backlash on the internet. The July Mini Fest is a three-day event featuring 15 bands (including Sponge, Blacktop Mojo, Bobaflex, Versus Me, Static-X), according to CNN. Apparently the event is "small" enough for festival-goers to follow best social distancing practices. Tickets cost $105.50, and the event is scheduled for July 16-18, per the event's Facebook page.
The organizers explained on Facebook (via The Q & Z Expo Center page), ""For the record the venues land can accommodate up to 10,000 occupancy," organizers wrote. "This is an OUTDOOR EVENT for 3 Days. We are only selling 20% of that so anyone has the choice and ability to social distance." This...does not make us feel any better.
Article continues below advertisement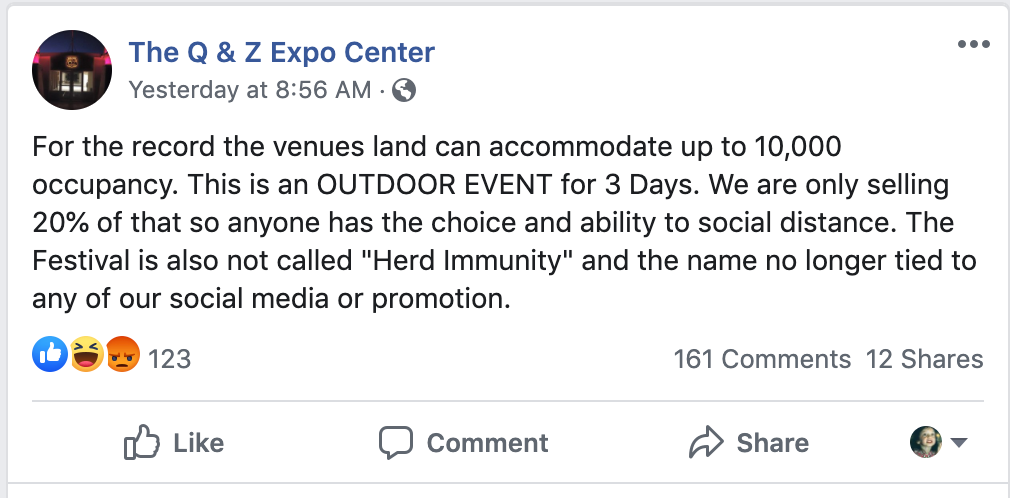 People on Twitter are obviously very disturbed by this — even if the organizers changed their cheeky original title. One Twitter user wrote, "A bunch of bands that I consider peers and some friends are partaking in a show called "herd immunity fest", which by that title is basically saying to their fans, come see us and we hope you get sick. What the actual f**k??"
Article continues below advertisement
Article continues below advertisement
Even though health officials have warned against having large groups congregate, it doesn't seem like any law or ban will be able to stop the event from happening. Madison County Health Department public information officer Judy Burrows told CNN, "The Health Department is in community with County leaders and the Organizers to discuss what is allowed by county policy. We discourage any mass gathering or events because of the risk of spread of COVID."
Article continues below advertisement
The organizers uploaded a Facebook post (which has since been deleted) justifying their reasoning for hosting the event, writing, "As humans we NEED other human contact. MUSIC in itself is great, but the live streams as I am sure you all know is just not the same we need LIVE , feel it to the bones, run shivers up your spine MUSIC with people around us. Takes us all away on a trip that unless you have felt it you won't understand." Um, okay.
One scheduled band, Nonpoint, has officially dropped out, stating, "Nonpoint is not playing the show because of the name of the show." However, it seems like the rest of the scheduled bands are staying on.
Article continues below advertisement
As of now, the "July Mini Fest" is actually happening next month. Lord help us all.
The best way to prevent contracting or spreading the coronavirus is with thorough hand washing and social distancing. If you feel you may be experiencing symptoms of the coronavirus, which include persistent cough (usually dry), fever, shortness of breath, and fatigue, please call your doctor before going to get tested. For comprehensive resources and updates, visit the CDC website. If you are experiencing anxiety about the virus, seek out mental health support from your provider or visit NAMI.org.