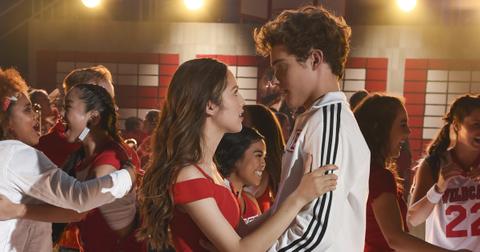 There's Unfinished Business Between Ricky and Nini on 'HSMTMTS' — So Will There Be a Season 2?
By Shannon Raphael

Updated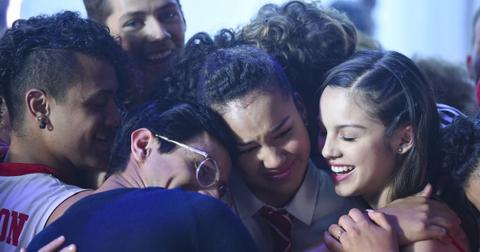 Will 'High School Musical: The Series' return for Season 2? Here's what we know.
Those who were anxious about whether we'd get any resolution from the many cliffhangers in the Season 1 finale of High School Musical: The Musical: The Series can rest easy. The Twitter account for Disney+ announced that the show would return for a second season back in October of 2019.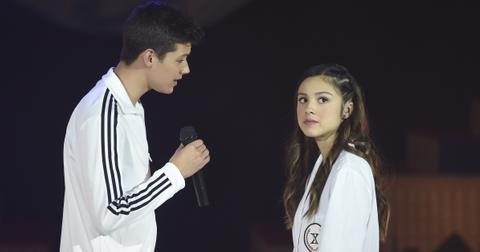 "This is not a drill," the tweet read. "Season 2 of #HSMTMTS is confirmed."
News of the show's renewal ahead of its premiere created even more buzz over the Disney+ show. But what will Season 2 include?
Executive producer and showrunner Tim Federle spoke to Entertainment Tonight about what viewers can expect to see from the show's continuation.
First, he noted that viewers can expect to see the second season sooner rather than later.
"All I'll say is, with the young cast, I want to hold on to them as long as possible. So yes, storytelling-wise, we're not going to do Fargo; we're not jumping 20 years. But there's still a lot of nitty gritty for me to work out. So if I told you anything, that would be a lie. At this point, it's all still pretty flexible," he said.
While the Season 1 finale hinted that a logical next chapter in the show would be working on the spring musical, Tim noted that nothing is yet set in stone.
While Tim didn't confirm a release date, it's been speculated that the show will come out toward the fall in 2020. Of course, since the show was renewed so early on, it has given the cast and crew ample opportunity to begin production for the second season.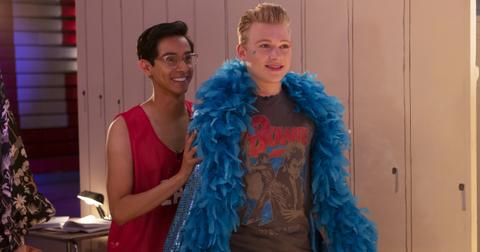 Tim confirmed that the character of Seb Matthew-Smith (Joe Serafini) has been promoted to a series regular for Season 2, meaning that he will appear in all episodes. He also said that the cast would expand in Season 2, but that he hadn't figured out what characters would be needed next.
How did Season 1 of 'HSMTMTS' end?
After 10 episodes and months of anticipation, the Season 1 finale of HSMTMTS was released on Jan. 10. Finally, following months of auditioning, practicing, fighting, and breaking up and making up, the East Side students put on their production of High School Musical (a moment, we might add, that we never got to see in HSM).
With the stakes high and tensions even higher, Ricky (Joshua Bassett) finally confessed more than just feelings for Nini (Olivia Rodrigo). The pair had an on-and-off, will-they-won't-they relationship all season, which came to a head when Ricky told Nini he loved her right after the final number of the musical ended.
Tim Federle explained to ET that Ricky finally came to his senses and realized he loved Nini (and not Gina) because of his interactions with his mom earlier in the episode.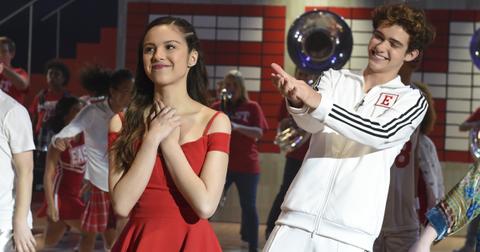 Ricky had confronted his mom over dating Todd after divorcing his dad during the finale. His mom told Ricky that his dad would want her to be happy, and that Todd made her feel that way. Shortly thereafter, Ricky performed in the musical.
"I think relationships are tough. And I think that Ricky and Nini are on the beginning of a lifelong journey of whether they stay together or eventually part together, learning what it means to go through the valleys and hills of a relationship," Tim said. "I think it was hearing his mom say a version of, 'I wasn't happy with your dad, but I'm happy now' that actually made Ricky realize like, 'What am I doing? I actually am happy with her and I've been trying to prove it all this time.'"
Once Ricky admitted that he loved Nini, the two finally became a couple. Of course, their reunion couldn't be that easy.
Arguably, the biggest cliffhanger in the finale was that, soon after Ricky professed his love, Nini found out that she was accepted to a prestigious performing arts school that's not in Salt Lake City (where the show takes place). The second season will reveal if she takes the spot, and if she tells Ricky about it.
Though Nini and Ricky's kiss was the most-anticipated one, the final kiss of the season actually took place between Big Red (Larry Saperstein) and Ashlyn (Julia Lester). It was also revealed that E.J. (Matt Cornett) bought the plane ticket for Gina (Sofia Wylie) to return to East High, so there might be a future romance in store for these two.
The relationship between Seb and Carlos (Frankie Rodriguez) — the first major LGBTQ+ relationship on a Disney show — will also develop further in Season 2.
All 10 episodes of High School Musical: The Musical: The Series are available to stream on Disney+.