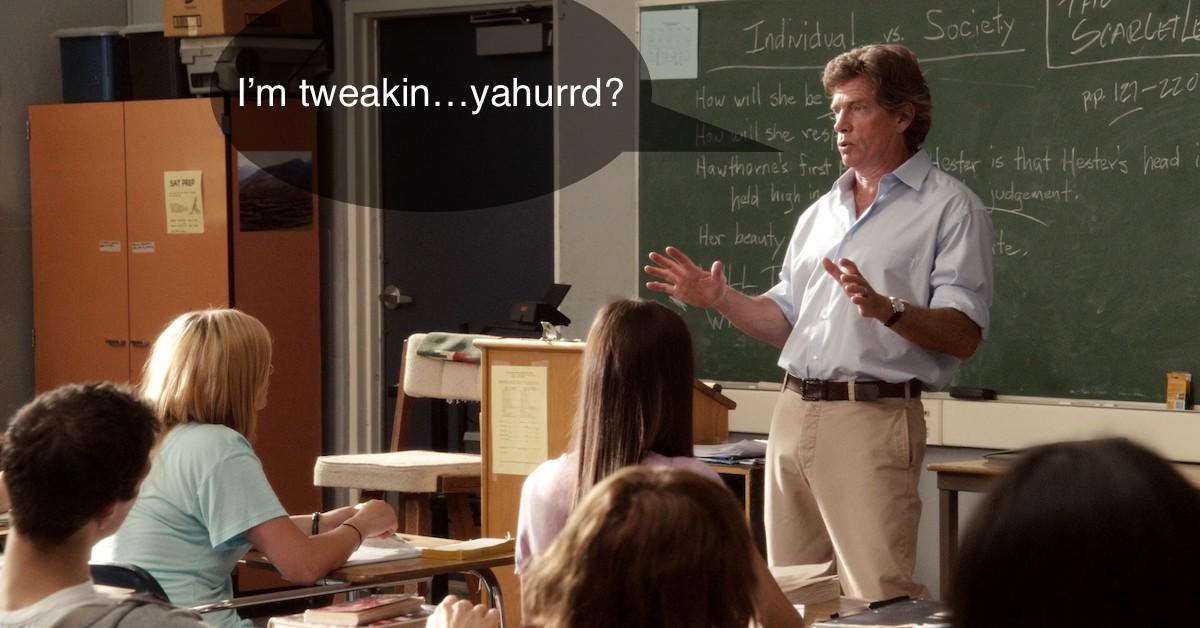 High School Teacher Keeps a Google Doc of Kids' Slang to Stay "Wit It"
If you're an adult who has spent any time around kids, you have probably wished to have a translator. Well, this high school teacher made a spreadsheet of the slang his students use to stay on top of things and it's both hilarious and useful.
When I was an adolescent, I thought for sure I would always stay on top of the latest trends — the hottest music, the latest fashion fads, and of course the coolest slang. But life comes at you fast, and before you know it you pass a group of kids chatting and have literally no clue what they're saying. "Who is James Charles and why is he beating his face?" you ask, feeling like you're about ready for a hip replacement and a subscription to Reader's Digest.
Article continues below advertisement
But thankfully there are true heroes in this world like high school teacher James Callahan, whom someone should probably tell about Urban Dictionary? But he found what works for him, I guess, and keeps a glossary of slang terms he hears his students in Lowell, Massachusetts say. It's equal parts hilarious and informative. Check out some highlights.
N is for "Nunya"...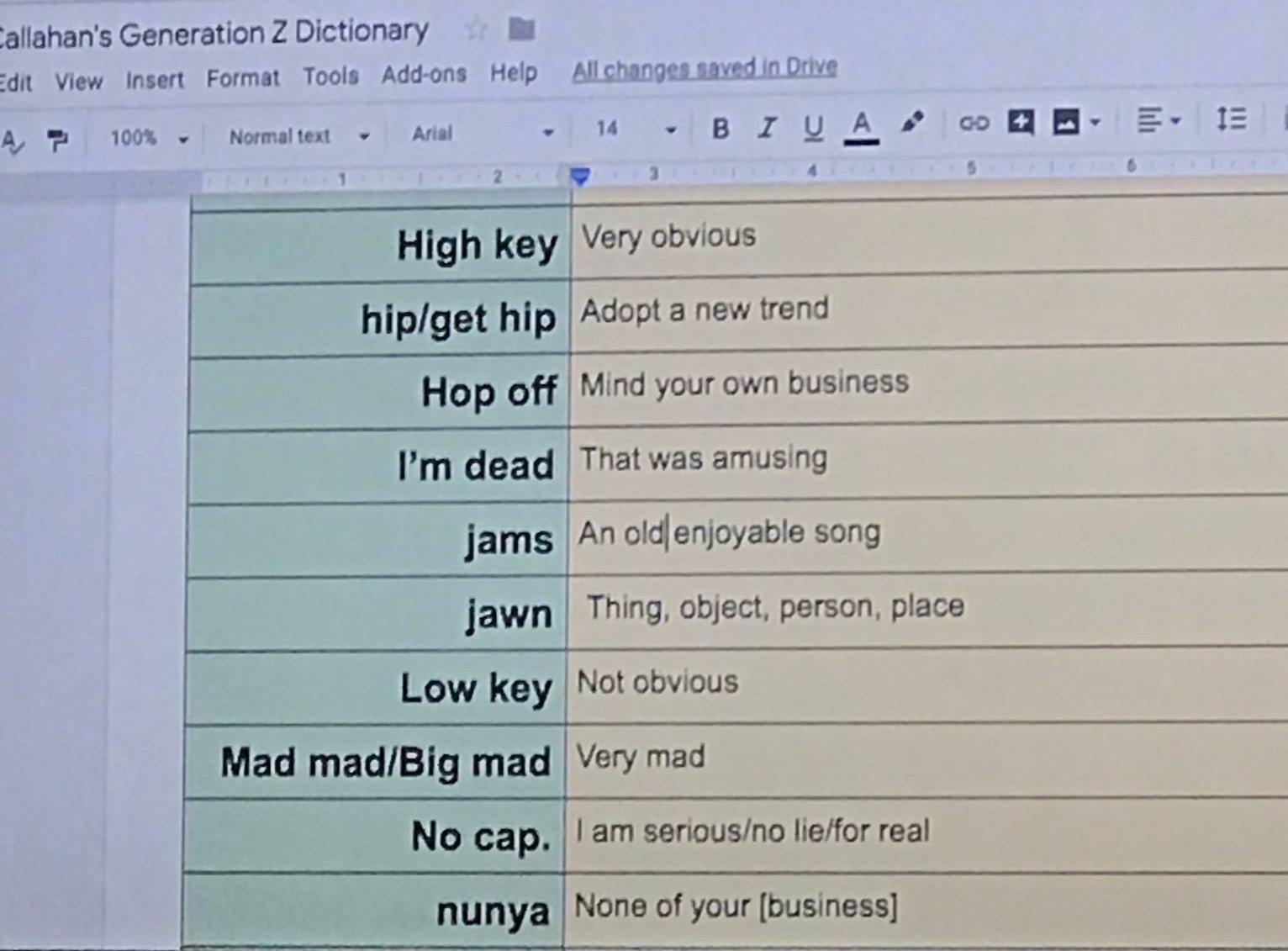 ...As in "nunya business," but Mr. Callahan cared not whether it was his business what the kids were talking about. He took dutiful notes and even shared his glossary on the project in class with his sociology class to their delight-slash-horror.
Most of the terms are derived from Black culture, particularly Black Twitter, though Mr. Callahan characterizes it as "Generation Z" slang.
(As an aside, it's interesting to see "jawn" has broken free from Philadelphia and made its way to New England. This catch-all noun is super useful when nouns escape you.)
Article continues below advertisement
Another important lesson Mr. Callahan learned is that smacks are what he would call a snack, whereas a snack is "A person who looks good." As he told BuzzFeed, "when I think of 'snack,' I think Cheez-Its," so he was surprised and amused to learn he was mistaken. "I'm laughing again just thinking about my students explaining it to me," he added.
What's truly remarkable is that his students aren't leading him astray about what slang terms mean. They could easily troll him with fake definitions, but the document seems accurate for the most part.
Article continues below advertisement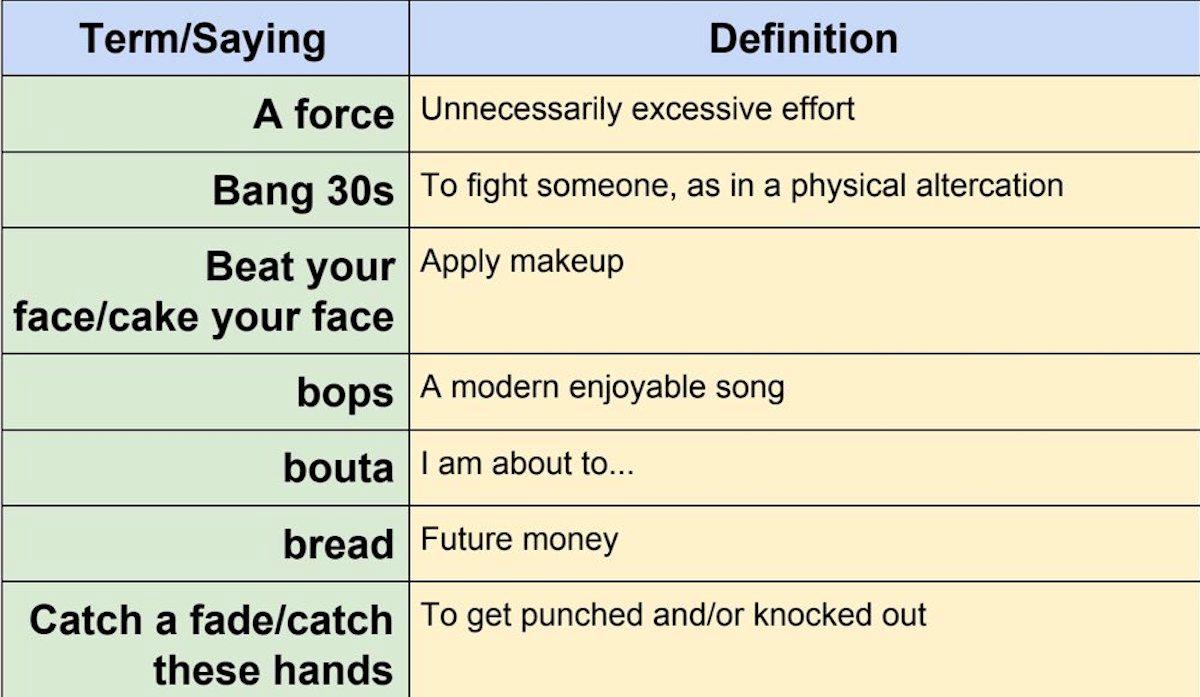 Thanks to his helpful students, Mr Callahan knows that "beat your face" is not a threat, but rather a benign way to talk about applying makeup. However, if he hears a student telling a peer that they're "bouta catch these hands," he will know it's time to write somebody a referral to the principal's office.
Article continues below advertisement

However, some of Mr. Callahan's grasps of the vernacular could use some expansion. A bop may indeed be a "modern, enjoyable song," it would be weird to call a slow ballad a bop, since it tends to connote a song with a beat that gets you 'boppin.'" And a jam doesn't necessarily have to be old but it is timeless.
The distinctions are subtle and admittedly subjective. As someone on Tumblr once said, "a bop, a banger, and a jam are all different. But you have to feel the difference in your heart." By the way, fellow kids, is anyone still using the term banger?
Article continues below advertisement
It's amusing to see the formal tone of his definitions. For example, I love the turn of phrase "verbal gesture of dominance" in his definition of the term "flexed on." If he's taking suggestions, I would just add the related phrase "Weird flex but OK," i.e., "it seems strange to me to brag about that particular thing, but do whatever makes you happy."
Article continues below advertisement
Mr. Callahan even started flexing his skills in class lectures.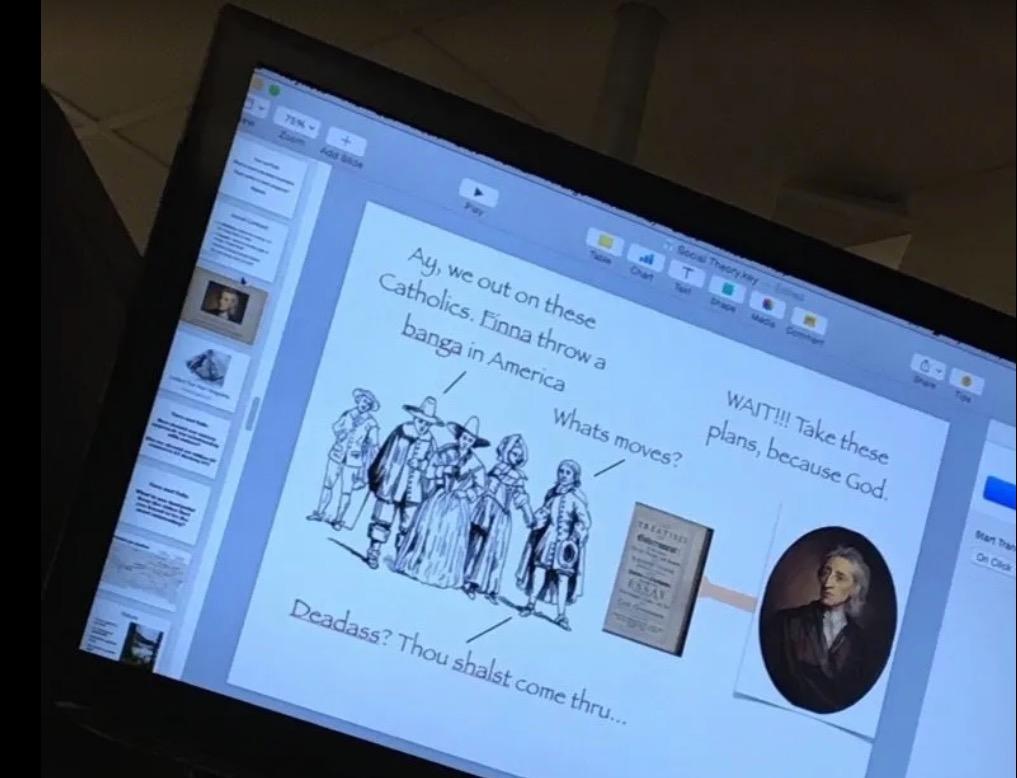 This pic from a student's Twitter appears to shows the teacher being a bit extra with his use of the kids' vernacular to explain the role of John Locke's Two Treatises of Government in the American Revolution and the establishment of the God-given rights to life, liberty, and property.
What makes it cute is that he mixed in some Olde English with "Thou shalst come thru." Mr. Callahan seems like a fun teacher.
Article continues below advertisement
As a sociology teacher, Mr. Callahan is intrigued not only by the evolution of his students' slang but meme culture in general and how fast it all moves. "It is interesting to see how Gen Z kids use social media and memes to not only communicate with each other, but also to share and spread cultural information," he told BuzzFeed.
"Case in point: this list! I never, ever, ever thought this would see the light of day outside of my laptop, but here we are."
Article continues below advertisement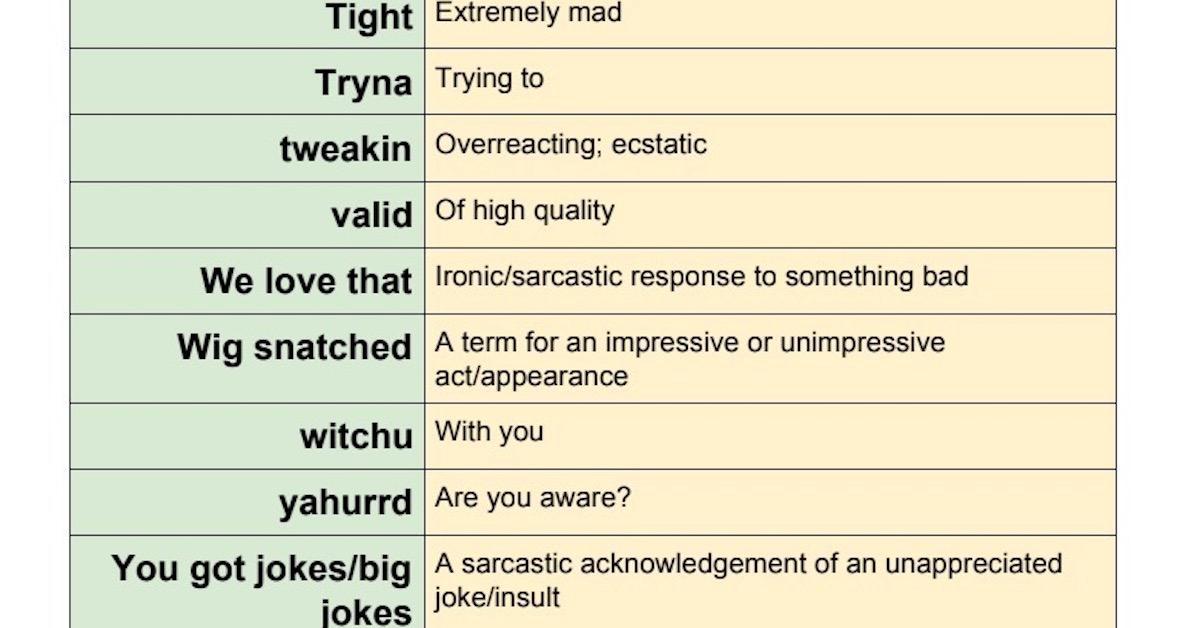 It's very telling what words made it onto the list, especially the sarcastic expressions like "you got jokes," and "we love that." Something tells me Mr. Callahan has a good rapport with his students who feel plenty comfortable letting him know when he's being corny, and it's equally impressive how little he seems to care about being perceived that way. And it does seem like his students genuinely appreciate him, like "Mew," the 17-year-old student who originally revealed her teacher's list on Twitter.
Article continues below advertisement
Mr Callahan made a PDF of his list available for people to reference. However, since it's not a living document, it's honestly probably already out of date. Nevertheless, if you want to know what the kids were saying in May of 2019, you're all set. But just as a disclaimer, if you think this is going to make you cool to a 16 year old, you're going to be sorely disappointed. It would be a great way to make kids roll their eyes and die of embarrassment though!